Severino shines; Berrios exits with injury
Yankees' top prospect impressing with stuff, maturity in Trenton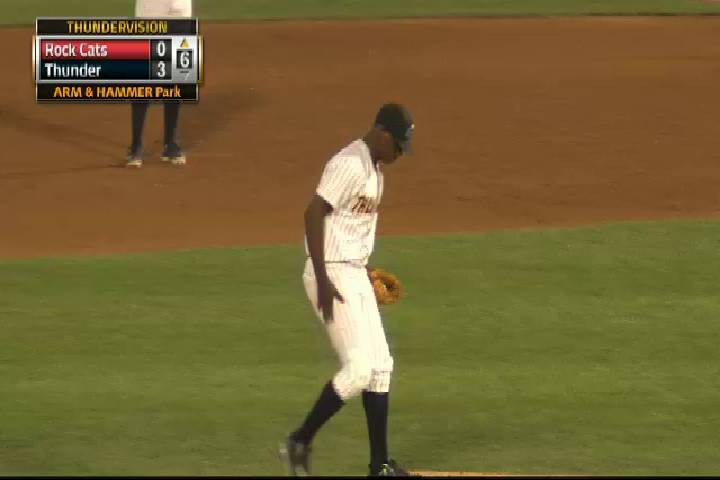 By Jake Seiner / MiLB.com | July 30, 2014 12:19 AM ET
Luis Severino has impressed Trenton pitching coach Tommy Phelps in a variety of ways in his first couple weeks at Double-A. The 20-year-old right-hander has excellent stuff and exudes confidence, but among the most striking traits isn't what Severino throws -- it's what he writes.
"He'll get a lineup and write notes on guys during games," Phelps said, "how he pitched them, maybe where they expanded the zone, if they swung at the first pitch.
"It's something he started doing. I don't know if he did it at other levels, but it's something he's been doing since he's been here. It's not something I asked him to do or anything. We have our pregame meetings and whatnot, but that's something he does on his own."
Severino had plenty of good things to write Tuesday. The Yankees' top prospect made his best start at Double-A, striking out seven and allowing an unearned run over 5 2/3 innings in Trenton's 4-1 win over New Britain.
"He looked great," Phelps said. "He had good stuff tonight. He did a nice job of keeping the ball down and making pitches and attacking the zone."
New Britain starter Jose Berrios was pulled with two outs in the bottom of the second with an apparent arm injury. The Twins' No. 5 prospect threw 48 pitches, allowing three runs on four hits. The start was Berrios' fourth with the Rock Cats, and he entered with a 3.50 ERA in 18 innings, having run his fastball up to 98 mph in his second outing on July 19.
Twins farm director Brad Steil told MLB.com after the game that Berrios left with "shoulder tightness." Rock Cats manager Jeff Smith said through a team spokesman that the move was precautionary.
For Severino, the start was his longest in three Eastern League outings. He dropped his ERA to 1.84 and has 20 strikeouts against four walks in 14 2/3 innings.
The native of the Dominican Republic worked up to 97 mph with his fastball, Phelps said, and mixed in a changeup and slider.
"His changeup can be a plus pitch at times," Phelps said. "He gets swings and misses with that and he threw some good sliders tonight. He needs to be more consistent with the change. The slider, he was able to backdoor some sliders and able to throw it for strikes early in the count. Those are things he's able to do.
"He can elevate his fastball in to hitters. He's got some feel for what he's doing. Being 20 years old with the stuff he's got, it's really exciting to see what he can become."
Severino retired six of the seven batters he faced over the first two innings. In the third, he issued a leadoff walk to Stephen Wickens but got two strikeouts and a flyout to strand him.
After the third, Phelps and Severino chatted about the walk, and Phelps asked him to get more aggressive in the zone early in counts. Severino responded by throwing first-pitch strikes to 10 of the final 12 batters he faced, allowing an unearned run in the sixth.
"He came in after that inning and we talked about attacking hitters with his stuff and being in the zone with his stuff, especially early in the count," Phelps said. "Command always can come and go from outing to outing, but he pounded the zone pretty well tonight."
The Trenton bullpen followed Severino by striking out eight over 3 1/3 perfect innings. Nick Goody fanned three in 1 1/3 frames, while Francisco Rondon and Nick Rumblerow closed things out with a scoreless inning apiece.
New Britain's only hits came from center fielder Aaron Hicks, who was 2-for-4 with a triple. The Major League veteran is hitting .281 in 39 games with the Rock Cats.
Jake Seiner is a contributor to MiLB.com. Follow him on Twitter at @Jake_Seiner. This story was not subject to the approval of the National Association of Professional Baseball Leagues or its clubs.
View More