Shaw, Roberts lead way in PawSox rout
Pair of Boston infield prospects combine for three homers, nine RBIs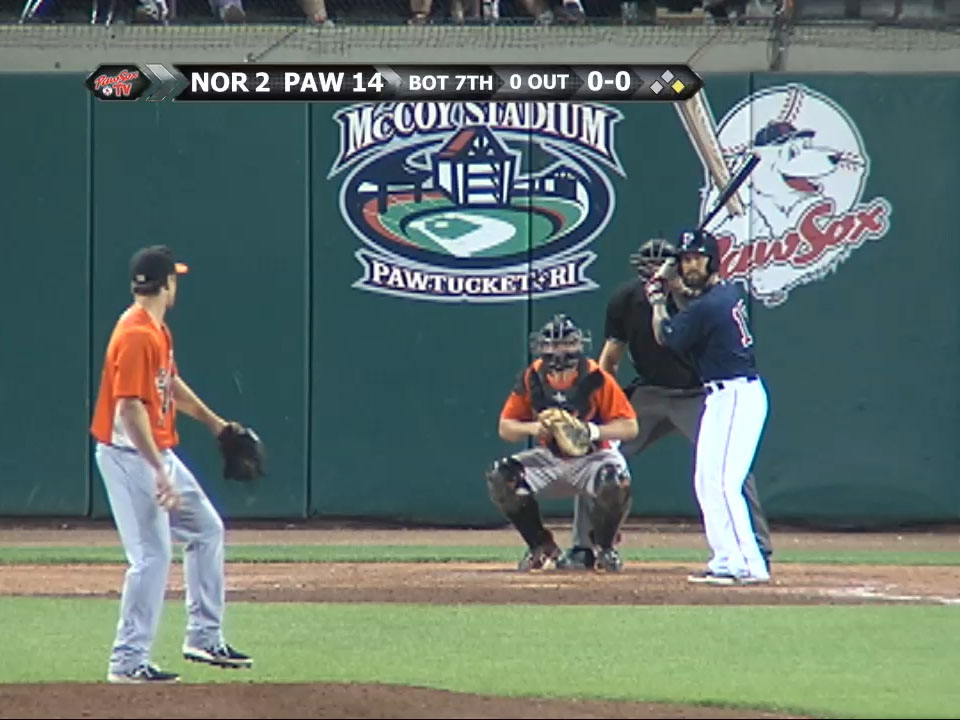 By Ashley Marshall / MiLB.com | June 25, 2014 11:44 PM ET
Sometimes things just click as a team. And when productive hitting accompanies shutdown pitching, crooked numbers are invariably the end result.
Pawtucket's bats accounted for a season-high 16 runs on 15 hits and starting pitcher Anthony Ranaudo surrendered two hits over five frames as the Red Sox rolled to a 16-5 rout of the visiting Norfolk Tides on Wednesday.
Boston's No. 19 prospect Travis Shaw went 3-for-5 with a homer, two doubles, five RBIs, a walk and three runs scored and second baseman Ryan Roberts homered twice, plated four runs and scored twice as the team broke double-digit runs for the first time this year.
"It was very fun," Shaw said. "Hitting is very contagious. It's amazing when you get a bunch of hits, everybody starts hitting. We all fed off each other. Once the ball started rolling, everybody joined in. It was a big night for everybody."
Pawtucket, the last International League team to score 10 or more in a game this season, also got contributions from MLB.com's 51st-ranked prospect Mookie Betts, who went 3-for-5 with three runs scored and an RBI out of the leadoff spot, and shortstop Mike McCoy, who reached base three times and crossed the plate twice.
In doing so, the PawSox, who entered Wednesday having lost three of their previous four games, scored the most runs in a game since April 18, 2008, when they beat the Indianapolis Indians, 17-5.
The contest also marked the first time this year the Red Sox have gone deep three times in the same game. Veteran Roberts cleared the fences with a solo shot in the third inning off Norfolk starter Nick Additon and he went yard again off knuckleball-throwing infielder Cord Phelps in the seventh. Shaw also homered off Phelps in the seventh, his third dinger of the season.
Shaw's five RBIs tied a career high. He plated runs for short-season Lowell against Connecticut on July 2, 2011, and he replicated the feat for Double-A Portland against New Hampshire last June 30.
"He was throwing about 60 mph," Shaw said of Phelps. "It was a position player pitching and I actually fouled off a pitch for the second strike and my thought process was, 'Don't strike out against a position player.' Phelps was throwing a knuckleball and a fastball that were about the same speeds. I backspinned it pretty well and I knew I had it."
On the mound, No. 8 prospect Ranaudo (8-4) surrendered one run and allowed just four base runners over his five innings of work, exiting with an 11-1 lead. In his past four starts, the 6-foot-7 right-hander is 3-0, having allowed three runs on 12 hits while striking out 19 batters over 24 2/3 frames.
"Mookie just being Mookie, he gets three hits every single night, so that's nothing new," Shaw said. "And Ryan Roberts had a big night at the plate with two home runs. He has some pop and we see it every day in BP.
"[Ranaudo] pitched very well. He kept the ball down and kept them off balance and was able to hold them to one run. Then when we got out to a big lead, he settled into a groove."
Additon (3-3) allowed seven runs on eight hits and three walks while striking out three batters over four innings.
Ashley Marshall is a contributor to MiLB.com. Follow him on Twitter @AshMarshallMLB. This story was not subject to the approval of the National Association of Professional Baseball Leagues or its clubs.
View More