Smokies' Russell finishing on high note
Cubs' No. 3 prospect slugs second slam of season on five-RBI night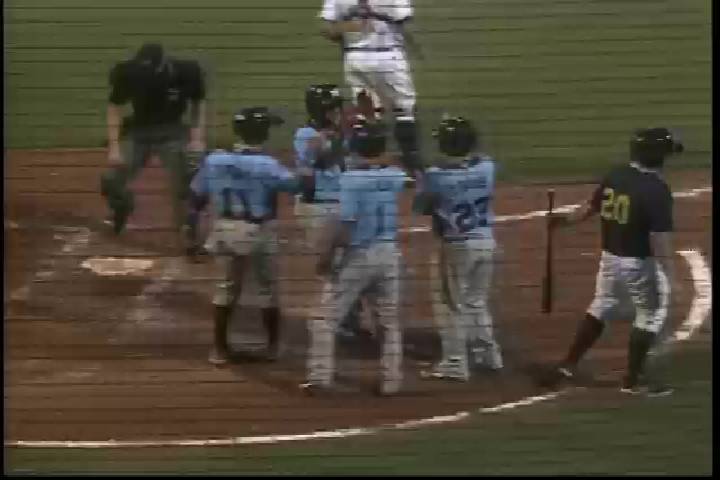 By Robert Emrich / MiLB.com | August 20, 2014 1:48 AM ET
Addison Russell has had a tough year, but his play the last month has helped him put it all behind him.
The Cubs' No. 3 prospect homered and drove in five runs as Double-A Tennessee fell to Montgomery, 7-6, on Tuesday.
Russell got the scoring started for the Smokies, doubling home Chicago's No. 4 prospect Albert Almora in the first inning. After going hitless in his next two at-bats, the 20-year-old shortstop gave the club a 6-0 lead with a seventh-inning grand slam.
"Now that pitchers are becoming more familiar with me, it seems like they're trying to study my swing habits and what counts to throw such pitches in," said Russell, who has hit two grand slams this season. "Basically today I wanted to get the pitches I want and not miss them. I saw that all night they were trying to pitch me outside and then come in. I just stuck with my approach. He gave me two fastballs outside that were a ball and then he came back with a fastball outside and I just got ahold of it."
The grand slam represented his 10th long ball in 40 Southern League games for Russell. Since coming over to the Cubs from the A's in a July 4 trade, the Florida native is batting .301 with 29 RBIs and a .904 OPS for Tennessee.
"I definitely want to finish strong," he said. "I had somewhat of a short season and I think I'm playing pretty well right now, so I want to finish strong."
Russell got off to a fast start this season for Double-A Midland with five hits in two games. A torn hamstring forced him out of action for more than two months, and a month after MLB.com's No. 6 prospect returned to action, he found himself with a new organization.
"I'm feeling pretty good about it," Russell said of his season. "At first it was just kind of crazy, just coming in and doing well for the first couple of games and then sitting out nine weeks. Then I come back and I'm finally getting my feet under me and then I got traded.
"Adapting to the new club was a breeze. The guys are great, we all get along. I like the club, I could talk all day about the club. At the end of the day, I just want to go out there and play some baseball and perform and produce. I'm settling in nice and everything seems to be going the right way."
C.J. Edwards, the Cubs' No. 6 prospect, allowed two hits and fanned seven over five scoreless innings but did not figure into the decision for the Smokies.
"He can throw low- to mid-90s and command his stuff and he has a 12-6 curveball that throws batters off. It's just tough to hit something that's coming 93, 94 mph, that's cutting and sinking and all that stuff. He did a great job tonight."
Frank Batista fell to 4-1 after giving up four runs -- three earned -- on two hits over two-thirds of an inning for Tennessee.
Taylor Motter slugged a walk-off three-run homer while Leonardo Reginatto plated three runs.
Robert Emrich is a contributor to MiLB.com. Follow him on Twitter @RobertEmrich. This story was not subject to the approval of the National Association of Professional Baseball Leagues or its clubs.
View More