Sounds' Fiers fans 11 in two-hit shutout
Brewers right-hander wins fifth straight start, lowers ERA to 0.80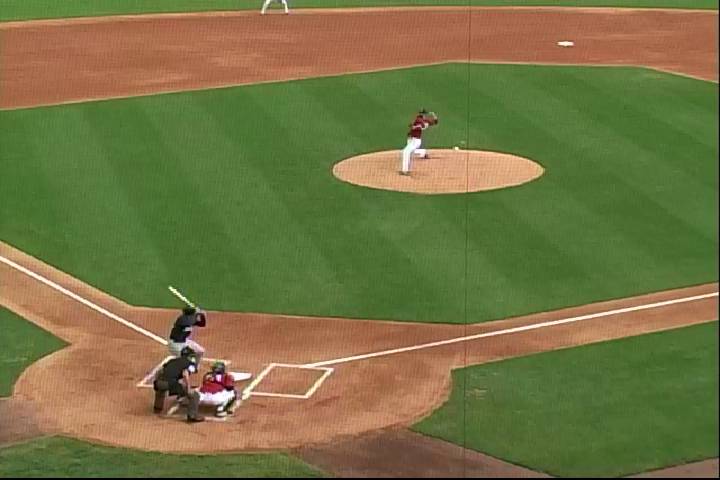 By Josh Jackson / MiLB.com | April 30, 2014 11:54 PM ET
Mike Fiers is off to a such a hot start in the Pacific Coast League that something must be working especially well for him. What is it?
"Everything," he said.
Fiers pitched a seven-inning two-hitter and struck out 11 without issuing a walk Wednesday as Triple-A Nashville blanked New Orleans, 1-0, Game 1 of a doubleheader at Greer Stadium.
"I've been able to throw all four of my pitches for strikes, really locating with most of them every start," the 28-year-old right-hander said. "Usually, when I go into a game, I pick the best three to work with, but when all four are working this well, it makes it easy for me to to keep hitters off-balance [throughout the game]."
Fiers (5-0) has won every game he's started this season and leads the PCL in wins and strikeouts (47). He's second behind Memphis' Tsuyoshi Wada with a 0.80 ERA.
"I saw that. I try not to look at stats too much, but that's hard not to notice when you see something. It's another little confidence-booster," the 2009 22nd-round Draft pick said. "It's a reminder that I can pitch. I had a rough year last year, up and down [between Milwaukee and the Minors]. Just the confidence of it, 'Hey, I can pitch and get it done.'"
His dominant outing on Wednesday ended a six-game winning streak by the Zephyrs, who'd scored 45 runs during that stretch, including nine against the Sounds on Tuesday. Fiers didn't study their lineup with any more rigor or depth than usual.
"I don't really look too far into what any team does [in the games before]," he said. "I'm not going to look back at how long these guys have been doing well because I don't know what the pitchers before me threw, if they made bad pitches or what. I can't go off what they did. If I make my pitches, I expect to get guys out."
Both of New Orleans' hits were doubles. Fiers opened the game with back-to-back strikeouts before surrendering a two-bagger to Josh Rodriguez, then punched out the first two batters in the fifth inning before Juan Diaz doubled. In both cases, he retired the next hitter to get out of trouble.
"It didn't matter if they hit a home run or whatever it is, you have to pitch the same. That's a big thing that I've gotten better about my years in the pros," said Fiers, who went 9-10 for the Brewers in 2012. "Everyone says, 'Hey, don't worry about that' [after a big hit], but it really is a big factor, being able to put it away and focus onthe next guy."
Fiers got into another jam in the sixth, when Matt Angle reached on a two-out error by first baseman Hunter Morris, Milwaukee's No. 10 prospect. Angle took third on an errant pickoff attempt, but Fiers struck out Rodriguez to end the inning.
"There were a couple [moments] with guys in scoring position, where I was having to bear down and make good pitches, even better pitches than I made before," he said. "But I like being in that situation. I like a 1-0 game where every pitch matters and one pitch could change the game."
Fiers has not allowed more than one run in any start and has limited foes to a .160 batting average. Wednesday's performance was his first complete game since April 28, 2013, but he struck out 12 over eight innings of one-run ball on April 19 at Omaha.
"Those doubleheaders are always fast. Seven innings seems a lot shorter than nine -- I don't know why, but those last two innings make the game a lot longer," he said. "I'd rather throw a nine-inning shutout, of course, but I'll take the seven-inning one."
Brian Flynn, the Marlins' No. 7 prospect, also went the distance for the Zephyrs. He fell to 2-2, despite allowing a run on eight hits and a walk with three strikeouts over six innings.
"He's definitely got good stuff. He has good life on his fastball," Fiers said of Flynn. "I've been in that situation, too -- you throw well and deserve to have a win, but the other guy was better. It's a good start but also a bad [feeling]."
Josh Jackson is a contributor to MiLB.com. This story was not subject to the approval of the National Association of Professional Baseball Leagues or its clubs.
View More