Sounds' Jungmann wins first PCL start
Brewers' No. 8 prospect hurls six strong innings, gets infield single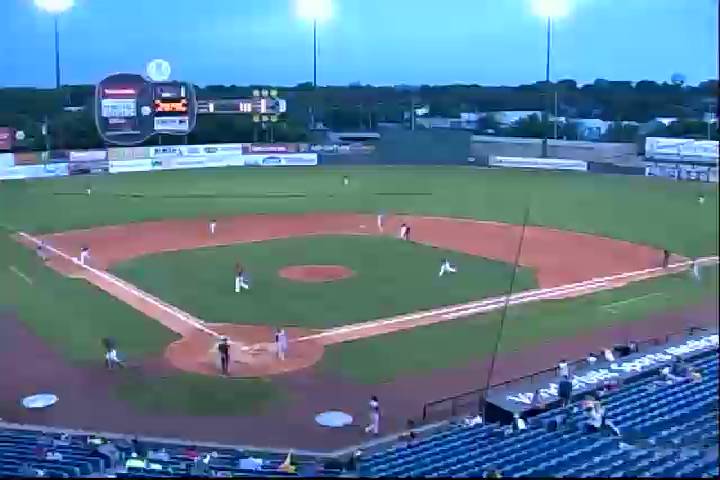 By Kelsie Heneghan / MiLB.com | May 28, 2014 11:52 PM ET
After nerves got the better of him in his Pacific Coast League debut, Taylor Jungmann spent the next four days getting comfortable with his new team and his new city.
On Wednesday night, the Brewers No. 8 prospect looked a lot more relaxed in a Sounds uniform as he hurled six strong innings to help Triple-A Nashville top Colorado Springs, 7-2.
"It was nice to go out there and throw well to help my team win -- that's what I'm trying to do, get my team a win," Jungmann said. "I felt good. It wasn't my best stuff, but I was able to throw strikes, I was able to come back in 2-0 counts."
The 24-year-old right-hander induced seven groundouts, but as a ground-ball pitcher, the total was fewer than he'd like. He recorded a season-low three strikeouts and issued one walk in his first Triple-A win.
Jungmann (1-1) worked around three hits over 5 1/3 scoreless frames before yielding a solo homer to Rockies No. 6 prospect Kyle Parker.
"It was a 3-2 pitch. I knew he was sitting on a fastball, but I tried to make my pitch. ... He put the bat on the ball and he's a strong guy, so it went out," said Jungmann, the 12th overall pick in the 2011 Draft. "When you're up six runs, you don't want to walk a guy, so I went after him, but it's OK. Like I said, we were up by six."
Jungmann was promoted after going 4-4 with a 2.77 ERA in his second stint with Double-A Huntsville. He made his first PCL appearance on May 23 and was roughed up for four runs on six hits over three innings out of the bullpen.
"I was a little anxious in my first outing, but just being comfortable and being around the team has helped," the University of Texas product said.
Every starter had at least one hit for the Sounds, including Jungmann, who got his second of the season and third of his career.
"It went 10 feet away from the catcher, it was a swinging bunt," he said with a laugh. "I don't [like to hit], but it's a part of the game, so I do it anyway."
Jungmann pitched with a lead almost from the outset as Nashville scored four runs in the bottom of the first and two more in the second. Leadoff man Pete Orr doubled twice and drove in a run, while Hector Gomez and Caleb Gindl both added two hits and scored twice.
Colorado Springs starter Yohan Flande (1-7) surrendered six runs on 11 hits while striking out five over 2 2/3 innings.
Kelsie Heneghan is a contributor to MiLB.com. Follow her on Twitter @Kelsie_Heneghan. This story was not subject to the approval of the National Association of Professional Baseball Leagues or its clubs.
View More