Sounds' Nelson tosses seven scoreless
Top Brewers prospect picks up nine strikeouts, improves to 9-2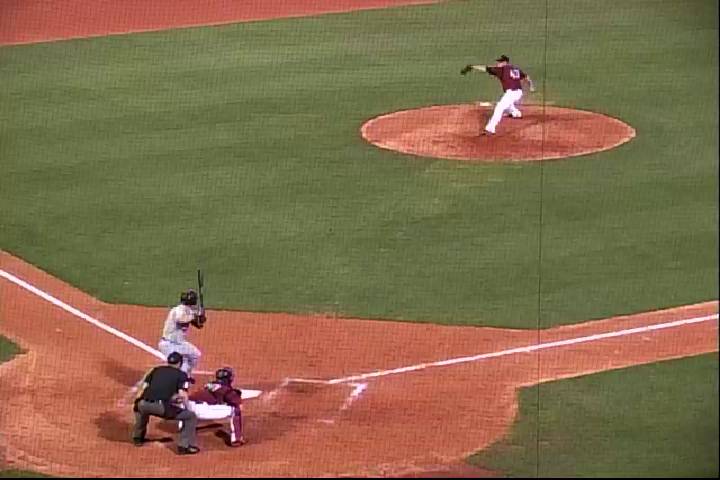 By Josh Jackson / MiLB.com | June 28, 2014 2:11 AM ET
If opposing hitters don't get to Jimmy Nelson early, there's a good chance they won't get to him at all.
"I feel personally like my control gets a little bit better once I get to the middle-late innings," he said. "Your body is tired and you can't overthrow. You have to trust your delivery, and I end up throwing more quality pitches than I do in the beginning of the game."
The Brewers' top prospect still threw pretty well at the beginning of Friday's game. He struck out the side in the opening frame and scattered three hits while recording nine strikeouts over seven innings in Triple-A Nashville's 5-0 shutout of visiting New Orleans.
"It's nice to set the tempo coming out and it's good that you're throwing strikes. You want to get the opposing team on the aggressive side, get them swinging early," Nelson said. "You're not sitting there trying to strike guys out, but you want to force early contact and keep your pitch count down."
Nelson (9-2) moved into a tie with Iowa's Kyle Hendricks for the Pacific Coast League in wins and his 1.66 ERA and 105 strikeouts are tops among the circuit's active hurlers. In other word's, Friday's performance was the norm for the 25-year-old right-hander.
"I was just able to consistently repeat my delivery and work down, the way I've done for the most part of the year," he said. "[Shortstop Hector] Gomez made some really good plays and Hunter [Morris] made some good picks at first base."
After the Zephyrs' Josh Rodriguez opened the third inning with a single, Nelson struck out the next two batters, then picked off Rodriguez.
"This was my first this year at first base, so I was pretty happy," he said. "That was good.
"One thing we stress in our system in the development of pitchers is controlling the running game. You'll take outs any way you can. Something we worked on every day in Spring Training and that they preach all season is controlling the runners, changing holds."
In the fourth, Nelson issued a two-out walk to Mark Canha and a base hit to Rob Brantly.
"It was a good at-bat on that walk, just a battle back and forth. [Canha] did a good job laying off some tough pitches," he said. "On the hit, I made another good pitch and he just had a hit on it. When stuff like that happens, you can't try to change your game plan. You try to attack the hitters and stick with what's been working for you."
Nelson induced a dribbler to short, one of eight groundouts he recorded.
After that, the University of Alabama product settled into his middle-late innings groove, pitching a perfect fifth and working around a walk in the sixth and a single in the seventh.
He handed the game over to Dustin Molleken, who walked one and gave up a hit but struck out the side in the eighth. Jeremy Jeffress worked a 1-2-3 ninth.
Nelson had support from Jason Rogers, who tripled, doubled, drove in two runs and scored once in his Triple-A debut.
"I've played with Rogers for a few years now," Nelson said. "He's always been able to hit. The kid can straight up swing it. It's pretty fun to watch a guy who can hit like that consistently."
In recent weeks, Nelson's name has come up in discussions about replacing Brewers No. 4 starter Marco Estrada in the rotation. Still, MLB.com's No. 66 overall prospect thought nothing of general manager Doug Melvin watching him pitch at Salt City last Saturday or of visits from special assistant to the GM Dan O'Brien.
"I didn't know until after I got done pitching," Nelson said. "Our front office and Doug and Mr. O'Brien and everyone comes out and sees everybody multiple times during the year.
"It's not something you stress about. You can't try to be perfect because somebody's watching, you just have to go out there and execute the game plan that you have worked out with your catcher."
Josh Jackson is a contributor to MiLB.com. This story was not subject to the approval of the National Association of Professional Baseball Leagues or its clubs.
View More