Sounds' Pena brings no-hitter into seventh
Brewers No. 17 prospect registers nine strikeouts over 6 2/3 innings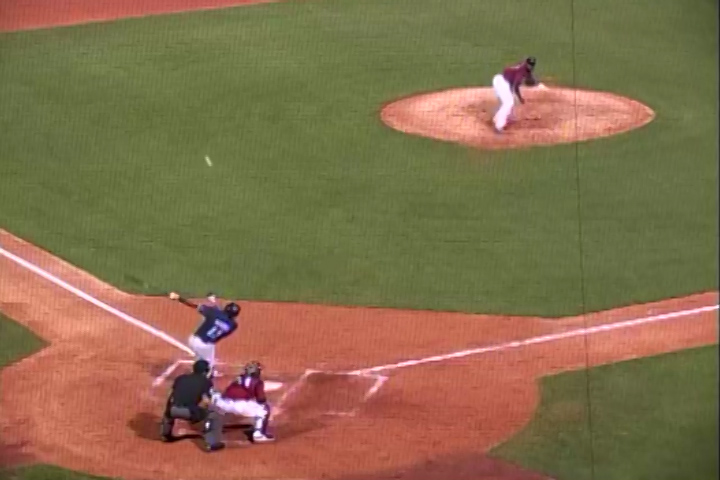 By Josh Jackson / MiLB.com | June 11, 2014 1:28 AM ET
Ariel Pena has no regrets about how his bid for a perfect game bid ended on Tuesday night, even though he issued a two-out walk to the opposing pitcher after setting down 17 straight batters.
"I wasn't frustrated, because I threw my best pitches," said the Brewers' 17th-ranked prospect. "They didn't miss [by much] and I threw my best to him."
Pena carried the perfecto into the sixth and a no-hitter into the seventh but had to settle for no-decision after striking out nine over 6 2/3 innings as Triple-A Nashville edged visiting Reno, 2-1.
"Today, everything was working -- my fastball, changeup, my slider," he said after allowing two hits and two walks.
Sounds pitching coach Fred Dabney agreed.
"This was one of his better ones, but he's had good stuff in other starts earlier in the year. He was very aggressive and he made adjustments when needed to," Dabney said. "If he missed a location, he was right back to hitting his spot on the very next pitch. He was locked in all the way. That was impressive to watch."
The 25-year-old right-hander opened the game with five straight strikeouts. Those punchouts told Dabney that Pena was on the brink of a special outing.
"You could tell the focus was there and his execution was really strong," said Dabney.
Pena remained locked in.
"I felt like I was [cruising]," he said.
He struck out the first two batters in the sixth before surrendering the five-pitch walk to Aces starter Zeke Spruill. In the seventh, Pena gave up a leadoff walk to Roger Kieschnick and a single to Alfredo Marte.
Losing the no-hitter didn't faze Pena for a very simple reason.
"I didn't know it was a no-hitter until after getting out of it, when my catcher told me," he said.
His pitching coach said that was a testament to how focused he was on the mound.
"I saw total focus. He was focused all the way on every pitch," Dabney said. "He was just executing so well because he was really focused. He got through the baseball and his hand was consistent. When he does that, he's really good."
With runners on first and second in the seventh, Pena got consecutive infield popouts. He was confident he'd get out of the inning unscathed, but Danny Dorn plopped an RBI single into left field.
"I felt like I was going to get out of it with the next hitter," Pena said. "I threw a good pitch and he hit a little bloop."
Dorn was the last batter faced by Pena, who threw 61 of 99 pitches for strikes.
"Obviously, I was hoping he would finish the inning," Dabney said. "With the way he threw the ball, it would have been nice for him to get the win. It didn't work out that way, but that doesn't take away from the impressive outing that he had."
It was the longest outing of the season for Pena, who's thrown five career complete games, most recently in the Double-A Texas League on June 13, 2012. The nine strikeouts were a season high but five fewer than the career high he established over six innings in the Class A Advanced California League on July 8, 2011.
Acquired from the Angels with Jean Segura and Johnny Hellweg in the 2012 Zack Greinke trade, Pena has yet to make a scoreless appearance this season. But he's allowed one or two runs in eight of his 12 outings.
Nashville walked off with the win on consecutive one-out singles in the ninth by Elian Herrera, Brewers No. 10 prospect Hunter Morris and Jeremy Hermida. Dustin Molleken (2-2) pitched 1 1/3 scoreless innings for the victory.
Josh Jackson is a contributor to MiLB.com. This story was not subject to the approval of the National Association of Professional Baseball Leagues or its clubs.
View More