South Atlantic League playoff preview
MVP Difo, Suns take on Grasshoppers; Powerful duo leads Tourists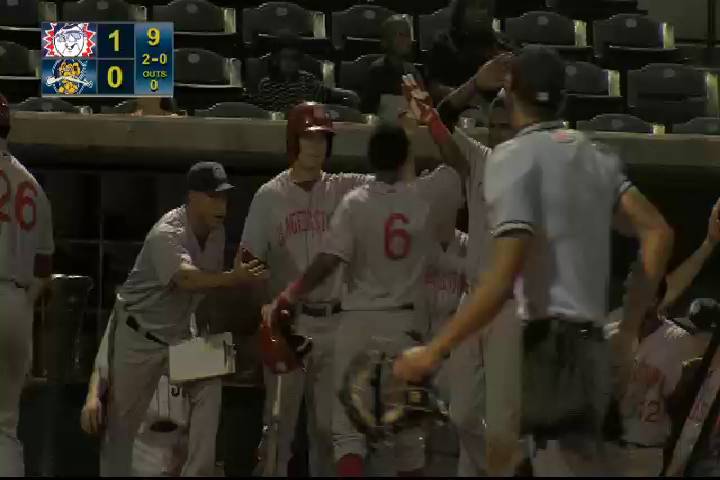 By Bill Ballew / Special to MLB.com | September 2, 2014 4:00 PM
Four of the most consistent teams in recent seasons are looking to add to their legacies in the South Atlantic League playoffs this month. Asheville, Savannah, Hagerstown and Greensboro have four of the top five winning percentages among full-season teams in the Minor Leagues this year despite experiencing the normal comings and goings of several key players.
What's more, three of the teams -- the Sand Gnats (2013), Tourists (2012) and Grasshoppers (2011) -- have won the SAL title over the last three years. Hagerstown (2013), Greensboro (2012) and Savannah (2011) advanced to the championship round of the playoffs in each of those slates before finishing as the runner-up.
"It should be a really good playoffs because you have four teams that have been outstanding from start to finish," said Asheville manager Fred Ocasio. "Every team won at least 85 games. Most seasons you don't see one team do that in the league."
Greensboro (87-53, Northern Division first-half champion) vs.
Hagerstown (87-53, Northern Division second-half champion)
Hagerstown won the season series, 6-5
Game 1 at Hagerstown, Sept. 3 at 7:05 p.m. ET
Game 2 at Greensboro, Sept. 5 at 7:00 p.m. ET
Game 3 at Greensboro, Sept. 6 at 7:00 p.m. ET
On June 5, Hagerstown held a seven-game advantage over Greensboro in the SAL North Division with 10 games remaining in the first half. Owners of a 41-19 record, the Suns appeared to be cruising to a guaranteed spot in the playoffs before the unexpected occurred.
While the Suns won three of their final 10 games, the Grasshoppers reeled off 10 straight triumphs, resulting in identical 44-26 records. Yet, by virtue of taking three of four contests from Hagerstown on June 5-8, Greensboro was deemed the first-half champions.
"We've had an aggressive mentality as we've gone through the season, but the thing I've been most impressed with is we went on our little slide at the end of the first half and Greensboro took advantage of it," said Hagerstown manager Patrick Anderson. "We came back in the second half and it didn't faze us. The kids have grinded through the season, and I've been really happy with the way they've gone about their business."
The Suns proved immediately that they had no intention of feeling sorry for themselves. In a return trip to NewBridge Bank Park to open the second half, Hagerstown took three of four contests from the Grasshoppers. That set the stage for the Washington Nationals affiliate, which clinched the second-half crown by virtue of its 5-2 mark versus Greensboro despite tying once again for the best record in the Northern Division.
Shining brightest among the Suns' everyday players this year was SAL Most Valuable Player Wilmer Difo. The middle infielder batted .315/.360/.470 and led the circuit with 176 hits. He also placed second in the SAL with 49 stolen bases and was fourth with 90 RBIs.
"Wilmer's an exciting player," Anderson said. "He's matured a lot, and he loves playing. He gets mad when I give him a day off to get a mental break. He jumpstarts us pretty good, and he's a great person to have in this organization."
Difo created havoc on the basepaths along with fellow postseason SAL All-Star Rafael Bautista. The outfielder topped the circuit with 69 steals in addition to hitting .290/.341/.382. Third baseman Drew Ward was another consistent contributor in the middle of the lineup and at the hot corner while hitting .269 with 26 doubles, three triples, 10 homers and 73 RBIs.
The pitching has also been a team strength. Though Lucas Giolito was honored as the league's top hurler, the remainder of the Suns' pitchers has been impressive as well. Right-hander Nick Pivetta tied for second in the league in wins while going 13-8 with a 4.22 ERA. Lefty David Napoli has been a leader out of the bullpen with a 2-0 record, 2.53 ERA and seven saves in eight opportunities.
"We're real fortunate to have a great bunch of kids who have put themselves in a position to have a chance to do something more," Anderson said. "Our scouting department did a great job of signing these kids. We have great makeup kids and guys who can throw the ball over the plate. The mentality of these kids every time they take the mound has been, 'It's my opportunity.' They've gained confidence as the year has gone on."
Greensboro features a balanced attack, which ranked second in the league with a team batting average of .285 and second with a team ERA of 3.49. First baseman Felix Munoz and outfielder Carlos Lopez were named to the postseason SAL All-Star team. Munoz hit .300/.368/.476 with 31 doubles, four triples, 16 home runs and 91 RBIs, which ranked third on the circuit. Lopez batted .323/.372/.438 with 27 doubles, five triples, seven homers and 74 RBIs. Domingo German paced the pitching staff after leading the league with a 2.48 ERA and winning nine of 12 decisions.
---
Savannah (85-51, Southern Division first-half champion) vs.
Asheville (89-49, Southern Division second-half champion)
Asheville won the season series, 6-3
Game 1 at Asheville, Sept. 3 at 7:05 p.m. ET
Game 2 at Savannah, Sept. 5 at 7:05 p.m. ET
Game 3 at Savannah, Sept. 6 at 6:05 p.m. ET
After finishing 4 1/2 games behind Savannah in the Southern Division's first-half race, Asheville dominated following the midway point to take the second half by 7 1/2 games over the same Savannah club. In addition to posting a 48-21 record for a remarkable .696 winning percentage since the All-Star break, the Tourists were at their best on the road by taking 27 of 34 outings.
"These guys have been playing well all year long," Ocasio said. "Coming out of Spring Training, they knew they had a good team, and we came out and won 41 games in the first half. But the second half has been outstanding. When you think about going on the road and winning 27 times, that's a big accomplishment. We thought coming into the season that the second half was going to be very tough with some long trips, but the guys have responded very, very well."
"Balanced" describes the Tourists' output in 2014. Asheville led the SAL with a league-record .292 batting average, with year-end all-star outfielder Raimel Tapia ranking third on the circuit with a .328 norm to go with nine homers and 72 RBIs. Fellow All-Star third baseman Ryan McMahon and first baseman Correlle Prime tied atop the loop with 102 RBIs apiece.
In addition to tying Hickory for first in the league with 122 home runs, the Tourists also displayed a penchant for executing the fundamentals by dropping down 80 sacrifice bunts, 27 more than second-ranked Greensboro. The team also stole 209 bases, second only to Hagerstown's 235 swipes.
The Asheville offense received a late-season boost when postseason All-Star outfielder David Dahl returned to the team after spending six weeks in the California League following his July 22 promotion to Class A Advanced Visalia. A catalyst atop the Tourists' lineup and a stellar defender in center field, Dahl gives Asheville some significant pop and speed for its playoff push.
"There's no quit in our offense," Ocasio said. "We've won a lot of games after coming from behind, including several games by large margins. These guys battle and find a way to win. Even games we've lost, there's been excitement all the way until the end. That's the one thing I really like about this ballclub."
Ocasio's club, however, is much more than offense. The top five Sally League pitchers in innings pitched were all Tourists, a list that includes Johendi Jiminian (148), Alex Balog (147 1/3), Antonio Senzatela (144 2/3), Zach Jemiola (142 1/3) and Konner Wade (142). Senzatela led the league with 15 wins and ranked sixth with a 3.11 ERA. Jiminian tied for second with 13 victories, while Wade finished among the top 10 on the circuit with a 3.61 ERA.
"We've been fortunate to have the same guys for much of the season and they have been consistent," Ocasio said. "McCormick Field is not an easy place to pitch, but our guys have made the adjustments and done a great job of keeping the ball down in the strikezone. They have competed all season and taken the ball every time it's been their turn."
Savannah, meanwhile, dominated on the mound throughout the campaign, leading the SAL with a team ERA of 3.03 along with 17 shutouts and 11 complete games. John Gant (11-5, 2.56 ERA) was tabbed as the right-handed starting pitcher on the postseason All-Star team while Akeel Morris (a league-leading 16 saves) was named as the SAL All-Star closer. Robert Gsellman led the loop with four complete games and ranked third with a 2.55 ERA while going 10-6. The Sand Gnats' Luis Rojas was honored as the Manager of the Year and pitching coach Marc Valdez was the SAL Coach of the Year.
In brief
Nationals returning to Hagerstown: While a lingering uncertainty regarding the long-term viability of professional baseball in Hagerstown led to the Suns attracting only 61,683 fans (an average of 979 per opening) this season, the Washington Nationals agreed to a two-year extension of their Player Development Contract with the SAL franchise. The Suns are hoping to move to nearby Fredericksburg in time for the 2016 campaign but face a significant shortage in funding the ballpark's construction exists.
Unsettled in Savannah: The clock is ticking on Savannah as the Sand Gnats continue to push for an upgrade over Historic Grayson Stadium. The team's ownership group, headed by president John Katz, is working with officials in Columbia, South Carolina, on building a new ballpark near the Palmetto State's capitol. Bylaws prevent ownership of two teams in the same league, with most observers believing the Sand Gnats are headed for greener pastures if a resolution is not found in Savannah this fall.
Giolito top prospect: Widely considered the Nationals' top prospect, Giolito added to his reputation by being named the SAL's most outstanding pitcher and top Major League Baseball prospect. Giolito will not pitch in the playoffs, since Washington shut him down following his Aug. 16 start after the right-hander posted a 10-2 record with a 2.20 ERA in 20 starts and 98 innings. He won his last eight decisions, including his final six starts, during which he allowed a total of six earned runs and 23 hits in 32 1/3 innings.
Bill Ballew is a contributor to MiLB.com. This story was not subject to the approval of the National Association of Professional Baseball Leagues or its clubs.
View More