Southern notes: Ravelo keeps on rolling
Hot-hitting Barons first baseman looking to add more power to game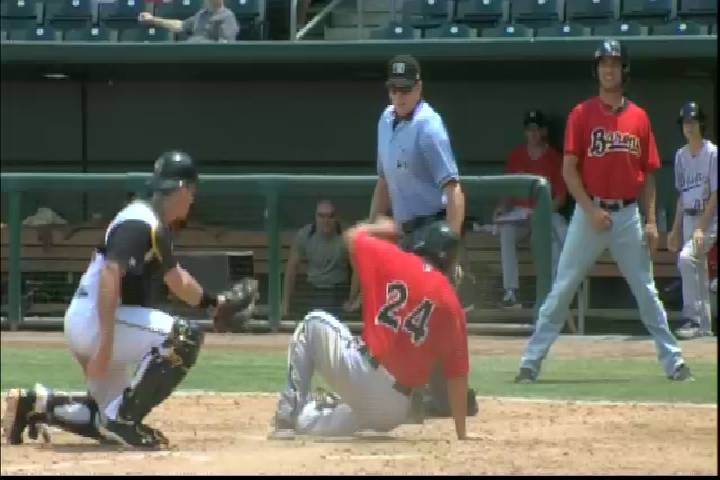 By Guy Curtright / Special to MiLB.com | August 12, 2014 10:00 AM
Julio Vinas knew Rangel Ravelo could hit before either was part of the Chicago White Sox organization. The Birmingham manager lives in Hialeah, Florida, and that's where Ravelo's famly settled after leaving Cuba when the future Barons cleanup hitter was 15.
"I saw him in a championship game and he hit a home run," Vinas recalled.
The White Sox took Ravelo in the sixth round of 2010 Draft out of Hialeah High School in the Miami area, and Vinas, a former hitting coordinator with the Baltimore Orioles, joined Chicago the next year.
This is the second season that Vinas has managed Ravelo in the White Sox system, and the hits have kept coming. Revelo put together a 26-game hitting streak from June 9 through July 10 and was batting .313 -- fourth in the Southern League -- through his first 112 games.
"What he's done hasn't surprised me," Vinas said. "He's always been a .300 hitter."
Ravelo's career average was actually .298 coming into this season, but it's over .300 now.
"He has a consistent approach at the plate, and when you do that you are going to have success," Vinas said.
Still, it has taken Ravelo a while to be looked at as a true prospect by many. The 22-year-old is still adjusting to first base after starting out at third, and he had just seven homers in 288 games coming into this season.
"Power is the last thing to come for a young hitter," Vinas said. "In batting practice, it's been there. He hits the ball a long way to left-center and right-center."
Ravelo has nine homers this season with the Barons, going deep in back-to-back games at Chattanooga on July 31 and Aug. 1 while driving in five runs. Doubles, though, remain more of Ravelo's game. He had 33 -- second in the Southern League -- and 11 of them came during his hitting streak.
Ravelo batted .379 (39-for-103) during his streak with two homers and 17 of his 57 RBIs. The 26-game streak was one of the longest in the Minors this year and the third-best in Barons history. Ravelo, though, took it all in stride and said he wasn't really aware of it until reaching 20 games.
"I knew that eventually, sooner or later, it would end, so I didn't feel any pressure," he said through a translator after going 0-for-4 at Jackson on July 11. "There was no way to get a base hit [every game] the rest of the season."
Ravelo isn't confident enough in his English to do media interviews alone yet, but he feels more comfortable at first base than third and the comfort level has always been there in the batter's box. He hit .290 with 24 extra-base hits in 76 games with Class A Kannapolis under Vinas in 2012 and .312 with 33 extra-base hits in 84 games for Class A Advanced Winston-Salem last year. The right-handed batter had 48 walks to 64 strikeouts this season with the Barons, and his .391 on-base percentage paired with a .468 slugging mark gave him an OPS of .858.
Ravelo could always hit. Vinas knew that first-hand.
In brief
Streaking: Jacksonville left-hander Justin Nicolino stretched his scoreless streak to 24 innings, winning his third consecutive start to take over the Southern League lead with 11 victories. The Miami Marlins' No. 4 prospect allowed six hits over six innings against Mississippi on Aug. 9 while lowering his ERA to 2.72 -- second in the league. Nicolino, who had lost three times, had a league-best WHIP of 1.08. The 22-year-old had walked just 20 in 145 1/3 innings.
Sidelined: Peter O'Brien, acquired by Arizona from the New York Yankees in the Martin Prado trade, landed on the disabled list after just four games with Mobile. The D-backs' No. 7 prospect hit a decisive three-run homer in the 10th inning at Mississippi on Aug. 4, then had to leave a game against Tennessee on Aug. 6 after a first-inning single. The homer was the 34th for O'Brien with three teams this season, and he had five hits in his first 13 at-bats with the BayBears.
Fast start: Justin O'Conner's calling card is his arm, but the catcher made a quick impression at the plate with Montgomery after being promoted from Class A Advanced Charlotte. The Tampa Bay Rays' No. 14 prospect homered in his first at-bat for the Biscuits against Chattanooga on Aug. 6 and was 5-for-15 in his first four games. O'Conner, the No. 31 overall pick in the 2010 Draft, threw out 50 percent of would-be base stealers for Charlotte and also had 14 pickoffs. That rate continued as he was 1-for-2 with a pickoff for Montgomery.
Moving up: The Southern League lost one of its .300 hitters when slick-fielding Jackson infielder Ketel Marte was promoted by Seattle to Triple-A Tacoma. The Mariners' No. 11 prospect was sixth in the league batting race with a .302 average and had 27 doubles, six triples and 23 stolen bases in 109 games. The 20-year-old native of the Dominican Republic started at shortstop for the North Division in the All-Star Game.
Guy Curtright is a contributor to MiLB.com. This story was not subject to the approval of the National Association of Professional Baseball Leagues or its clubs.
View More