Squirrels' Blackburn fans 11 in duel
Giants No. 7 prospect, Sea Dogs' Couch both put up eight zeros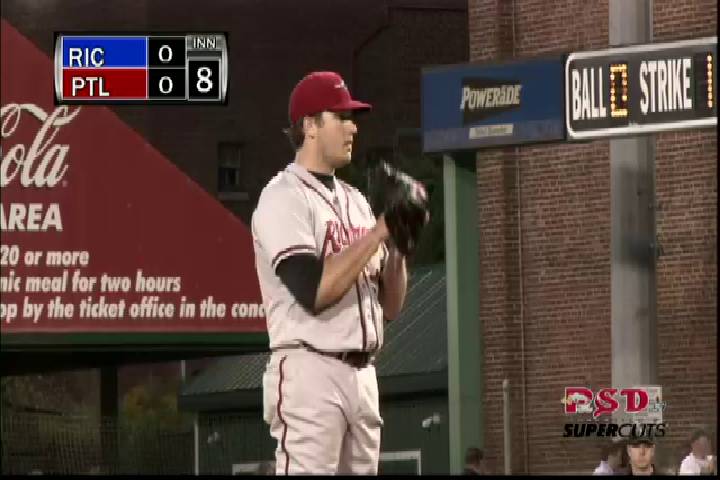 By Kelsie Heneghan / MiLB.com | August 17, 2014 1:17 AM ET
The situation was one many kids dream about: Extra innings, tie game, bases loaded, 3-2 count.
But before the stage was set for a dramatic win, there was the kind of baseball that other kids dream about -- the ones who want to be pitchers.
Over eight scoreless innings, Clayton Blackburn allowed three hits while recording a career-high 11 strikeouts. But the Giants' No. 7 prospect found himself in a stalemate as Red Sox prospect Keith Couch posted eight zeros.
"It just makes you in the zone the whole time. If he is throwing up zeros, you have to throw up zeros," Blackburn said. "Made it a lot of fun. He made a lot of good pitches and pitched really well."
While Blackburn and Couch enjoyed dominant outings, the game was decided by the bullpens as Double-A Portland walked off in the 10th with a 1-0 win over Richmond in a snappy 2 1/2 hours.
"He threw a [heck] of a ballgame and all the credit to him," Couch said. "He was pounding the zone, and I was able to do the same."
Coming off his toughest start of the season, Blackburn stayed out of trouble all night. After each hit he allowed, the 21-year-old right-hander responded with two or three strikeouts.
"I was strong into the eighth and was able to finish with a good pitch count. ... I was able to throw my breaking pitch for strikes when I wanted to and then out of the zone if I wanted to," he said. "It's just one of those things where I was able to lock in and get strikeouts with runners on base."
Though Couch worked with more runners on base -- he gave up two hits and three walks -- he kept the Flying Squirrels off the scoreboard. Making his second start since going on the disabled list with a sore elbow, the 24-year-old righty tied a season high with seven strikeouts.
"I was just throwing my two-seam fastball and I was able to get a lot of ground-ball outs," Couch said. "The fact that I was able to go deep and keep my pitch count low shows that I am 100 percent. I can say that I'm back, but my results showed that."
The bullpens took over in the ninth. Dayan Diaz (2-1) relieved Couch and worked around two hits in two scoreless frames.
Richmond's Edwin Quirate (9-7) kept the game tied in the ninth but ran into trouble in the 10th. He walked Carson Blair and gave up a single to David Chester. After Jonathan Roof sacrificed, Ryan Dent was intentionally walked to get to Heiker Meneses.
"It's one of those things you dream of as kids: bases loaded, tied game, bottom of the 10th with a 3-2 count in the playoffs. It was a regular-season game, but [the Flying Squirrels] are at the top of their division, too," said Couch, who watched from the bullpen. "This was such a playoff atmosphere, the crowd got into it. ... The place was going nuts."
The No. 9 hitter in the Sea Dogs lineup picked the right time for his first hit of the game as he singled off the left-field wall, scoring Blair for the walk-off win.
Kelsie Heneghan is a contributor to MiLB.com. Follow her on Twitter @Kelsie_Heneghan. This story was not subject to the approval of the National Association of Professional Baseball Leagues or its clubs.
View More