Squirrels' Crick blanks Sens for five again
Top SF prospect thrives in second straight start against Harrisburg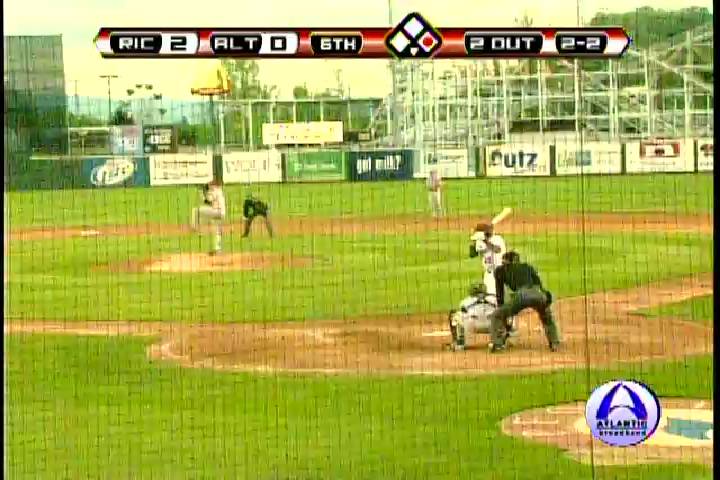 By Josh Jackson / MiLB.com | July 2, 2014 12:37 AM ET
The Harrisburg Senators have had about enough of Kyle Crick.
Twirling for Double-A Richmond, Crick limited Harrisburg to two hits and two walks while striking out five over five scoreless innings in the Flying Squirrels' 3-2 victory Tuesday. In his last start June 25, the top Giants prospect struck out 10 Harrisburg hitters and surrendered one hit and five walks, also over five shutout innings.
"Today, I was throwing my offspeed stuff for strikes. I had good command of my curve. I mixed in a couple changeups on them and that kept them off balance," said Crick.
"I just pitched them a little differently the second time around. Usually, I throw a couple of those guys a lot of first-pitch fastballs, and I changed that up on them. They've seen me now, and they have a scouting report on me. I just tried to keep mixing things up on them and that worked well."
The 21-year-old righty has made four scoreless appearances in 14 Eastern League starts. Although he didn't factor into the decision Tuesday, he's 5-3 with a 3.22 ERA. Prior to his first shutout outing against Harrisburg, he'd allowed six runs over 9 2/3 innings.
"In the bullpen lately, we've been working on keeping the momentum going toward home plate rather than shifting in one direction, spinning off toward first base a little bit," the 2011 first-rounder said.
Crick got into trouble early in the start, giving up a two-out double to the Senators' Matt Skole before walking Kevin Keyes in the first inning. He got Drew Vettleson to fly out to left field to end the frame.
"I was just thinking positive. 'One pitch away, you're one pitch away at all times.' Actually, our catcher, Tyler LaTorre came out," explained baseball's No. 27 prospect overall. "He's pretty good at keeping everybody calm and together. He said, 'You're one pitch away. Let's get that out so we can work on getting you some runs.'"
Crick worked a perfect second and shrugged off a throwing error by shortstop Matt Duffy that put Caleb Ramsey aboard in the third. A two-out walk to Jason Martinson in the fourth was bookended by punchouts of Vettleson and Rick Hague.
"If I stick to my game plan and locate and hit my spots, it usually works out for me," said Crick. "More so than focusing on any one hitter, I was focusing on pitching to the glove."
Harrisburg's Brian Jeroloman led off the fifth with a single, but Crick stranded him on first base. By the end of the inning, he'd thrown 95 pitches -- 58 of them for strikes.
"If anything, I got more locked in as the game went on," he said. "As I got more hitters under my belt, I threw more offspeed stuff. I remember around the fourth inning, I was throwing my breaking ball pretty good for strikes. I gained confidence in it and started throwing to everyone -- lefties and righties -- after that."
The Senators tied the game with a two-run homer from Keyes in the sixth, and Josh Osich (1-0) earned the win with 2 1/3 perfect innings. Hunter Strickland recorded his second save by striking out the side in order in the ninth.
Kelby Tomlinson was 2-for-4 with a triple, two RBIs and a run scored for the Flying Squirrels.
Josh Jackson is a contributor to MiLB.com. This story was not subject to the approval of the National Association of Professional Baseball Leagues or its clubs.
View More