Steals leader Johnson homers again
White Sox prospect supports Hansen in first win as a pro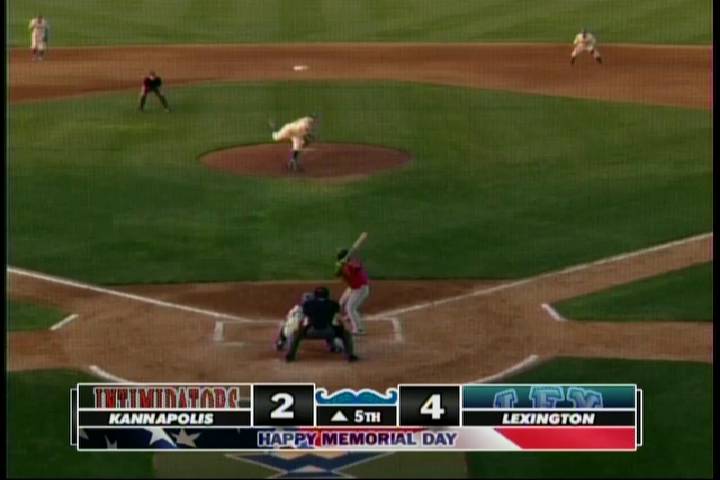 By Danny Wild / MLB.com | May 28, 2013 6:53 PM
Micah Johnson doesn't like running, but he does like stealing. And home runs? They're OK.
Johnson has been making a name for himself with his speed this season, but it's been his power bat that's been making noise lately. The White Sox prospect, who leads professional baseball with 45 stolen bases, homered for the third straight game on Tuesday.
"I just know it's been three days without a stolen base," Johnson said. "I don't know what's going on. Maybe it's the wind picking up."
Wind or not, Johnson popped his fourth homer of the season and Kyle Hansen allowed one hit over six innings for his first professional victory as Class A Kannapolis crushed Lexington, 13-1.
Johnson hasn't swiped a base in his last three games, but the power has been a welcomed bonus.
"I dunno, I like steals, but obviously if homers happen, they happen," the Indiana University product said. "I can't be mad, but I've always liked stealing."
Johnson's newfound power out of the leadoff spot has been a boost to his game. His three-run shot off Legends starter Collin Rodgers capped a five-run fourth inning as the Intimidators built a 12-0 lead. He finished 2-for-6 with four RBIs, adding a run-scoring single in a seven-run fifth.
"It felt good finally winning like we wanted to," said Johnson, a 2012 ninth-round Draft pick. "To finally come out here and put some runs together -- it's tough to see in Lexington with the batter's eye, it isn't the best place to hit -- but we put that big inning together today."
Johnson launched a solo shot against Lexington on Monday, a night after hitting his second longball of the season at Hickory. Before that stretch, he'd notched at least one stolen base in six of his previous seven games.
"Fastball away, it was a 2-0 count," Johnson said of Tuesday's blast. "I just found the barrel, got it up in the wind, hit it to left-center."
Johnson is on pace with Billy Hamilton, the Reds prospect who swiped 155 bases a year ago to shatter the professional baseball record. Johnson has 45 steals in 46 games, but he's never liked running.
"I ran track in middle school, but I hated running," he said. "In the offseason, I don't run long distances. I've never been that fast, I just try to use it the best I can. Plenty of guys are faster than me -- there was a guy tonight that would beat me. I just try to use it, get a quick first step. Ninety feet is enough. Long distances are tough."
Johnson's story isn't typical. Last year, in his first Minor League season, he stole 19 bases in 69 games for Rookie-level Great Falls. That's a solid number for an infielder but nothing that put him on any top prospect lists. This spring, he came to camp with a new mission: steal. He started running, essentially without any advice, tips or encouragement from the White Sox.
"Definitely, this year I've made it more of a focus. I never really stole bases before," he said.
Why?
"Part of it was being lazy," he said. "I'd get to first base and be content. This year, I've stated stealing -- steals can produce runs. I can steal second, third and a ground ball gets me in. I love that, I got addicted to it. It's like a runner's high."
Johnson said he hasn't compared himself to Hamilton, but he'd like to eclipse 100 steals this season. Only two players in baseball accomplished that feat last year: Hamilton and Astros prospect Delino DeShields Jr., who had 101.
"I like goals, I'd like to get over 100, but I also want to have a good amount of runs because of that," he said. "It's kind of more of a focus on runs than steals, but I definitely want to have 100 steals and cut down on caught stealing."
For Johnson, it's not the speed or the stats, it's being smart. He's assessing his risks, running with a purpose, putting his team in better position to score and win.
"Early on, I was stealing to steal, but lately, I'm trying to get smarter and steal for a purpose," he explained. "If that means not stealing a base after a single and letting them hit, I gotta stay there, and I'm trying to learn that. But if I keep on pace [with Hamilton], I don't want to force it."
The steals also help make Johnson a more desirable option to consider when it comes to a September callup or future roster spots. He could position himself as a valuable pinch-runner in the short term and as an ideal leadoff hitter in the future.
"I just came into Spring Training and no one said anything. I thought, 'You gotta use whatever tools you have,'" he said. "You don't want to waste them. So I just started stealing, basically to help the team, to get into scoring position. That's what it is, a way I can score. It's part of my game now and it can really help me in the long term."
Johnson makes it look and sound easy. Few players can simply decide to steal base at such a high rate and then do it. It's a skill he first worked on in the Cape Cod League two years ago and has fine-tuned since.
"This offseason, I worked on being explosive in the first couple steps," he said. "I just react. I watch the pitcher, pick up something and react as fast as possible. A couple seconds can make a difference of being out or safe."
As for Hansen, the 2012 sixth-round pick out of St. John's won for the first time in four starts this year. He struck out six and allowed just a two-out single to Humberto Arteaga in the third inning.
"He was unbelievable," Johnson said. "I didn't know he only gave up one hit. He was cruising. I felt like I was on defense for two seconds every inning, and that's really helpful to have a guy work like that, pounding the zone. I felt like he was efficient. It's good to see a guy come in and have a good night."
Hansen, the younger brother of former Major Leaguer Craig Hansen, has given up one run over 12 innings in his last two outings after compiling a 14.63 ERA in his first two starts.
Danny Wild is an editor for MLB.com. This story was not subject to the approval of the National Association of Professional Baseball Leagues or its clubs.
View More