Stewart gets upper hand on familiar foes
Drillers righty allows one hit over seven innings against Travelers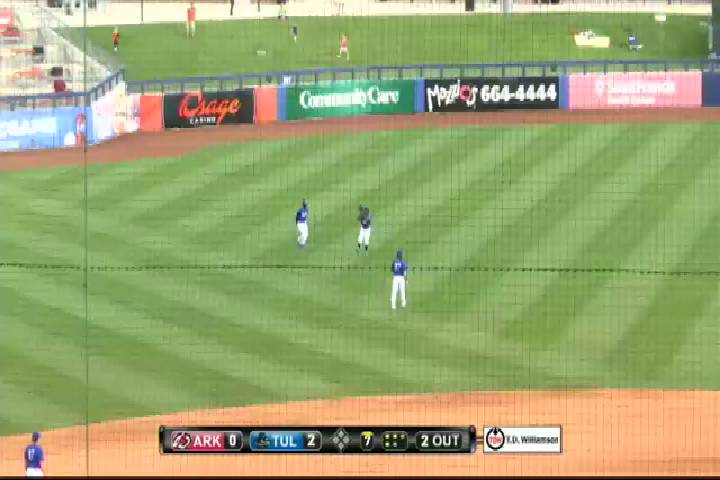 By Chris Tripodi / MiLB.com | May 11, 2016 11:08 PM
Drillers right-hander Brock Stewart has found some success against the Travelers this season. It might be because of his familiarity with their lineup.
"I know the hitters pretty well from college ball -- [Eric] Aguilera, [Chad] Hinshaw -- so those guys I'm familiar with," the Illinois State product said. "I've seen them hit for six years from college and pro ball. That helps a little bit knowing those guys, but as a whole, I wouldn't say my approach is any different against this team, it's just working out these past few outings."
On May 6, Stewart held Arkansas to an unearned run on three hits over six innings to pick up the victory. In their rematch Wednesday, he was even better.
The 24-year-old faced two batters over the minimum in Tulsa's 4-3 extra-inning win, allowing one hit and walking two over a season-high seven scoreless innings to lower his Double-A ERA to 1.20 -- second in the Texas League behind Corpus Christi's Joe Musgrove.
"[The key was] just commanding the fastball and getting ahead of hitters," said Stewart. "I was able to throw some good changeups too. When it came to off-speed, I probably threw 80 percent changeups and just a few sliders. Mostly fastballs and changeups today and throwing a lot of strikes like I always do."
The Dodgers' 2014 sixth-round pick struck out six for the fourth time in five starts with the Drillers and didn't allow a runner past first base. Stewart hasn't allowed an earned run in his last two outings against Arkansas.
It also marked the second time in his past four games that Stewart faced the same opponent in consecutive starts. He held Northwest Arkansas to one run over in six innings on April 24 before the Naturals got to him for four runs -- three earned -- en route to his first loss of the season on May 1, but Stewart said he doesn't make significant adjustments to his approach when facing teams a second time.
"I don't really think about matchups all that much," the Normal, Illinois native said. "There's little bits and pieces that I look at and gather some info. I don't change my approach from game to game, I just try to give my team a chance to win. Maybe bits and pieces from my game strategy will change, but I don't care who we're playing."
A third baseman up until his senior season, Stewart struggled in his first taste of the California League last season, registering a 5.43 ERA in 63 innings with Class A Advanced Rancho Cucamonga. But with two solid starts for the Quakes this year, Stewart earned his promotion and he's continued to thrive in Tulsa.
"I got myself out of the Cal League, so that was a big thing to do with it," he said. "That's a hitters' league and it's tough to pitch there, but I'm not using it as an excuse. The big thing is having more of a clue in my second year as a pitcher -- how to pitch, how to work batters and what mentally I should bring to the park every day. I can't really pinpoint what has changed, but overall feel for the pitcher's mound and pitching has just improved with experience."
After slashing .330/.402/.496 in his junior season with the Redbirds, Stewart began the transition to the mound, where he sported a 2.36 ERA in 26 2/3 innings as a senior. He struck out 30 while making just one start in 11 outings.
"I think as a pitcher, especially a starter, you have so much time to think, so mentally I had to adjust and just focus on what I can control," he said. "I'd say the biggest difference in approach is taking it one day at a time and one pitch at a time. As a position player and a hitter, you have to let the game come to you a little bit. As a pitcher, I enjoy the fact that you can control the whole game -- I feel more in control on the mound than at third base or at the plate."
First baseman Lars Anderson originally got the day off, but with the bases loaded in the 11th, he played hero with a pinch-hit walk-off single. Dodgers' No. 5 prospect Cody Bellinger went 2-for-5 with an RBI double.
Ralston Cash won his second game of the season with two scoreless frames for the Drillers. He allowed a hit and a walk and struck out one.
Chris Tripodi is a producer for MiLB.com. This story was not subject to the approval of the National Association of Professional Baseball Leagues or its clubs.
View More