Stock Watch: Gallo going long at will
Third baseman using mechanical tweaks to lead Minors in homers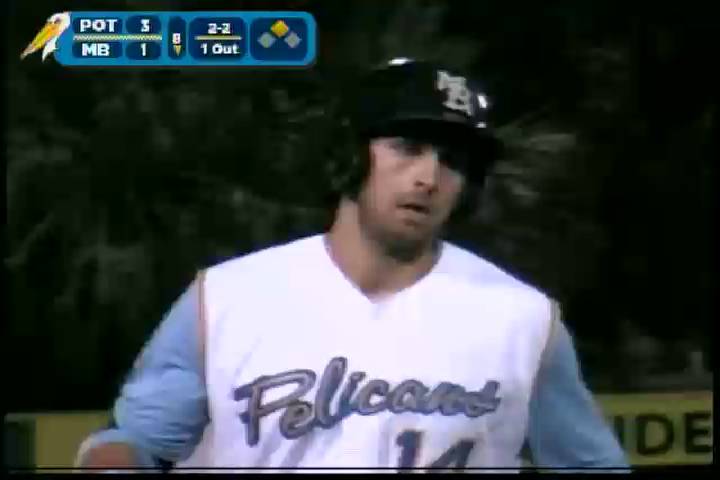 By Jake Seiner / MiLB.com | May 21, 2014 10:38 AM ET
Once a week this season, we're going to break down the prospects who have done the most to move the needle on their prospect stock, mostly highlighting players on the rise, but also pointing out a few who are struggling against expectations. Note: All stats are through games played on Monday.
Trending Up
Rangers 3B Joey Gallo, Class A Advanced Myrtle Beach
Along with Mookie Betts, Gallo has been perhaps the biggest riser on the prospect scene through the season's first six or so weeks. Through 42 games, the 20-year-old has slugged a Minor League-leading 18 homers with a .795 slugging percentage and a 1.254 OPS.
The power is no shock, though. The biggest development for Gallo has been his plate discipline. A year ago, the Las Vegas native struck out in 37 percent of his plate appearances with Class A Hickory and walked in 10.8 percent. This year, his strikeout rate has dropped all the way to 23.8 percent and his walk rate is up to 17.8 percent.
A few weeks back, after his first of two three-homer games this season, the Pelicans' infielder talked about what was leading to the improved plate discipline -- an offseason spent working with the Indians' Jason Giambi. From conversations with Giambi, Gallo's been able to put together a better plan at the plate. Gallo is now less reactionary, doing far less "see ball, hit ball." Instead, he's taking note of pitchers' tendencies as they face other hitters and he's better anticipating which pitches he'll see in which situations.
But he's also made physical adjustments. The 2012 first-rounder (39th overall) has made some tweaks with his posture and hand positioning -- the differences can be seen in the two videos below, as well as in the screen grab's below those.
The first change is in his initial setup. The first photo below is split with Gallo's 2013 stance with Hickory on the left and his current stance with Myrtle Beach on the right. In 2013, Gallo had more bend in his knees, with his rear end sitting further back and his torso leaning back toward home to keep his head over his knees. He had a little wiggle in the bat, but held it roughly parallel to the ground, as is captured here. His hands are also held higher and somewhat further away from his left shoulder
In 2014, the barrel of the bat is obviously more vertical, and Gallo's hands are held in tight near his shoulder. He's also much taller in his overall posture.
The next photo is a screen grab of Gallo's load -- or the moment where he pulls his hands back and lifts his leg before swinging. Some of the differences are maintained, like taller posture and tighter hands. Gallo's leg lift appears more exaggerated, and he pulls his right knee in while turning his hips back, not unlike fellow Las Vegas native Bryce Harper.
Gallo's hand movement is probably the starkest change. In 2013, Gallo looped his hands back while dropping them and tilting the bat back up before whipping the barrel into the zone. Less evident here but noticeable in other '13 clips is that Gallo also used to tilt the barrel over his head toward the pitcher in a more extreme fashion.
In 2014, his path back and then forward is more direct. He extends his right arm straight back, keeping the barrel at roughly the same angle. Cutting down on that extra bat waggle may be helping Gallo connect more consistently when he does swing, especially on pitches with movement.
Yankees C Peter O'Brien, Double-A Trenton
A first-team All-Atlantic Coast Conference honoree in 2012 at the University of Miami, O'Brien has slugged 48 homers in 210 Minor League games. That total includes 17 in 40 contests through Monday, which ranks second behind Gallo on the Minor League leader board.
O'Brien began the season with Class A Advance Tampa, where he hit 10 homers in 30 games in one of the Minor Leagues' tougher offensive environments. The Florida State League wasn't a tough enough task for the 23-year-old, though, so New York promoted him to Trenton, where he's continued to mash.
Part of what's made O'Brien such a threat is that his power works to all fields. Come inside to the right-handed hitter, and he's capable of moonshots like the one below:
O'Brien also has the pop to go the other way, a skill he put on display last week. He also went into right-center field for his first homer against Reading.
Astros 1B Jon Singleton, Triple-A Oklahoma City
Singleton began 2014 by hushing concerns created by a lackluster 2013, in which he missed the start of the season following a drug suspension and then hit just .230 with 11 homers in 90 games upon his return.
In April, Singleton busted out with a .293 average, nine homers and a 1.045 OPS. While his power numbers have dipped a bit in May, his plate discipline has sharpened to unprecedented levels, as he's struck out just 13 times through 16 games this month after whiffing 110 times in 2013 and 31 times in 26 April games.
If Singleton can bring back the home run stroke while continuing to cut down on the strikeouts, he could force his way into Houston soon with the question marks from 2013 a matter left in the past.
Trending down
Cubs SS Javier Baez, Triple-A Iowa
Baez's struggles with the I-Cubs have been well documented, and are something of a puzzle after the 21-year-old's breakout 2013 and promising performance in Spring Training. The shortstop has shown signs of life with hits in his last five games, including Monday, but still entered the week hitting just .165 with four homers in 32 contests. Baez has especially struggled once he's fallen behind Pacific Coast League pitchers, hitting .148 when trailing in the count.
Yankees OF Mason Williams, Double-A Trenton
Where O'Brien has been striking balls with authority for the Thunder, Williams has failed to pack any punch in '14. The center fielder earns rave reviews for his defense and has a penchant for putting balls in play and -- as of this year -- drawing walks. But the 22-year-old hasn't been able to put much of a charge into the contact he makes, leading to a .187 average and just a .252 slugging percentage.
Jake Seiner is a contributor to MiLB.com. Follow him on Twitter at @Jake_Seiner. This story was not subject to the approval of the National Association of Professional Baseball Leagues or its clubs.
View More