Stock Watch: Nimmo finding success
Mets outfielder continuing to get on base after move to Double-A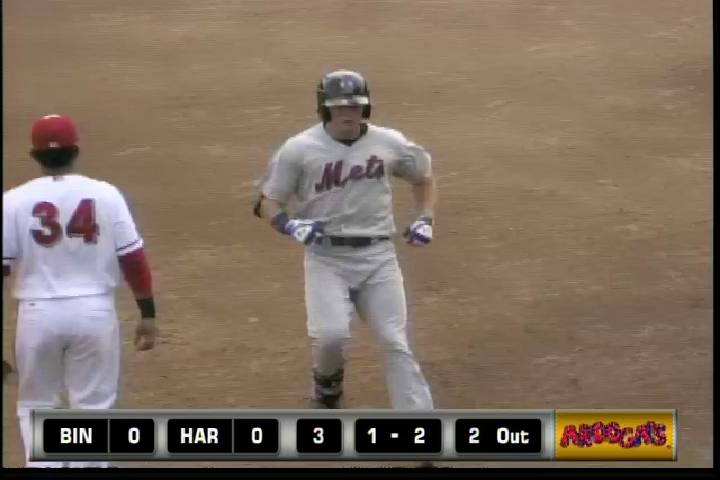 By Jake Seiner / MiLB.com | August 14, 2014 2:50 PM ET
Once a week this season, we're going to break down the prospects who have moved the needle on their prospect stock, mostly highlighting players on the rise, but also pointing out a few who are struggling against expectations. Note: All stats are through games played on Monday.
Trending up
Mets OF Brandon Nimmo, Double-A Binghamton
In the latest iteration of its Top 100 prospects list, the MLB.com prospect team shot Nimmo all the way to No. 67, and other outlets have heaped similar praise upon the Mets outfield prospect after he dominated Florid State League pitching to start the season. Even if the batting average hasn't followed him to Double-A, Nimmo's improved power and long-standing on-base skills are helping him create offense at a well above average clip.
The first thing that jumps off the stat sheet for Nimmo is his plate discipline. The left-handed hitter posted gaudy walk numbers in the lower Minors, starting with a 14.3-percent walk rate with Class A Short Season Brooklyn in 2012. He improved on that slightly with Class A Savannah in 2013, and has walked even more this year with a 17-percent walk rate between Class A Advanced St. Lucie and Binghamton.That patience has allowed him to post a .394 on-base percentage in 295 Minor League games, including a .413 mark this season.
One of the reasons Nimmo does so well working walks is that he not only defends the outer half of the plate well but can also punish pitches in that zone.
Nimmo is very capable of hitting the ball with authority to left-center. The left-handed hitter tracks balls well over the outer half, delivering the barrel with enough punch to drive the ball -- four of his nine homers this year have gone to left or left-center field.
That ability is obvious in the video below, specifically in the slow-motion instant replay:
There's a little less authority in the next video, but it's the same idea. Nimmo tracks the pitch on the outer half and uses a comfortable swing to shoot it into left-center for a double:
Even when Nimmo turns on pitches, it seems like the same principle is the same -- let balls travel deep in the zone before committing to the swing. Here he is squaring up a 1-2 pitch left over the plate earlier this week:
Those videos would suggest Nimmo thrives on an all-fields approach, and the numbers back that up. Per MLBFarm.com, 42 percent of the left-handed hitter's hits this season have fallen into either left or center field, as opposed to just 11 percent in right field. Here's a good visual for that from MLBFarm:
The approach and execution isn't particularly new, though. What's had Nimmo jumping up prospect lists this season, in particular, has been the arrival of some power, particularly while he was still with St. Lucie. After hitting just 10 homers in 189 Minor League games from 2011-13, Nimmo bopped four homers and posted a .448 slugging percentage in 62 games in the pitcher-friendly Florida State League.
That earned him a promotion to Binghamton, where he has five homers and a .414 slugging percentage -- the latter is still higher than any mark he had prior to 2014.
Nationals RHP Lucas Giolito, Class A Hagerstown
Baseball is hard -- like really hard -- at least for most players. Most players are dying to utilize every potential tool at their disposal, from the complex leagues all the way through to the Majors. It's a rule that applies to everybody, except, apparently, Giolito.
The right-hander, apparently bored with disposing of South Atlantic League hitters, decided earlier this week to try an experiement -- what happens if he just stops throwing breaking pitches? The answer: the hitters still don't have much chance.
Those five scoreless innings slimmed the 20-year-old's ERA to 2.23 in 19 starts. He's struck out 105 in 93 innings in his first complete, healthy professional season, even with the kid gloves treatment. When those come off next season, there's potential for Giolito to rocket through what's left of the Minor Leagues and cement his spot as one of the highest-upside arms in baseball.
Trending down
Rangers 1B Ronald Guzman, Class A Hickory
Guzman was a big-money signee in 2011 with a boom-or-bust profile featuring the potential to be an excellent hitter with power. That hasn't translated yet, and if anything, the 19-year-old is trending backward at this point. After working around injuries to hit .272 with four homers in 49 games with the Crawdads in 2013, Guzman is hitting .199 with five homers in 100 contests this season. He hit just .172 with a .503 OPS in July with 29 strikeouts in 26 games.
Jake Seiner is a contributor to MiLB.com. Follow him on Twitter at @Jake_Seiner. This story was not subject to the approval of the National Association of Professional Baseball Leagues or its clubs.
View More