Stock Watch: Peraza speeding up charts
Atlanta second base prospect shining with game-changing speed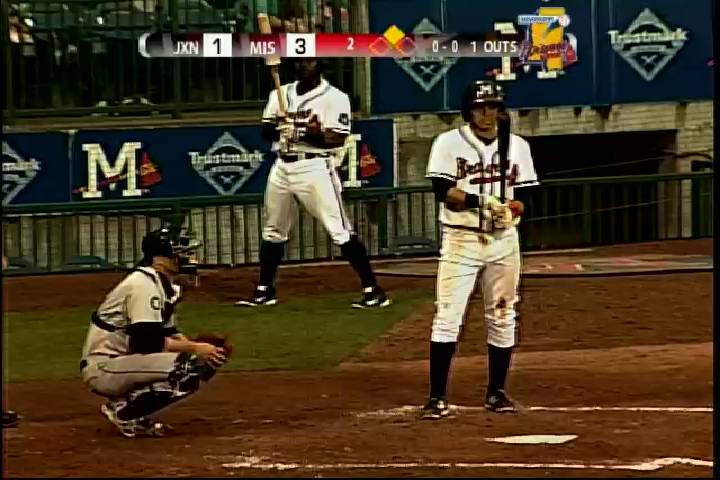 By Jake Seiner / MiLB.com | July 16, 2014 10:22 AM ET
Once a week this season, we're going to break down the prospects who have moved the needle on their prospect stock, mostly highlighting players on the rise, but also pointing out a few who are struggling against expectations. Note: All stats are through games played on Monday.
Trending up
Braves SS Jose Peraza, Double-A Mississippi
It's tough to talk about Peraza without first discussing his speed. The 20-year-old can flat-out scoot, clocking in between 3.9 and 4.1 seconds from home to first, which, as a right-handed hitter, makes him one of the fastest to first in all of baseball.
The middle infielder has swiped 43 bases in 54 tries this season. He's been less efficient (7-of-12) since his promotion to Double-A, and learning to pick spots is a lesson to be learned. Still, his wheels are game-changing tools, as is shown below:
Peraza isn't just fast -- he's quick -- and it shows in the infield. The 20-year-old was a shortstop prior to this season and had a chance to stick at the position if he didn't share an organization with wunderkind glove man Andrelton Simmons. Peraza's range at short drew rave reviews -- some in the Braves' front office even praised Peraza as one of the top defenders in the Minors there -- but there were questions about whether his average arm could play on the left side of second.
At the keystone, the profile is more ideal, allowing him to easily make challenging plays like this:
Offensively, Peraza has a short, contact-oriented swing. Of late, at least, he's been deliberately patient, usually broadcasting his desire to take pitches until he sees a strike. Patience is one thing, but one has to imagine that as word of Peraza's passivity makes its way around the Southern League, he'll be forced to offer at early pitches more often or wind up increasingly in 0-1 counts.
Peraza did plenty to drive up his stock during the first two months of the season with Class A Advanced Lynchburg, where he hit .342/.365/.454 in 66 games. The Venezuelan has remained red-hot in Double-A, with a slash line of .374/.400/.484 to date, but that hasn't kept the Mississippi coaching staff from doing some tweaking.
The infielder had been using an unusual setup at the plate. Prior to each pitch, Peraza would set his hands a few inches in front of his sternum, holding the bat almost completely vertical, then beginning to load his hands back from there.
Noticing that Peraza was still often slow against premium velocity, M-Braves hitting coach John Moses and manager Aaron Holbert asked Peraza last week to try sliding his hands back about two inches toward his right shoulder. The difference is small -- so much so that it can't really be noticed on the MiLB.TV center-field camera -- so grabbing visual evidence is tough.
For an idea of how far he has to load his hands just to get to a reasonable hitting position, though, it can be seen pretty clearly in this clip:
The tweak might be small, but the results have been huge. Holbert gave Peraza the day off last Monday to work on the tweak. On Tuesday, Peraza went 4-for-5 with two doubles. After an off day Wednesday, he went 3-for-5 on Thursday. On Friday, he went 2-for-4, then 3-for-6 on Monday after returning from an appearance at the Futures Game.
Dodgers SS Corey Seager, Double-A Chattanooga
Seager is expected to get his official promotion from Class A Advanced Rancho Cucamonga on Wednesday after obliterating California League pitching for the first three-plus months of the season. The 20-year-old hit .352/.411/.633 with the Quakes, bashing 18 homers and 34 doubles in 80 games.
There isn't much question the left-handed hitter will slug in the Majors, as he has a solid approach, an efficient swing and promising power potential. The bigger question is whether he can stick at short. Reviews on his time in Rancho indicate he's made strides up the middle and is trending the right way, although there's no guarantee Seager will ever even achieve average defense at short. A move to third could still come down the line, but the bat should play at either position, and confidence in that suggestion has only grown in Seager's second full pro season.
Trending down
D-backs OF Stryker Trahan, Class A South Bend
The bottom has more or less fallen out of Trahan's stock this season: the 2012 first-rounder has gone from a promising offensive catcher to an outfielder with a strikeout rate stuck over 35 percent in the Midwest League. Trahan's hitting .195/.259/.369 through 85 games. The raw power is still there and he's clubbed 13 homers this year, impressive considering the frigid Midwestern weather in the early part of the season. Still, it's been a rough season for the 20-year-old's prospect stock. Here's one of his displays of power, from early July:
Jake Seiner is a contributor to MiLB.com. Follow him on Twitter at @Jake_Seiner. This story was not subject to the approval of the National Association of Professional Baseball Leagues or its clubs.
View More