Stock Watch: Santana slugging for Astros
Oklahoma City outfielder showing big power in Triple-A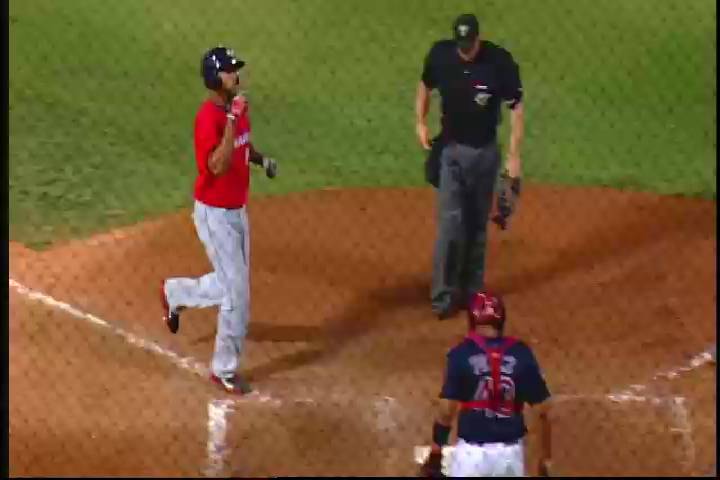 By Jake Seiner / MiLB.com | May 28, 2014 11:30 AM ET
Once a week this season, we're going to break down the prospects who have moved the needle on their prospect stock, mostly highlighting players on the rise, but also pointing out a few who are struggling against expectations. Note: All stats are through games played on Monday.
Trending up
Astros OF Domingo Santana, Triple-A Oklahoma City
So far in 2014, George Springer and Jon Singleton have been grabbing most of the headlines coming out of the Astros' upper-level Minor League affiliates. Slugging right along side them, though, is Santana -- a 21-year-old with a prototypical right-field skillset that includes big raw power and an excellent arm.
The Astros acquired Santana along with Singleton and righties Jarred Cosart and Josh Zeid for Hunter Pence in 2011, and the Dominican outfielder has posted promising offensive results against older competition at every level since. This year, only teammate Ronald Torreyes and Cubs shortstop Javier Baez are younger position players in the Pacific Coast League.
Despite his youth, Santana is hitting .293 with nine homers and an .874 OPS through 52 games. He slugged three long balls during a four-game set at Memphis this weekend, displaying the talents that have him ranked seventh in the Astros' farm system by MLB.com.
In the Memphis series, Santana's best game came on Saturday, when he went 2-for-4 with two homers, three RBIs and a walk. The first home run came on a first-pitch fastball that clocked in at 88. Santana turned on the middle-in offering and jacked it way out to left-center. It was the type of pitch a hitter like Santana should punish, and he did just that.
His second home run as a better testament to his raw pop. Santana went after a fastball up and away in the strike zone, and despite getting under the ball, he managed to drive it into the RedHawks' bullpen in right-center, as you can see below.
Santana put together a few more fine at-bats in that game, rocketing a grounder to the left side that was spoiled by a stellar play from third baseman Scott Moore and then drawing an eighth-inning walk on a series of borderline pitches. Santana also got himself jammed by an 0-1 fastball in the seventh, resulting in a groundout to first.
Good as he was Saturday, Santana showed his youth early Sunday. The outfielder gave away his first at-bat, chasing a fastball and then a slider way out of the zone on the first two pitches he saw. After fouling off a slider on the first 0-2 offering, Santana chased another pitch off the plate and settled for a weak grounder to second.
Santana has struggled this year from behind in the count, hitting .154 with a .413 OPS, so it's important that he not put himself into pitchers' counts unnecessarily. It's that overaggression paired with a proclivity to swing and miss that's led to the outfielder's 28.2-percent strikeout rate.
That at-bat was the most glaring example from the Memphis series. Santana did show better pitch recognition at times, hinting that he could improve with repetition -- something he'll likely continue to get at Triple-A. The outfielder also found himself jammed by a number of fastballs in the series despite his promising bat speed, something that could also be fixed by working more often into favorable counts, where he can anticipate fastballs more often.
Overall, what Santana's doing in Triple-A at his age is impressive. No one has hit 20-plus homers as a 21-year-old in the Pacific Coast League since Wil Myers slugged 24 for Omaha in 2012 -- Santana is on pace to hit 25. There are still areas for the outfielder to improve in his plate approach, though, and closing up those holes will make a massive difference when he begins to face Major League pitchers.
Yankees 3B Dante Bichette Jr., Class A Advanced Tampa
Because of his name, his status as a second-round Draft pick and a strong start in the Gulf Coast League in 2011, Bichette's first full season in 2012 was met with much anticipation. His performance through last season was lackluster, though, as he never solved the Class A South Atlantic League despite two seasons with Charleston.
After hitting .214 as a RiverDog in 2013, Bichette was given a bump to Tampa this spring, where he's raked for the first time since that GCL stint. The third baseman is batting .291 with an .851 OPS through 48 games despite playing in one of the Florida State League's most pitcher-friendly parks. Bichette homered in three of four games over the weekend and has cut down sharply on the strikeouts this season, dipping from a 24.5-percent strikeout clip in 2013 to a 16.5-percent mark in 2014.
Trending down
Blue Jays RHP Aaron Sanchez, Double-A New Hampshire:
A year ago, Sanchez walked 4.2 batters per nine innings with Class A Advanced Dunedin, and so though his stuff -- especially his fastball and curveball -- gave Jays' fans plenty to dream on, it was clear he needed to make some adjustments to improve his command.
That hasn't happened yet, and if anything, Sanchez has gone backward. He's walking 6.3 batters per nine innings with New Hampshire, issuing 34 free passes in 48 1/3 innings. He had his worst start of the season last week, allowing six runs (three earned) on four walks and no hits without recording an out against Portland.
Red Sox LHP Trey Ball, Class A Greenville:
Boston has Ball throwing a heavy dose of fastballs in the South Atlantic League as he learns to repeat his delivery and improve his command. His ability to locate the fastball is coming and going right now, and part of the reason his numbers have been poor as they are (8.38 ERA through five starts) is that hitters know they're going to see mostly heaters. Still, it's apparent that Ball is a long, long way from Boston at this point. He's only 19, but he's clearly trending behind Red Sox top prospect and fellow lefty Henry Owens at equivalent points in their developments.
Jake Seiner is a contributor to MiLB.com. Follow him on Twitter at @Jake_Seiner. This story was not subject to the approval of the National Association of Professional Baseball Leagues or its clubs.
View More