Suns' Nicolino passes test for first win
Marlins' No. 4 prospect takes shutout into the seventh inning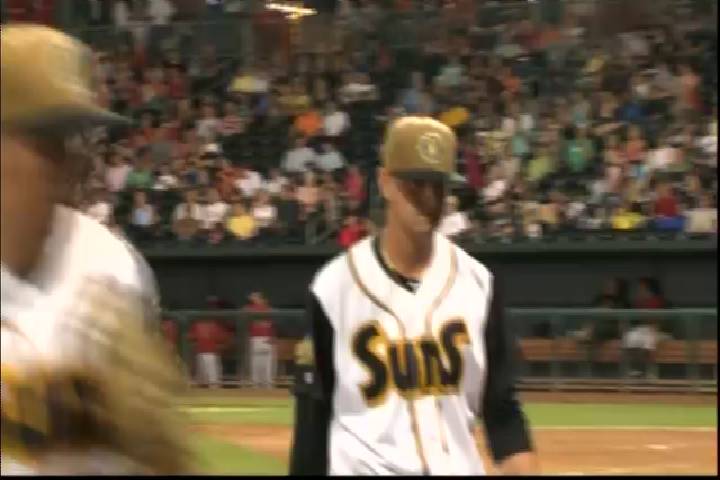 By Robert Emrich / MiLB.com | April 18, 2014 12:40 AM ET
Working without his best pitch, Justin Nicolino showed why he's one of the top prospects in the game Thursday.
The Marlins' No. 4 prospect allowed a run on five hits over 6 2/3 innings to notch his first win of the season as Double-A Jacksonville defeated Chattanooga, 11-4.
Nicolino took a shutout into the seventh inning before surrendering an RBI single to Casio Grider with two outs in the frame. That ended up being the left-hander's last pitch of the night, as he gave way to reliever Collin Cargill. Nicolino finished with two strikeouts and a walk while throwing 89 pitches for the Suns.
"Biggest thing for me was command of my fastball when I needed to," he said. "I didn't necessarily have my secondary stuff as much as I wanted, especially my changeup. For me it was establishing my fastball early, getting ahead and attacking the hitters."
The lack of changeup proved especially vexing for Nicolino (1-2), as the offspeed offering is considered his best pitch. Instead it turned into a big moment early in the Florida native's season.
"It's frustrating," the 22-year-old said. "I think it would be tough if I didn't have command of my fastball. It was just one of those games where I wasn't feeling it. I'm always used to having it in my back pocket when I needed it. It was nice to see that I can go out there for six-plus [innings] with the fastball and curveball and cutter."
Nicolino entered play 0-2 with a 4.82 ERA in his first two Southern League starts of the year, so putting one in the win column proved to be a relief for last year's Florida State League Pitcher of the Year.
"It kind of feels like a little weight has been lifted off my shoulder," he said. "I had high expectations coming into this year and I had a little shaky start. Now that's out of the way. I was very fortunate to pitch relaxed and not have to worry about making mistakes. The defense was unbelievable. Tonight was a good bounceback for me."
Nicolino's previous outing proved particularly tough. The hurler allowed six runs -- four earned -- on seven hits over 4 1/3 innings against Birmingham on April 12. The 2010 second-round pick said the difference was in the work he did between starts.
"We made a few mechanical changes earlier this week," MLB.com's No. 79 prospect said. "We said why not try it now, it's early in the year. I think doing some stuff mechanically kind of helped out, helped me stay back. I wasn't up in the zone tonight and I think that was what hurt me in Birmingham the last time out. I think that's what the difference."
The Suns scored a season-high 11 runs thanks in part to Ryan Fisher, who homered twice and drove in three runs, and J.T. Realmuto, who scored three times.
O'Koyea Dickson was 3-for-4 with a run scored for the Lookouts.
Robert Emrich is a contributor to MiLB.com. Follow him on Twitter @RobertEmrich. This story was not subject to the approval of the National Association of Professional Baseball Leagues or its clubs.
View More