Tapia gets five hits in Tourists' marathon
Rockies' No. 8 prospect breaks 15th-inning deadlock with RBI double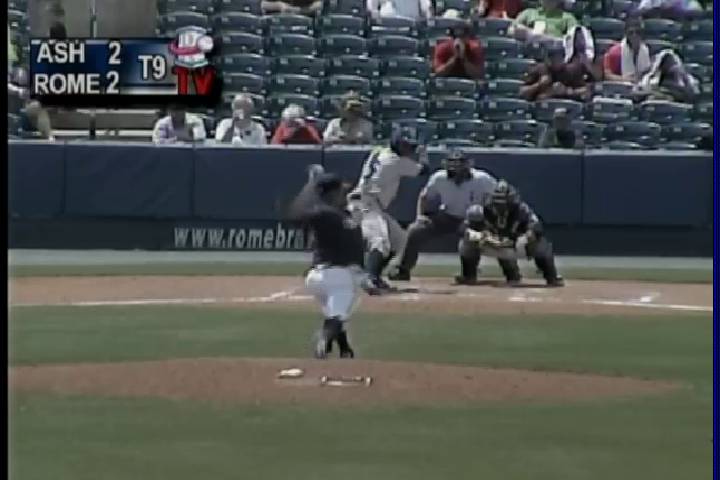 By Kelsie Heneghan / MiLB.com | July 13, 2014 2:25 AM ET
Raimel Tapia is one of the most talked about players in the Rockies organization, but when he steps up to the plate with runners on base, the pressure and hype don't seem to faze him.
Colorado's eighth-ranked prospect came through in the clutch again on Saturday night when we delivered a go-ahead RBI double in the 15th inning to cap a five-hit night and help Class A Asheville outlast Kannapolis, 7-5.
Although he recorded his second five-hit game of the season, Tapia's night started off slowly.
"Earlier in the game, he had a couple strikeouts in his first two at-bats, he was chasing balls in the dirt, something he hasn't done in a while. But he made a couple adjustments throughout the game," Asheville manager Fred Ocasio said of his left fielder. "He was just looking for the ball up in the zone, well not just up in the zone but a ball he could handle, and he pulled some balls."
The contact hitter doesn't strike out often, totaling eight whiffs in his last 10 games. But after he went down swinging in those first two at-bats, Tapia was sure to make contact the next time up. And while he grounded out, Ocasio saw it as a sign that the 20-year-old was making an adjustment.
Then the hits came.
Tapia singled in the seventh, then doubled in the ninth, putting himself in position to score the tying run. The native of the Dominican Republic came around on a double by Rockies No. 5 prospect Ryan McMahon as the Tourists forced extra innings.
The left-handed hitter singled again in the 11th and 13th, scoring to give Asheville a short-lived 5-4 advantage in the 13th. Two innings later, Michael Benjamin hit a one-out single for the Tourists, putting Tapia in position for another big hit.
"Tapi's a tough kid under pressure. That's when he comes up big, in tough situations. That's the type of kid you want up there at the plate," Ocasio said. "He just goes out there and plays the game he loves."
Again, Tapia came up clutch. He doubled to left field off Alex Powers for his fifth hit and first RBI of the night. Correlle Prime tripled one out later to give the Tourists some insurance.
Tapia is hitting .384 with runners on base this season and ranks ninth in the South Atlantic League with 56 RBIs. He enjoys hitting with runners aboard so much that all six of his homers have come with teammate on base.
Like Saturday's matchup, Tapia's season did not begin as well as it's progressed. He hit .244 in April.
"Early in the year, he was chasing pitches that he shouldn't be swinging at. He is an aggressive hitter, and you don't want to take that away, but he worked on not swinging at bad pitches with the hitting coach," Ocasio said. "He had a good year in the Pioneer League [last year] and he is just continuing to do well for us."
Tapia is batting .366 since the end of April to climb into third place in the league at .333. He's fourth with 108 hits.
Another Tourist who's improved since the season's first month is starter Konner Wade. The 22-year-old right-hander gave up three runs on eight hits while striking out seven over 5 1/3 innings and has lowered his ERA from 5.73 on April 26 to 3.72. Trent Blank (3-0), Asheville's sixth reliever, got the win after yielding a run on three hits over two frames. Jefri Hernandez pitched a hitless 15th to pick up his first professional save.
Kelsie Heneghan is a contributor to MiLB.com. Follow her on Twitter @Kelsie_Heneghan. This story was not subject to the approval of the National Association of Professional Baseball Leagues or its clubs.
View More