Tapia unstoppable in Tourists' walk-off
Rockies' No. 8 prospect caps five-hit game with 13th-inning homer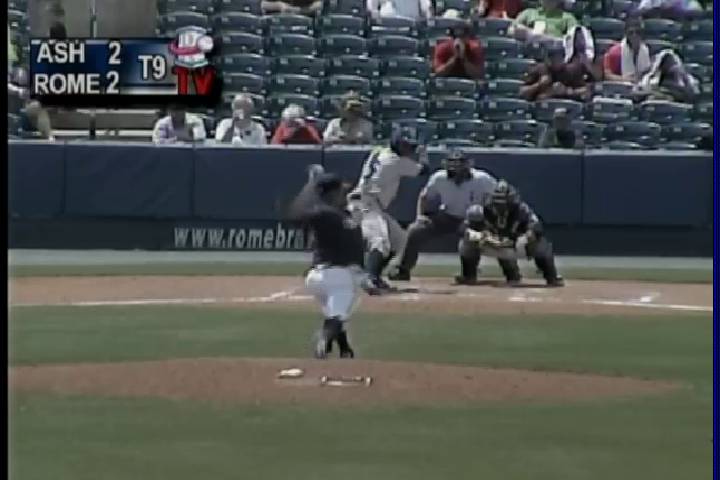 By Robert Emrich / MiLB.com | June 8, 2014 12:17 AM ET
A year ago, Raimel Tapia was one of the hottest hitters in the Minor Leagues. Not much has changed.
The Rockies' No. 8 prospect's fifth hit of the game was a walk-off homer that gave Class A Asheville a 7-5, 13-inning victory over Kannapolis on Saturday night at McCormick Field.
Tapia had four singles and a pair of RBIs in his first six at-bats before taking Alex Powers deep over the right-field wall for a two-out two-run shot in the 13th.
"When you square up the ball, anything can happen," Tourists hitting coach Mike Devereaux said. "That ball was hit pretty well. From that standpoint, as long as he keeps his head on the ball and squares up on the ball, he definitely has the power to hit the ball out of the ballpark."
It was the second five-hit performance for Tapia, who tied a season high with four RBIs and scored twice. He went 5-for-5 and drove in five runs for Rookie-level Grand Junction last July 10.
"He's been hitting the ball well for us for a while now," said Devereaux, who played for five big league teams from 1987-98. "One thing that he's started doing is making sure he's keeping his head down on the ball and not pulling off on it like he was doing earlier in the season."
After batting .244 in April, Tapia has looked like last year's Pioneer League MVP. The 20-year-old outfielder hit .340 with a .896 OPS in May and has carried the momentum into June a .385 average. Overall, he's batting .306 and ranks 10th in the South Atlantic League with 38 RBIs in 53 games.
"Definitely pleased with what he's done," Devereaux said. "There are things that every player at this level has to work on. Within the past few weeks, he's raised his batting average above .300. He definitely has the talent."
Tapia wasn't the only Tourist with five hits on Saturday. Right fielder Jordan Patterson was 5-for-6 with two doubles and two RBIs, falling a triple shy of the cycle.
"Patterson, good guy, works really hard," Devereaux said. "He's been struggling at the plate most of the season, but now he's starting to get the head [of the bat] out and get the barrel on some baseballs. He's been swinging the bat pretty well of late also."
Ashley Graeter, who came on as a pinch-hitter in the fifth, walked ahead of Tapia's fifth homer of the season.
Matt Carasiti (2-1), Asheville's fourth pitcher, gave up one hit and struck out seven over three scoreless innings for the win.
Danny Hayes went 3-for-5 and drove in two runs for the Intimidators.
Robert Emrich is a contributor to MiLB.com. Follow him on Twitter @RobertEmrich. This story was not subject to the approval of the National Association of Professional Baseball Leagues or its clubs.
View More