Taveras posts third straight multi-hit day
Top St. Louis prospect has racked up 10 hits in three Memphis games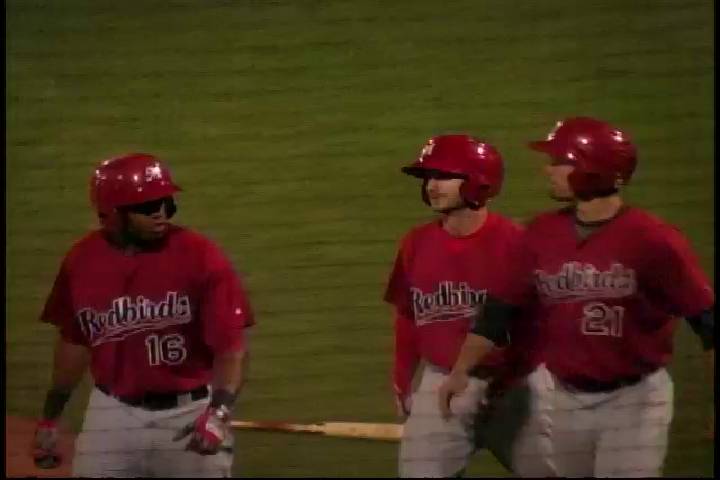 By Josh Jackson / MiLB.com | May 23, 2014 3:00 AM
Top Cardinals prospect Oscar Taveras typically plays baseball with a smile on his face, but it's had reason to be extra bright of late.
Baseball's second-ranked prospect went 3-for-5 with a double, an RBI and a run scored in Triple-A Memphis' 9-8 loss to Colorado Springs on Thursday. It was Taveras' third consecutive game with three or more hits, and he's on a 10-for-15 tear with two doubles, four RBIs and three runs scored.
"I like to play baseball. People say, 'Every time you play, you look happy.' I say, 'Yeah, I know," because in my country, the Dominican Republic, every player is doing the same," Taveras said in a Redbirds radio interview Wednesday. "I don't mind when I'm 0-for-4, 0-for-5. I just want to go play and that's it ... do my job."
Taveras struck out in his first at-bat Thursday, but he knocked a double to start the third inning and singled in a run in the fourth. He scored in that frame on a double by No. 2 Cardinals prospect Stephen Piscotty. After grounding out to short in the sixth, Taveras beat out another one to the same spot in the eighth.
The 21-year-old outfield prospect was hitting .288 on May 9, and he's driven that mark up to .322. Redbirds hitting coach Mark Budaska has been pleased with what he's seen from Taveras from the beginning, but the pair have recently worked on minor tweaks to Taveras' swing.
"He's had a good approach the whole season," Budaska said after Taveras started his hot streak Tuesday. "We've been trying to keep him on top and through the ball instead of around and under it as much as we can. That's what hitters work on constantly -- keeping their swings short."
Taveras, who hits left-handed, said working with Budaska has been a crucial part of his success. He spends extra time in the cage hitting from a tee and facing a pitching machine throwing sliders from both the right and left side.
"[Preparing for games means] taking good swings when I'm in [batting] practice," he said. "Then in the game, against a good pitcher, [I'm] seeing the ball inside, outside, around the middle, wherever."
Taveras was limited to 47 Minor League games last year due to a June ankle injury that ended up requiring surgery in August. His 2014 Spring Training was cut short when -- as he was still gaining confidence in his ankle -- he suffered a minor hamstring pull.
"Oscar Taveras has come back," he said. "Last year, with my ankle, I felt so sad, so mad.
"This year I feel 100 percent. I feel good. I feel ready. I feel strong. This season, I'll probably play in the big leagues next month. I don't know what's going to happen, when I'll get called up, so I try to play here hard, play here great, and help the team and help my teammates."
Randal Grichuk, ranked 11th in the Cardinals system, was 3-for-5 with a run scored and an RBI, and he's also had multiple hits in each of his last three games.
Jackson Williams was 3-for-4 with three doubles, three RBIs and a run scored for the Sky Sox.
Josh Jackson is a contributor to MiLB.com. This story was not subject to the approval of the National Association of Professional Baseball Leagues or its clubs.
View More