Texas notes: Appel keeps his optimism
Astros' top pitching prospect feels he's hitting his stride with Hooks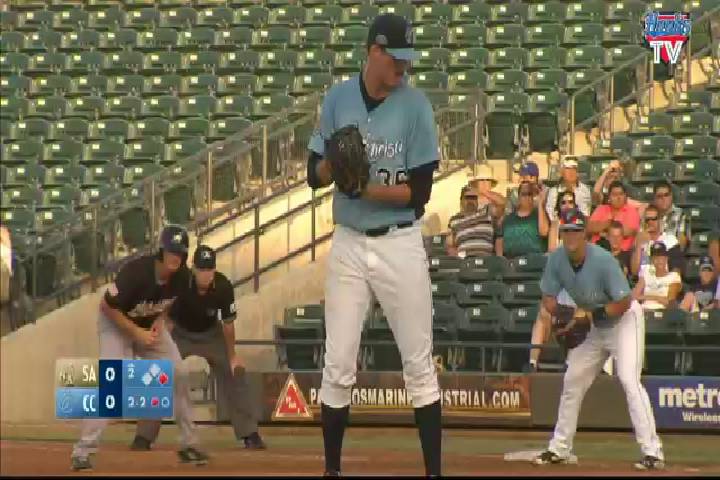 By Todd Traub / Special to MiLB.com | August 19, 2014 10:00 AM ET
Mark Appel walked off the mound between innings of a recent game, clattered down the dugout steps and plopped onto the bench next to Corpus Christi Hooks trainer Bryan Baca.
"I just hate baseball so much," Appel said, a broad smile revealing his lack of sincerity. "It's the worst game ever."
The truth for Appel, the Houston Astros' top pitching prospect, is just the opposite, in fact.
But Appel, dealing with the game's ups and downs as last year's No. 1 overall Draft pick, admits the game can be frustrating. He'd just completed three innings against the Arkansas Travelers that were a snapshot of his season: seven hits, including three doubles, a walk and a wild pitch -- but one hit came on a swinging bunt, two came when he had the hitter jammed, and there were three strikeouts.
Appel reached his 85-pitch count at the end of the fifth inning, when he struck out the side, and finished with four runs and eight hits allowed, seven strikeouts and one walk in the 7-3 loss.
"You can make the pitches you're supposed to and not get results, and you can not make the pitches you want to make and get good results," Appel said. "I know I'll catch a break sometime, but I'm just wondering, why not now? It's frustrating sometimes, but at the end of the day, it's still a game. I had fun tonight. Obviously it's more fun when we win, but I get to play baseball. I get to go out and compete. I get to be with a bunch of really fun guys."
Appel lived the first 12 years of his life in Houston and almost went to the Astros with the first pick in the 2012 Draft, but after pre-Draft negotiations fell through, he was drafted later by the Pirates but did not sign. Appel then completed his management science and engineering degree at Stanford and was taken by Houston a year later, signing for $6.35 million.
In 10 games last year between short-season Tri-City in the New York-Penn League and Quad Cities in the Midwest League, Appel was 3-1 with a 3.79 ERA. It was a solid start -- he walked nine in 38 innings and struck out 33 -- but this year has been different. Appel admits he has a long way to go as he thinks through situations tougher than what he faced at Stanford, where he was 10-4 with a 2.12 ERA as a senior.
Appel was 2-5 with a 9.74 ERA at Class A Advanced Lancaster in the California League, but in four games with the Double-A Hooks, he's 0-1 with a 3.98 ERA.
"The last couple games, I feel like I'm really hitting my stride the fourth or fifth inning and, before you know it, your pitch count is hit and you're out of the game," said Appel, who is working on a four-seam fastball to complement his two-seamer.
Appel chafes at his pitch counts, which can run between 85-100, and said he wants to prove he can pitch with a little fatigue and go deep into the innings of close games.
"I want to be somebody who can go out every fifth day and pitch until the ball is ripped out of my hands or until I have nothing left in the tank," Appel said.
He accepts the attention he gets as a No. 1 pick as part of his job, a job Appel plans to be doing for a long time. That Stanford degree is a plus, he said, but whether you're a non-drafted free agent or an early-round pick, just to make it to the field in Double-A is an accomplishment.
"Being able to walk away with a Stanford degree, kind of that insurance policy in your back pocket, it's nice," Appel said. "But at the end of the day, whether you're a high school sign, or a four-year college sign, you've got to toe the rubber and you've got to step in the box and you've got to compete."
In brief
DeLoach delivers: Lefty Tyler DeLoach looks right at home in the Texas League, going 2-0 with a 1.59 ERA in three starts for Arkansas. DeLoach tossed seven scoreless innings with one hit, two walks and nine strikeouts in his latest appearance, a 2-1 loss to Corpus Christi on Friday.
Three-for-all: The Tulsa Drillers turned the league's second triple play of the season in an 8-2 loss to Frisco on Friday. The feat ended a bases-loaded threat in the sixth inning, went around the horn and came a week after Midland turned the trick in a loss to Springfield.
Finnegan's work: Left-handed reliever Brandon Finnegan has gone right to work since arriving with the Northwest Arkansas Naturals. The Kansas City Royals' first-round pick last year has jumped to Double-A in his first pro season and, in four appearances with the Naturals, is 0-1 with a 1.17 ERA and six strikeouts in 7 2/3 innings. The loss came thanks to four unearned runs against Corpus Christi in a 6-5 setback Aug. 13.
Todd Traub is a contributor to MiLB.com. This story was not subject to the approval of the National Association of Professional Baseball Leagues or its clubs.
View More