Texas notes: Calhoun embraces patience
Tulsa infielder transforms from 'ambush hitter' to succeed in Double-A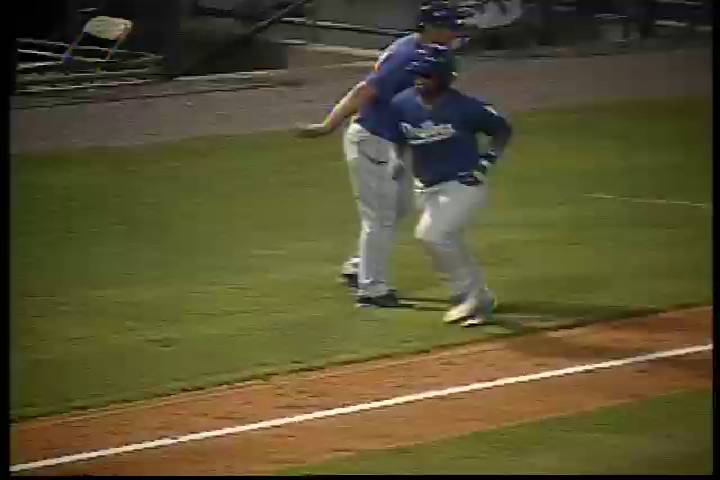 By Troy Schulte / Special to MiLB.com | July 5, 2016 10:00 AM
Willie Calhoun's baseball career hit a crossroads in the winter of 2014.
The Vallejo, California, native had spent one season as an infielder at the University of Arizona before one rough semester in the classroom cost him a roster spot with the Wildcats.
Calhoun, now among the Los Angeles Dodgers' top prospects, said it ended up being a jolt he needed. After being dismissed from the team at Arizona, he ended up at Yavapai College, where he got at-bats and a clearer mind that allowed him to find a direct path to pro baseball.
The second baseman, who hit 31 home runs in 63 games at Yavapai, was picked by the Dodgers in the fourth round of the 2015 Draft and made his Double-A debut at Tulsa this season. The 21-year-old said he credits part of his current success to an unexpected change of course in college almost two years ago, which at the time seemed unfortunate to but ended up being a positive.
"It was the best thing for me," Calhoun said. "After I got kicked out of [Arizona], I was kind of stuck on if I wanted to continue playing. And Yavapai gave me an opportunity and that really changed my whole life."
Calhoun said his exit from Arizona was rooted in academics and had nothing to do with his ability on a baseball field. He showed that in his one season in junior college and has continued to do so through his second season in the Dodgers organization. Calhoun hit .316 with a .390 on-base percentage and slugged .519 with 11 home runs and 48 RBIs at three different levels last season.
This year, he started at Tulsa and after a slow start -- he was hitting .208 on May 7 -- heated up in May and June after a change in approach, a stretch that earned him a Texas League All-Star nod and a spot on the MLB All-Star Futures Game later this month.
Calhoun hit .284 with five home runs and 22 RBIs in May, then slugged seven roundtrippers and drove in 21 runs in June. He heads into this week hitting .251 with a .316 on-base percentage and slugging .454 with 14 home runs and 53 RBIs. He's second in the Texas League in RBIs, tied for third in home runs and is fifth in extra-base hits with 31.
Calhoun credited the improvement to a more "mature approach" after spending the first month of the season as an "ambush hitter," which he described as one who routinely hacks at the first pitch. He's been more patient since, an approach that helped him walk eight times in May and 12 times in June.
"I was swinging at a lot of first pitches, getting out," Calhoun said. "Now, I'm seeing deeper counts and seeing more pitches, and that's all my teammates can ask for as well."
Calhoun said he's not even concerned about his dip in average this season, part of which is due to his slow April. He has confidence that his average will level out while also keeping his power numbers.
If so, it could accelerate his path to higher levels. He doesn't think about where he could end this season, but did say he feels more prepared now for what lies ahead than at the beginning of the season.
"I feel a lot closer," he said. "I feel a lot more ready. I feel like I made a huge step forward, and I feel like I'm ready to compete at the highest level, and that's all I can ask for."
In brief
New looks: Some Texas League rosters had a bit of a different look when teams returned from last week's All-Star break. Corpus Christi shortstop Alex Bregman, Tulsa outfielder Andrew Toles and Northwest Arkansas outfielder Bubba Starling were each promoted to Triple-A in the last week. Bregman, the Houston Astros' top prospect, hit 14 home runs with Corpus Christi before being promoted to Fresno. Toles, a surprise for Tulsa this season considering he was out of baseball a year ago, hit .314 before being promoted to Oklahoma City. Starling, the Royals' No. 7 prospect, was hitting .185 before moving on to Omaha.
Hot out of the gate: Matt Chapman picked up where he left off with regard to home run production coming out of the All-Star break. The Texas League leader in home runs had some company last week in the form of teammate Carson Blair. Chapman and Blair have each homered three times since last week's All-Star break for Midland. Chapman's three homers extended his league lead to 20. Blair, who missed almost two months this season while on the disabled list, homered twice June 30 and once the next night. He was promoted Sunday to Triple-A Nashville.
Bouncing back: Troy Scribner's string of 19 1/3 scoreless innings was snapped June 22 when he gave up five earned runs in four innings of a no-decision at Northwest Arkansas. The right-hander, who didn't join the Arkansas Travelers until May 1, bounced back nicely in his last start, though, holding Frisco scoreless while striking out a season-high nine batters over six innings June 30. Scribner, whose ERA was 6.25 on June 1, is now 6-3 with a 4.05 ERA and 62 strikeouts in 60 innings. He's 3-0 with a 1.59 ERA and 33 strikeouts over his last 28 1/3 innings.
Troy Schulte is a contributor to MiLB.com. This story was not subject to the approval of the National Association of Professional Baseball Leagues or its clubs.
View More