Texas notes: Russell healthy, optimistic
Oakland prospect, sidelined with hamstring injuries, 'feels great'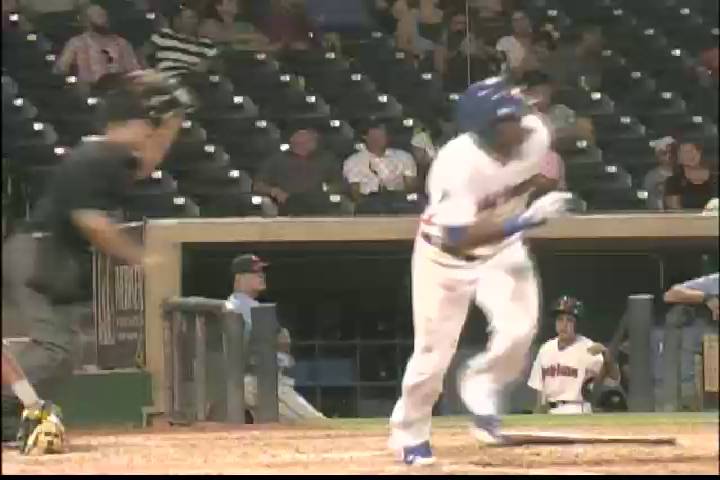 By Todd Traub / Special to MLB.com | July 1, 2014 10:00 AM ET
The start of the Texas League's second-half is normally marked by promotions as young prospects, having proven themselves at the Double-A level, are sent on their way to Triple-A or beyond.
The situation was slightly different for Oakland A's top prospect Addison Russell, who found himself promoted … back to the Texas League. A hamstring injury sidelined the shortstop after just two games with Midland this year and Russell, a shortstop, didn't get back to the RockHounds until the league's second-half opener June 17.
Russell, 6-foot, 195-pound infielder, hit just .188 at Class A Advanced Stockton, but he's hit safely in five of his seven games since returning to the RockHounds and was 1-for-2 with a single, a run scored and two walks in Saturday's game with Arkansas, running his Double-A average to .294 for the year.
In a visit to Midland, A's farm director Keith Lieppman said two hamstring injuries in such a short period were a concern and that Oakland handled Russell with care. But after getting back on the field in a regulation game, Russell said he was ready to go.
"It feels as if nothing happened," said Russell, who doubled home a run in the first at-bat of his return to Midland on June 17. "It feels 100 percent, it feels strong. I've been strengthening and it feels great; I don't feel any tightness."
A Futures Game participant last season, Russell didn't get a chance to log the hours and put up the numbers to earn a berth on the Texas League South All-Star roster or play in the June 24 game. Russell's season, instead, has been a long path from extended Spring Training to Stockton and back to Midland, a place that might already be in his rear view mirror if things had been different.
Russell, of Pensacola, Florida, was Oakland's first-round pick (No. 11 overall) in the 2012 Draft, joining the A's out of Pace High School after he had signed to play college ball at Auburn. A right-handed hitter, he entered the year with a .302 professional average and was deemed the A's shortstop of the future -- with big league starter Jed Lowrie looking at free agency after this season -- and some experts projected Russell to make his big league debut sometime this year.
Russell earns raves for his plate discipline -- he was among Stockton's leaders with 61 walks last year -- and ability to use the whole field, and he hit a career-best 17 homers in 2013. He admitted to surprising himself slightly with the power.
"If I see more pitches and pitchers and take something from every at-bat, it will all fall into place," he said.
He has hit no worse than .275 in any stop, unless one counts his .077 average in a three-game stint at Triple-A Sacramento last year, and appeared ready to tear through the first half when the season started. Russell was hitting .714 after the two multi-hit games that opened the season, suffering what was diagnosed as a Grade 3 tear in his right hamstring after hitting a homer and a single in the April 4 game in which he was injured.
Thinking he initially had a cramp, Russell, who suffered a different hamstring injury during Spring Training, asked RockHounds manager Aaron Nieckula to remove him.
"It's frustrating, but you've got to play it safe," Russell said.
He stayed behind in Midland as teammates Seth Frankoff, Nate Long, Dusty Coleman, Max Muncy and Josh Whitaker were named to the All-Star roster. But if he stays healthy, the A's 40-man roster should still be on Russell's radar.
In brief
June bug: Arkansas right-hander Drew Rucinski closed out a sterling month of June with seven strong innings in a 3-2 victory at Frisco on Friday. Rucinski (7-4, 2.31 ERA) gave up a run in the first, then threw six scoreless innings, striking out five with no walks and improving to 4-0 with a 1.00 ERA in his last five starts, a run that began with the league's only nine-inning shutout so far this year.
High ties: Corpus Christi tied a season high with 15 hits in a 10-3 victory over Tulsa on Saturday. Delino DeShields Jr. also tied season highs with three runs and three steals, and Leo Heras added three RBIs and two steals.
Showing up: Texas Rangers prospect Alex Claudio made his Frisco RoughRiders debut with five scoreless innings in a 5-3 victory over Northwest Arkansas on Saturday. Claudio struck out four, gave up two hits and got a boost from Rangers third-base prospect Joey Gallo, who belted his 29th home run of the season and his eighth with the RoughRiders.
Todd Traub is a contributor to MiLB.com. This story was not subject to the approval of the National Association of Professional Baseball Leagues or its clubs.
View More