Texas notes: Selman working both sides
Naturals lefty focused on control while fine-tuning four-pitch mix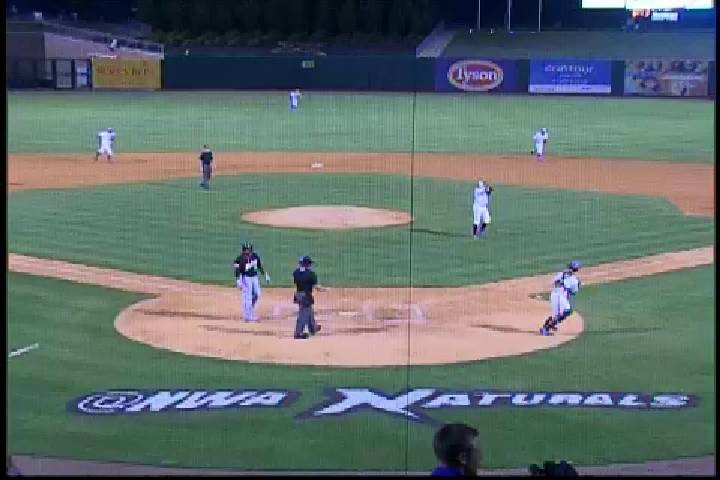 By Todd Traub / Special to MiLB.com | June 17, 2014 10:00 AM ET
Sam Selman boarded a plane as an amateur and got off as a professional headed for a whole different environment.
Selman, a Northwest Arkansas Naturals left-hander and Kansas City Royals prospect, was with Vanderbilt on Draft day 2012 when the Commodores were playing at North Carolina State in the NCAA Regional. After the loss, Selman phoned his dad before the plane took off for Tennessee and left simple instructions for his father and agent: "Make the best decision."
"I get off the plane, turn on my phone and my dad says, 'You've been drafted,'" Selman said.
The Los Angeles Angels originally selected Selman in 2009 out of high school in Austin, Texas, but at 5-foot-11 and 145 pounds, he felt he was too young and undersized, hungry to play college ball first. After three years at Vanderbilt and a couple growth spurts, Selman was on his way to Idaho Falls to play in the Rookie Pioneer League.
It was still the United States and still baseball, but the experience was very different than what he was used to.
"Language is probably the most different thing," Selman said. "Playing in the SEC, it's mostly Southern kids playing there, and then [at Idaho Falls] my starting catcher, he's from South Korea, my shortstop is 16 years old, Raul Mondesi from the Dominican Republic. Not as many 'y'alls' -- just different guys, but it's been a lot of fun."
If they felt a base runner might be onto their signs and wanted to get on the same page, Selman and catcher Jin-Ho Shin would have to call for the interpreter to make sure they didn't cross each other up. But otherwise, Selman said, it was the same baseball with same distances on the basepaths and from the mound to home.
"Baseball is a universal language," said Selman, ranked as the No. 12 Royals prospect. "We all understand -- pitchers and catchers -- fastball, slider, changeup, curveball and all of that."
With language challenges more or less overcome, Selman, the Royals' second-round pick in 2012, is focusing on throwing those same pitches for strikes as he tries to cut down his walks.
"In the past I'd be getting into 2-0, 3-0 holes right off the bat with each batter, and then I'd be forced to throw fastballs and those would get hit or taken for ball four," Selman said. "So the biggest adjustment has been trying to throw a first-pitch strike with pretty much all my pitches, whether or not [hitters are] just sitting fastball first pitch."
Selman (3-4, 3.55 ERA) is among the Naturals' leaders in strikeouts with 53 but also in walks with 35. When he's on, though, he shows flashes of the guy who interested the Royals by holding opponents to a .197 average and .268 slugging percentage at Vandy.
"I'm able to throw my fastball pretty much on both sides of the plate, and then the slider for a ball and a strike and curveball for a ball and a strike," Selman said. "I'm working on the changeup. It's kind of a distant fourth pitch, but I'm getting it back in the arsenal. When I can show them a 72 mph curve as well as a hard slider and a fastball, it kind of sets them off-balance for the whole game -- just pitching inside and outside and keeping them a little uneasy on the plate."
In brief
Clinchers: Frisco clinched its eighth playoff berth despite an 11-inning defeat to Corpus Christi on Friday, thanks to a loss by Midland that gave the RoughRiders the first-half South Division championship. Tulsa beat Arkansas, 2-1, on Wednesday to wrap up a first-half title in the North.
Constellations: Not surprisingly, Frisco and Tulsa each had a league-high nine players named to the June 24 Texas League All-Star Game in North Little Rock, Arkansas. Bill Buckner, who played his first professional game in the league, is the guest speaker for the All-Star gala.
Mound marvels: St. Louis prospect and Springfield lefty Marco Gonzalez struck out a career-high 10 over six innings in Friday's 2-1 victory against Northwest Arkansas. On Saturday, Rangers prospect Luke Jackson teamed with his bullpen to one-hit Corpus Christi in a 10-2 victory. Jackson's only blemish was a two-run second inning in which he yielded a hit and two walks.
Todd Traub is a contributor to MiLB.com. This story was not subject to the approval of the National Association of Professional Baseball Leagues or its clubs.
View More