Texas notes: Wilson enters comfort zone
Cardinals second baseman enjoying early-season jump to Springfield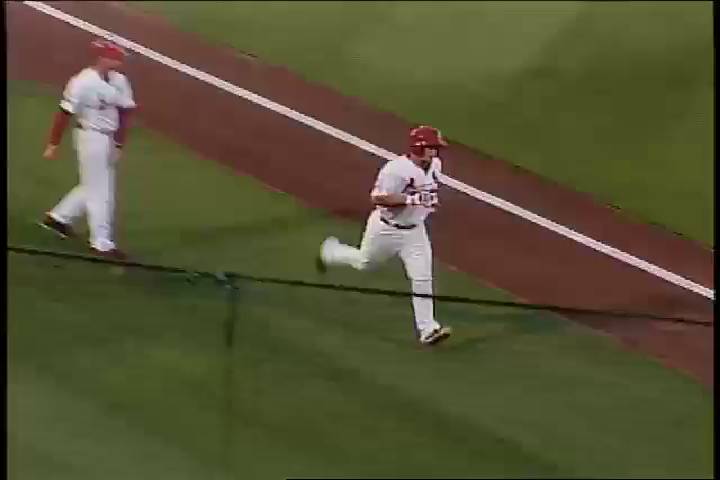 By Todd Traub / Special to MiLB.com | June 10, 2014 10:00 AM
Geographically speaking, Jacob Wilson is in a good spot -- not quite where he wants to be, but close.
The Memphis-area native and Springfield second baseman finds himself in familiar territory in his Texas League debut since the St. Louis Cardinals promoted him from Class A Advanced Palm Beach last month.
When not aiming for the short porch in left at his home park of Hammons Field in Southwest Missouri, Wilson's North Division road trips take him no farther from his hometown than Tulsa. Frequently he gets to play just a few hours away in Little Rock, against the Travelers, and Springdale, Ark., against the Naturals.
"This organization, first of all, is awesome to play in," said Wilson, drafted out of the University of Memphis in the 10th round in 2012. "Springfield is close to home, our Triple-A team is in Memphis, and then St. Louis. So it's a nice career path for my family to stay close, friends can stay close -- I can stay in contact with everyone. It's exciting to be able to go down that path and play for this organization."
Wilson was born and raised in Bartlett, Tenn., with a home now in Arlington, both Memphis neighbors. Of course, he would prefer to make the jump to Triple-A Memphis to play in his backyard or even move straight up I-55 to St. Louis.
"It's nice to be able to have family and friends close to come watch me play," Wilson said of the proximity that St. Louis has in the upper levels of its organization, in which its Double-A and Triple-A teams and the parent club are only a few hours from each other.
At a recent game in Little Rock, in fact, Wilson was preparing to play before a collection of family, friends and his former high school coach making the two-hour trip from Memphis.
"Everyone's driving up to watch the game tonight and tomorrow," Wilson said after a quick pregame visit with Caitlin Motte, wife of St. Louis pitcher and Memphis resident Jason Motte to discuss the cancer-fighting foundation in Motte's name.
Wilson's satisfaction also extends to his place on the field. After he was Conference USA Player of the Year with Memphis in 2012, he was one of three third basemen the Cardinals drafted that year. But Wilson, 5-foot-11, 180 pounds, was told before joining the organization that his foreseeable future would be at second base.
No sweat, said the right-handed-hitting Wilson, who knew his bat would likely be his ticket with the Cards.
"I feel like I can play defense at all three positions and get the job done," said Wilson, who has also worked out at short. "But the key to my success is going to be able to swing the bat consistently at every level."
Wilson is coming off a 2013 in which he hit 18 home runs between Class A Peoria and Class A Advanced Palm Beach. As a pro, he has hit no better than .275 in any league, but he was batting .287 entering Sunday with three Texas League home runs.
"Coming from the Florida State League, there's not a lot of balls hit out of the ballpark down there," Wilson said. "Big parks, a lot of wind blowing in. Coming here the ball flies a little bit more, but obviously the higher you go the better the pitching is going to be, the more consistent it's going to be. They can throw off-speed pitches at any count and keep you off-balance, so it's a little bit harder, but if you go up there looking for your one pitch in an at-bat, you'll still get a pitch to hit as some point during that at-bat."
In brief
Super Drew-per: Arkansas right-hander Drew Rucinski pitched the Texas League's first nine-inning shutout of the season and the first shutout of his career Saturday night. Rucinski (4-4, 2.73 ERA) scattered five hits and struck out six in the 3-0 victory against Northwest Arkansas.
Misses and hits: Corpus Christi struck out a season-high 15 times Saturday but made contact at opportune times. Ruben Sosa made his Hooks debut with a leadoff double in the first inning, and Andrew Aplin drove in the winning run in the 13th for the 3-2 victory over San Antonio at Whataburger Field.
Coming up: The Texas Rangers promoted third baseman Joey Gallo and pitcher Alex Gonzalez from Class A Advanced Myrtle Beach to Frisco on Sunday. Gallo led the Minors with 40 home runs last year and was tied for first again with 21 at the time of his promotion, while Gonzalez (5-2, 2.62 ERA) is Texas' top pitching prospect.
Todd Traub is a contributor to MiLB.com. This story was not subject to the approval of the National Association of Professional Baseball Leagues or its clubs.
View More