The Show Before the Show: Episode 30
Pirates catcher McGuire talks Fall League, learning pitch framing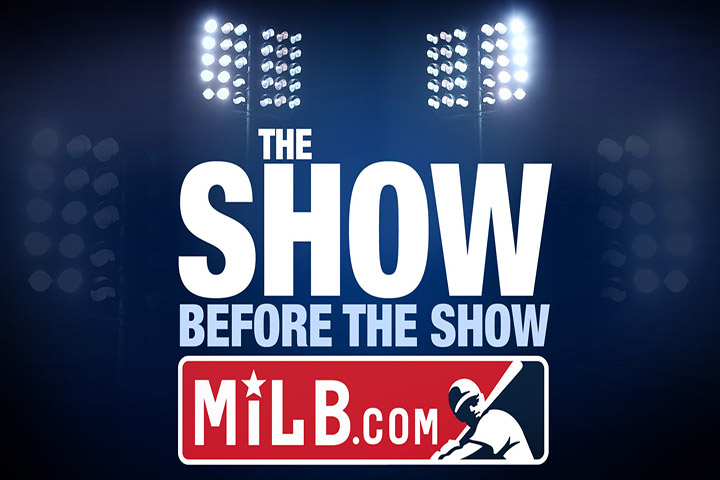 By MiLB.com Staff | October 23, 2015 12:00 PM
Check out the latest episode of The Show Before the Show, MiLB.com's official podcast. A segment rundown is listed below, in case you want to skip to a particular section. Like the podcast? Subscribe, rate and review The Show Before the Show on iTunes. Send your questions and feedback to podcast@milb.com. You can follow hosts Tyler Maun (@TylerMaun) and Sam Dykstra (@SamDykstraMiLB) on Twitter.
Listen to The Show Before the Show Podcast »
Episode 30:
Three Strikes (1:40)
Tyler and Sam touch on the latest Organization All-Star pieces to run on MiLB.com since the last podcast with the Indians, Reds and Rockies. The guys discuss whose Org All-Stars spot would have surprised them back at the start of the season or, in the case of one Rockies prospect, back in June. The phrase "sans spleen" is used.
Turning to the Arizona Fall League, which is now in full swing, Sam talks about his AFL notebook on Red Sox first-base prospect Sam Travis and how he's seen the rise of his friend and fellow former Indiana Hoosier Kyle Schwarber.
For strike three, Tyler turns the podcast's attention to Brewers left-hander Josh Hader, who is pitching out of the bullpen in the AFL after a season in which he was traded for the second time in his career.
Reese McGuire interview (18:54)
Pirates No. 6 prospect Reese McGuire calls in to the show from Arizona, where he's playing behind the plate for Glendale. The 2013 first-rounder updates the guys on life in the AFL and talks about his own defensive prowess, how the Pirates stress the art of pitch framing, what it's like to be a Tesla car owner in the times of self-driving cars and more.
Ben's Biz Banter (28:36)
Wrapping up (41:00)
Listen to The Show Before the Show Podcast. This story was not subject to the approval of the National Association of Professional Baseball Leagues or its clubs.
View More