Thompson's 'crazy' year brings him home
After trade from Tigers, Rangers prospect adjusts to familiar Frisco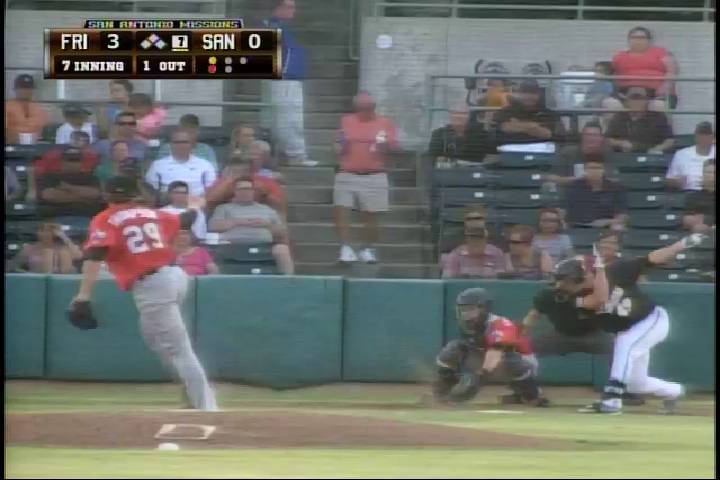 By Kelsie Heneghan / MiLB.com | December 16, 2014 10:30 AM
It started as a typical Wednesday in late July.
Jake Thompson picked up a win in a noon start before hitting the links and enjoying an evening off. He was having dinner with Erie teammates Kyle Ryan and Warwick Saupold when a Detroit reporter sent a text, asking whether the right-hander had heard about a potential trade. Soon, his parents contacted him with the same question.
Curious, the then-third-ranked Tigers prospect took to Twitter to see what was going on. And just like the fans who searched social media to find out about their favorite teams' trade rumors, he learned his fate:
The Tigers have traded prospects Corey Knebel and Jake Thompson to the Rangers for Joakim Soria.
While Thompson sat in shock with his now former teammates, he got a call from the Tigers' front office, followed by conversations with Rangers Minor League pitching coordinator Danny Clark and general manager Jon Daniels. The rumors were true.
"I'm coming home," the Texas native told his parents.
The deal was done and Thompson began to realize what exactly it meant.
"I was sad at first. I had spent a couple years with those guys in the Tigers system, making good relationships, stuff like that," he said. "But then I was thinking, 'It's a business and yeah, you made friends but someone was willing to trade someone as good as the Rangers did for me and Corey Knebel.'
"There was a little bit of a shock factor to it, but after that, we kind of got over it -- we said our goodbyes and I went home to pack."
@jthomp15 Welcome back!

- Frisco RoughRiders (@RidersBaseball) July 24, 2014
* * *
Growing up in the Dallas suburb of Rockwall, the Rangers were his team and Michael Young was his guy.
Now Texas' seventh-ranked prospect, he admired the way Young kept his head down and quietly led his team for over a decade. Young's longevity and respect for the game were exactly what the 6-foot-4 hurler desired.
"[Thompson] doesn't gloat on success. He goes out there and gets it done, and he expects to do well in everything he does. I think that's the type of player Michael was," said Frisco manager Jason Wood. "Between the lines, Michael was an absolute true professional, and I think Jake wants to be that, and he's on the right path."
When he was in Little League, Thompson's father, Keith, encouraged him to follow Mickey Mantle's example and keep his head down when rounding the bases after a home run as to not embarrass the pitcher. A two-way player through high school, the youngest son made sure to do just that after the many long balls he hit.
"He's very big on not disrespecting the game," the elder Thompson said. "You would see virtually no emotion out of the kid. He just let what he did speak for him rather than how he acted afterwards speak for him."
As his high school graduation drew closer in the spring of 2012, Thompson was visited by many teams, but he pitched most often in front of Rangers scouts. On Draft day, however, Texas chose four players with the local kid still on the board.
In the second round, Thompson's name was finally called; with their first pick, the Tigers selected the TCU commit. It wasn't his favorite team, but it was a Major League team. His hard work and sacrifices had paid off.
As he began his career in the Detroit system, Thompson battled for Tigers affiliates on the mound, but away from the field, his heart remained with his first team.
"People always laugh, but I wasn't used to watching the Tigers play; I'd always watched the Rangers. People would laugh when they'd come in my room and I was watching the Rangers game," he said. "I kept checking up on them. After being a fan for so long, it was tough to give it up cold turkey."
In his third season, it got easier -- the 20-year-old found a way to lovingly smack talk his father's basement-dwelling Rangers while the Tigers enjoyed first place. He was happy with his team and the results showed as Thompson earned a trip to the Futures Game in Minnesota after posting a 3.14 ERA and 79 punchouts over 16 starts with Class A Advanced Lakeland.
The right-hander notched the Futures Game victory after striking out both batters he faced in what he called "the coolest thing" he's done in his career so far.
Dallas boys @PirateBaseBell #futures pic.twitter.com/Z3g7eG74pL

- Jake Thompson (@jthomp15) July 14, 2014
The Tigers were impressed and sent Thompson to Double-A Erie, where he made two starts before reading of his trade on Twitter.
"I was excited because I feel like playing for the Rangers is a better opportunity for me to excel and achieve my ultimate goal, which is to play in the Major Leagues," he said.
* * *
After the trade sent him to Double-A Frisco, Thompson found himself sleeping in his childhood bed and playing in a familiar stadium. He grew up 40 minutes from the Dr Pepper Ballpark and played some high school games there, but now he was living at home and making the commute as a professional player.
He was with his organization, in his home state. But he wasn't comfortable just yet.
Thompson didn't know any of his new coaches or teammates, except Joey Gallo. The right-hander had played in some high school showcases with the Rangers' top prospect, and the two had reconnected at the Futures Game.
"He's a good guy, and he was a big help when I got to Frisco," Thompson said of the power hitter. "The transition to Texas was easier than I thought it'd be just because I had someone to talk to."
The second-round pick was settling in with his new teammates and new league, and in his second start, he picked up his first win in the Rangers system with 6 2/3 scoreless frames, notching a season-high nine strikeouts.
Though he had plenty of friends and family in the crowd for each of his home starts, Thompson focused on the task at hand. With a 3-1 record and 3.28 ERA over seven Texas League games, the hurler reached the playoffs for the first time in his three-year career.
"He tends to be quiet, but you can just see in his eyes the desire to succeed, to do well. He lives and dies with every pitch, and he shows it out there. Not to a fault, but you can tell he is very, very competitive," Wood said. "It's a quality he has and I think one that will take him over the top."
The skipper said if Thompson continues to improve, he could make his Major League debut next season in the ballpark he grew up admiring.
But wherever the 2012 Draft pick winds up next season -- Frisco, Round Rock or Arlington -- it will be in his home state, barring another trade.
"It's been a crazy year. Not a whole lot could've gone much better; I played well with all three teams I was with," Thompson said. "It was a fun year, and I'm excited I ended up in Texas."
Kelsie Heneghan is a contributor to MiLB.com. Follow her on Twitter @Kelsie_Heneghan. This story was not subject to the approval of the National Association of Professional Baseball Leagues or its clubs.
View More