Three of a kind: Aces hit consecutive homers
Jacobs, Weber, Kieschnick all go deep in fourth inning against Omaha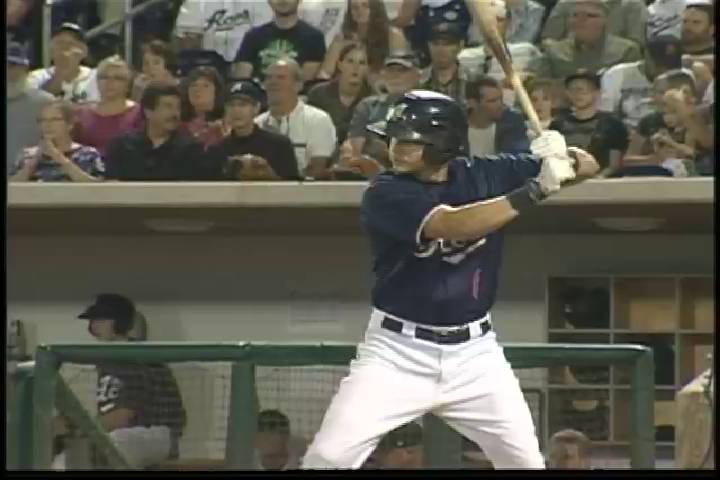 By Josh Jackson / MiLB.com | August 28, 2014 2:25 AM ET
The Reno Aces gave their fans three very good reasons to remember the final home game of the regular season.
Mike Jacobs, Garrett Weber and Roger Kieschnick hit back-to-back-to-back home runs on a four-pitch span of the fourth inning Wednesday night, powering the Aces to a 5-2 win over visiting Omaha.
"It was a nice little sendoff," said Weber, who added a solo shot to cap his third career two-homer game. "Things here have been great. If we make the playoffs, obviously, we'll be back. But in the last series of the regular season, it's nice to finish strong to send the fans off with something good.
"It's a lot of fun anytime you get to be a part of something like that. Everybody was going crazy in the dugout. Those were three big runs that Jacobs got us started on, and it was awesome that Kieschnick kept it going."
The victory gave Reno (77-62) its first four-game sweep of the year and pulled it within one game of first-place Sacramento (78-61) in the Pacific Coast League's Pacific Northern Division. The Aces begin a season-ending five-game series at Sacramento on Thursday.
Weber likes their odds.
"We couldn't ask for more momentum than we have right now," he said. "We're going to Sac, needing to take four of five and we're confident we can do that. We've been winning a lot of ballgames and playing good baseball."
The homer parade came with two outs in the fourth against Omaha starter Andy Ferguson -- who was making his Triple-A debut -- and Reno trailing, 2-0. Jacobs, who went 2-for-4 with two RBIs, was in an 0-2 hole when he pulled Ferguson's third offering over the right-field fence for his 15th homer.
Weber knocked the next pitch over the wall in left.
"I was just looking for something good to hit," the Fresno State product said. "I happened to get a pitch where I was looking for one. I had a good feeling [it was gone]. I hit it pretty good."
He had absolutely no doubt about Kieschnick's long ball, which came on an 0-1 pitch. It was one of two hits for the veteran outfielder, who has 14 homers on the season.
"When he hit his, everybody went nuts," Weber said. "I looked back and saw how he hit it and I knew it was out, especially with the way the ball flies to right here. It was awesome, especially to put us up by one run."
Weber took Ferguson (0-1) deep again on a 1-1 offering leading off the seventh, extending Reno's lead to 4-2 and giving 25-year-old outfielder six homers in 49 games since a promotion to the PCL on July 1.
"I just felt like I was back to being looser at the plate. And after the first one, I gained some confidence up there," he said. "Again, I got a good pitch to hit and I was able to put the good part of the bat on the ball.
"It's nice to hit a home run, and two in a game is extra-nice. More importantly, it extended our lead for our pitcher."
Aces starter Charles Brewer improved to 8-10, going eight innings and holding the Storm Chasers to a pair of runs on five hits. He struck out 10 without walking a batter and set down the last 15 hitters he faced.
"You couldn't ask any more out of him," Weber said. "In the clubhouse we have a nickname for him: 'Big Game Brew.' He's been showing that the last few outings, right when we've needed him to. We've already said, he's got Game 5 in Sac, and that's what it could come down to. His start was huge for us, obviously, and it was big for him personally, too."
Bo Schultz retired both batters he faced in the ninth and Joe Paterson struck out Carlos Peguero to complete the four-game sweep.
The Aces also hit three consecutive homers on April 19, when Nick Evans, Kieschnick and Blake Lalli pulled off the trick in the second inning of a 9-2 win at Fresno.
Josh Jackson is a contributor to MiLB.com. This story was not subject to the approval of the National Association of Professional Baseball Leagues or its clubs.
View More