Thursday trade roundup: Dealings aplenty
DeSclafani, Crawford join Reds; Eflin, Wieland part of Kemp deal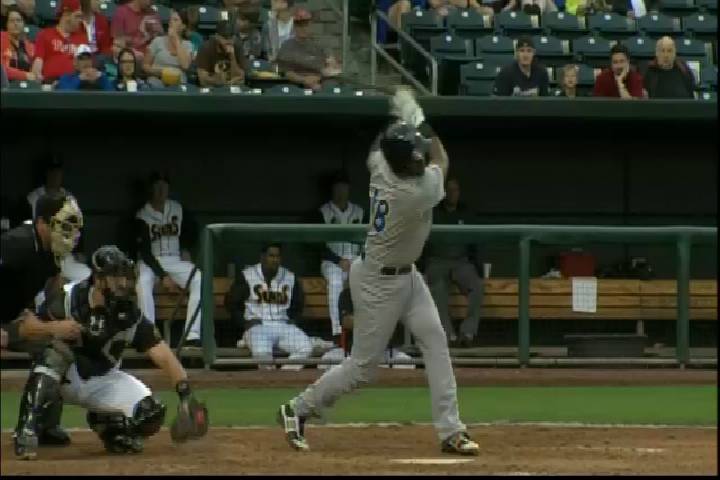 By Sam Dykstra / MiLB.com | December 11, 2014 10:36 PM
Offseason? What offseason?
Thursday has been a day of movement in the game of baseball with 44 Minor Leaguers being taken in the Rule 5 Draft and several more being traded to new organizations in one of the busiest days on the trade market (non-July 31 division).
Here's a breakdown of some of the prospects who were moved Thursday:
Rangers ship Chris Bostick, Abel De Los Santos to Nationals for Ross Detwiler: Coming off a big league season ravaged by injuries, Texas added some depth to its starting pitching core by sending Bostick and De Los Santos to Washington in exchange for lefty Detwiler.
The trade is the second for Bostick in as many offseasons. The second baseman, a 44th-round pick of the Athletics spent 2014 with Class A Advanced Myrtle Beach, batting .251/.322/.412 with the Pelicans. Bostick was dealt from Oakland to Texas a year ago with outfielder Michael Choice in exchange for big league outfielder Craig Gentry and pitcher Josh Lindblom.
De Los Santos also spent time in Myrtle Beach last season after beginning the year with eight appearances for Class A Hickory. Between the two levels, the right-handed reliever went 5-3 with a 1.92 ERA in 41 games. De Los Santos converted eight of nine save opportunities in the Carolina League and struck out 65 batters while walking just 18 in his 56 1/3 total innings pitched.
Padres send Zach Eflin, Joe Wieland to Dodgers in Matt Kemp deal: Eflin and Wieland were ranked as the No. 10 and 17 prospects in the Padres system by MLB.com at the time of the deal.
Eflin was taken by San Diego with the 33rd overall pick in the 2012 Draft out of Hagerty High School in Oviedo, Florida. He worked his way up to Class A Advanced Lake Elsinore in 2014, going 10-7 with a 3.80 ERA with 93 strikeouts and 31 walks over 128 innings in the hitting-heavy California League. With a career 2.3 BB/9 through two-plus seasons, the 20-year-old right-hander has shown impressive control. MLB.com gave his changeup an above-average 60 grade and noted that his fastball (55) sits in the low 90s.
According to FOX Sports' Ken Rosenthal, Eflin could be flipped to the Phillies in the rumored Jimmy Rollins trade with the Dodgers, although that final return has not been officially announced.
Wieland, 24, was part of a trade back on deadline day in 2011, when the Rangers sent him and Robbie Erlin to San Diego for reliever Mike Adams. A year later, elbow problems forced him to undergo Tommy John surgery, causing him to miss the entire 2013 campaign. He returned to the mound in the middle of July this past season and posted a 3.42 ERA with 20 strikeouts and four walks in four starts for Triple-A El Paso before moving up to the Padres in September. He allowed nine earned runs over 11 1/3 innings in the season's final month. Like Eflin, his control has been his calling card with a career 1.6 BB/9 in the Minors. (That number was at 1.4 this season, even after recovering from surgery.)
Reds acquire Jonathon Crawford, Anthony DeSclafani in separate deals: Cincinnati had reportedly been looking to trade some of its rotation assets, and it did just that, spinning off Alfredo Simon to Detroit and Mat Latos to Miami in a pair of Thursday trades and acquiring two No. 2 prospects in the process.
Crawford, previously the Tigers' No. 2 prospect, is off to a new organization after being taken 20th overall in the 2013 Draft out of the University of Florida. The 23-year-old right-hander was a big part of a tremendous rotation at Class A West Michigan, where he posted a 2.85 ERA and 1.16 WHIP in 123 innings during his first full season in 2014. His fastball can touch the mid-90s with a slider and changeup in the mix as well. Command concerns cloud whether his future will be in a rotation or in the back end of a bullpen.
The Reds also received shortstop Eugenio Suarez, who batted .242 in 85 games for the Tigers in 2014. With Jose Iglesias set to return to short in 2015, Suarez became moveable.
On the other side in the Latos deal, the Redlegs poached Anthony DeSclafani and Minor League catcher Chad Wallach from the Fish. With two new holes in the Cincinnati rotation, DeScalafani could become the team's No. 5 starter come April. The 24-year-old right-hander posted a 3.78 ERA and 1.21 WHIP with 97 strikeouts in 102 1/3 innings between Double-A Jacksonville and Triple-A New Orleans in 2014. He made his Major League debut on May 14 and was called up to the Marlins on four different occasions, posting a 6.27 ERA in 13 appearances (five starts), although he pitched exclusively out of the bullpen in the Majors after August. He made six starts in the Arizona Fall League this autumn, posting a 2.67 ERA with 24 strikeouts and only four walks in 27 innings.
Armed with a fastball-slider-changeup mix, DeSclafani, who was part of the package the Blue Jays sent the Marlins for Jose Reyes, Mark Buerhle, Josh Johnson and others in 2011, will likely get a chance to start for the Reds. He had become the Marlins' No. 2 prospect after Andrew Heaney was traded to the Dodgers (then Angels) on Wednesday.
Wallach, who was not ranked in the top 20 of the Marlins system by MLB.com, is perhaps best known as the son of former Major Leaguer and Dodgers bench coach Tim Wallach, He was Miami's fifth-round pick in 2013 out of Cal State-Fullerton and batted .322 with a .431 on-base percentage in 97 games between Class A Greensboro and Class A Advanced Jupiter during his first full season this past summer. He threw out only 25.7 percent of would-be basestealers, however.
Gabe Speier a Minor piece in Cespedes-Porcello swap: Outfielder Yoenis Cespedes and right-hander Rick Porcello were the headline-grabbers, but other pieces are headed to the Tigers in right-handed reliever Alex Wilson and left-handed pitching prospect Gabe Speier.
Speier, the only player in the deal with prospect eligibility remaining, was taken in the 19th round of the 2013 Draft out of high school and underwent Tommy John surgery in September of the same year. He returned in July with Boston's Gulf Coast League affiliate and allowed only five earned runs in 29 innings (1.55 ERA) in nine outings this summer. In that span, he struck out 26 while, astoundingly, walking only one. He will turn 20 next April.
Wilson made 35 appearances for Triple-A Pawtucket in 2014, putting up a 4.35 ERA and 1.48 WHIP with 40 strikeouts before getting called up to Boston for good in August.
Sam Dykstra is a contributor to MiLB.com. This story was not subject to the approval of the National Association of Professional Baseball Leagues or its clubs.
View More