Tides' Wright falls short in no-hit bid
Orioles' No. 7 prospect loses no-hitter on two-out double in ninth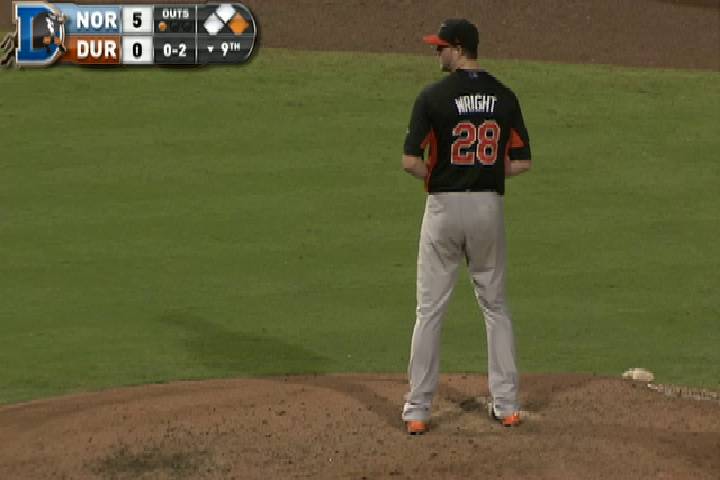 By Robert Emrich / MiLB.com | August 22, 2014 12:26 AM ET
Mike Wright has looked like a different pitcher over the last month, a fact very evident to the Triple-A Bulls and their 9,521 fans at Durham Bulls Park on Thursday.
The Orioles' No. 7 prospect was a strike away from a no-hitter before Mikie Mahtook hit an RBI double as Norfolk defeated Durham, 5-2.
Wright (5-13) struck out a career-high 11 batters while surpassing his previous best with 121 pitches.
"It was exciting," the 24-year-old right-hander told the Herald Sun. "Everything was working. You could feel the excitement from the crowd."
Prior to the double, Alexi Casilla committed a throwing error on a ground ball slowly hit to short by Cole Figueroa that prolonged the inning and set the stage for Mahtook's line drive to right field. The Major League veteran voiced displeasure at his effort.
"What do you want me to say?" Casilla said. "I screwed up the whole thing."
Wright, who previously struck out 10 for Double-A Bowie on July 26, 2013, fell just short of the first complete game of his career as well. The South Carolina native had worked seven or more innings in three of his previous five starts, and with a no-hitter on the line, Tides manager Ron Johnson wanted to give Wright the chance at finishing off his gem.
"I was the most nervous person in the ballpark," Johnson said. "It's one of those things where you just have to ask for forgiveness afterward. But no matter what happened, Mahtook was his last batter."
Prior to walking Rays' No. 4 prospect Hak-Ju Lee to open the ninth, Wright had retired 13 consecutive batters in pursuit of the fourth International League no-hitter this season. He ended up allowing two unearned runs over his 8 2/3 innings.
The outing put an exclamation point on a string of successes for the East Carolina University product. Wright has gone 4-3 with a 2.18 ERA in seven starts since the All-Star break.
"At the start of the season, he was having trouble getting through three innings," Johnson said. "His pitch counts were way up. He's been pitching great lately."
Overall, Wright is 5-11 with a 4.83 ERA for Norfolk. Despite falling short in his bid, he expressed optimism going forward.
"I have two more starts this year," Wright said. "I can still get one."
After uncorking a wild pitch that scored Figueroa, reliever Brock Huntzinger got Jeremy Moore to line out to center earn his first save.
Julio Borbon contributed on both sides of the ball, going 2-for-4 with an RBI and a run scored while also making a sliding catch in center in the seventh to prevent a hit.
Dariel Alvarez gave Wright an early lead by slugging a three-run homer in the first inning, his first IL long ball.
Robert Emrich is a contributor to MiLB.com. Follow him on Twitter @RobertEmrich. This story was not subject to the approval of the National Association of Professional Baseball Leagues or its clubs.
View More