Tigers Prospect Primer: Fulmer loaded
Right-hander ready for Motown; Bernard, Hill speed past roadblocks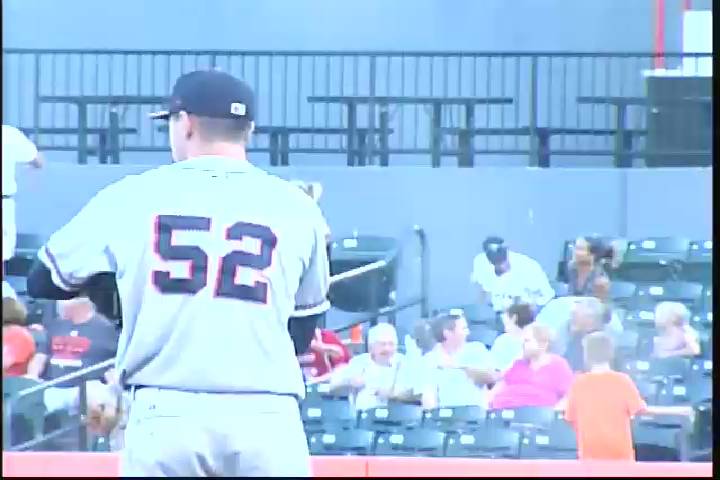 By Kelsie Heneghan / MiLB.com | March 31, 2016 10:30 AM
Some players are on the verge of stardom, others are entering a crucial phase of their development and still others are getting their first tastes of full-season ball. With the 2016 season approaching, MiLB.com takes a look at the most intriguing prospects from each MLB organization.
Major League-ready: Michael Fulmer, RHP
It didn't matter what uniform Fulmer wore last year, it was clear he was the best pitcher in the Eastern League. Acquired from the Mets with fellow right-hander Luis Cessa for Yoenis Cespedes at the trade deadline, he became the Tigers' top prospect after quickly adapting to his new Double-A club.
"He's a very mature athlete. He's got a good sense about him, he's confident and an intelligent guy," said Tigers vice president of player development Dave Littlefield. "I think [it] benefits him, having to deal with other issues."
After a promotion from Class A Advanced St. Lucie, Fulmer went 10-3 with a 2.14 ERA and 116 strikeouts against 30 walks in 21 starts for Binghamton and Erie. MLB.com's No. 53 overall prospect cut down on his free passes from 2014 while notching a career high in punchouts as he continues to highlight his command and control.
"I think he's going to be a very good starting pitcher. He has three average to plus pitches, he's very competitive," Littlefield said. "He's got sink to his fastball, he's a durable guy. There's a lot to like there with Michael Fulmer."
Full-season debutant: Tyler Alexander, LHP
The Tigers selected Alexander in the second round of last year's Draft, and it wasn't long before the 21-year-old southpaw was proving his worth. He didn't allow a run over his first 14 innings with Class A Short Season Connecticut en route to climbing to No. 15 on the team's prospect list.
When the season ended, Alexander had allowed four earned runs over 37 innings in 12 starts for a 0.97 ERA. He also displayed an impressive strikeout to walk ratio of 6.6 (33 Ks, five BBs) with his above-average control.
"He had a great first summer, there's no doubt about that, in all facets," Littlefield said. "He is another mature guy who is advanced as a starting pitcher goes. We have very high hopes. He's competitive, intelligent and he's savvy about how he uses his pitches and throws a lot of strikes. He's done a fantastic job in the short time we've had him, and we feel he has a very bright future with us."
Loudest tool: Wynton Bernard, OF
Two years ago, Bernard was cut from the Padres and had to try out for the Tigers. Now he's becoming a mainstay atop lineup cards.
Bernard has recorded at least 40 stolen bases while hitting above .300 in each of his two seasons in the Tigers system. The club's No. 23 prospect also flashed the leather, committing only six errors while patrolling the outfield for Double-A Erie in 2015.
"He's a very good athlete, he's hit very well, stolen some bases, plays good defense," Littlefield said. "So there's a lot of things about his game that add up to being someone we have high hopes for in Detroit."
With veteran outfielder Cameron Maybin sidelined, Bernard stayed in big league camp until the end of March before returning to Triple-A Toledo for a little more seasoning.
"He's an exciting athlete and just a great, great person. He's one of those guys you just want to root for every time he's out there. He's done a real nice job in Major League camp, his first Major League camp," Littlefield said. "And with the injury we have with Maybin, he's really shown the Major League staff that he's a very bright prospect and someone we're going to have to look at more seriously as time goes on."
At the crossroads: Steven Moya, OF
Once upon a time, Moya was the Tigers' top prospect. He had a cup of coffee in the Majors in 2014 and remained atop the system while his numbers fell last year.
After hitting .243 with 23 homers and 82 RBIs, mostly with Toledo, Moya got another shot in Detroit that did not go as well as the first one. The left-handed slugger went 4-for-22 before heading to winter ball to rediscover what made 2014 so special.
"I think as any power hitter goes, he's a big, strong guy. He's got long arms and pitchers will want to get in on him, throw breaking balls. And I think just that adjustment, making more contact and adjusting to what the pitchers are doing will be a big part of what we get out of him," Littlefield said. "And so far, he's starting to make that first adjustment when he went to winter ball and did well there.
"[He] just had a good Spring Training, so we're very intrigued by him. He's a great-looking guy and there's lots of potential there."
Moya had his ranking among Tigers prospects fall to No. 10 in the offseason, but he crushed four homers in his first 10 Grapefruit League games, an indication he could be primed to pick up where he left off in 2014.
Back and healthy: Derek Hill, OF
Hill has been in the Minors for almost two years, but the 2014 first-round pick has played only 53 games. The 20-year-old battled a back injury following the Draft, then suffered a quad strain just two games into the 2015 season with Class A West Michigan.
All in all, Hill spent three stints on the disabled list last year, totaling 210 at-bats. He still flashed impressive speed with 25 stolen bases in 32 chances.
"We're going to be very aggressive on the bases with him and see if he can really push those stolen bases and become even a better basestealer," Littlefield said. "He's a young guy who has tremendous athleticism and speed and a live body and a real smart kid who's got oodles of potential who is going to have to keep working hard at his game.
"He's got a live bat, the ball jumps off that barrel, so he's a very interesting guy."
More to keep an eye on: Beau Burrows (Tigers No. 2 prospect) is primed to follow up a strong first season. The 22nd overall pick in last year's Draft posted a 1.61 ERA and 33 strikeouts in 10 Gulf Coast League games. ... Obtained from the Pirates for Joakim Soria in 2015, JaCoby Jones (No. 8) is the Tigers' top infield prospect. The shortstop will finish up a 50-game suspension before beginning his first full season in the system. ... Southpaw Kevin Ziomek (No. 6) has steadily worked his way through the system and looks to follow up a dominant season in which he led the organization with 143 strikeouts.
Kelsie Heneghan is a contributor to MiLB.com. Follow her on Twitter @Kelsie_Heneghan. This story was not subject to the approval of the National Association of Professional Baseball Leagues or its clubs.
View More