Tomlin tosses three-hit shutout for Clippers
Indians Minor Leaguer strikes out 10, makes 89 pitches in 3-0 victory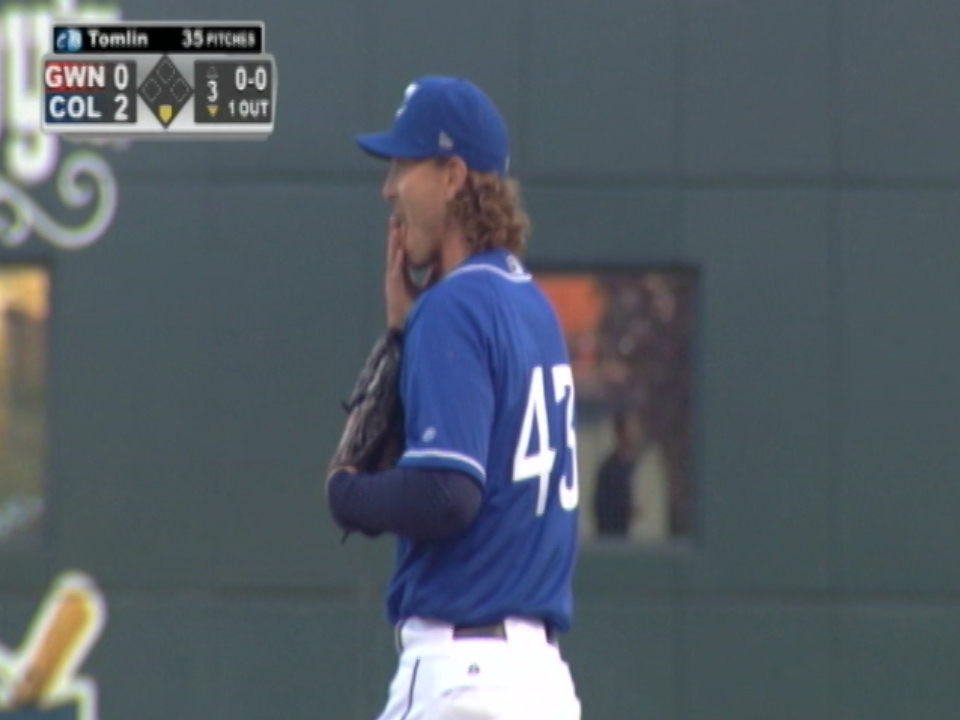 By Josh Jackson / MiLB.com | May 1, 2014 11:37 PM ET
Josh Tomlin was the final starting pitcher the Indians cut from big league camp in Spring Training. The way he's pitching lately, Cleveland may soon want him back.
Tomlin unfurled a three-hit complete game, striking out 10 without walking a batter, to earn his second straight victory in Triple-A Columbus' 3-0 shutout at Durham on Thursday.
"My fastball command is there. I was able to throw it in and away, and get elevation when I needed to," he said. "[Catcher] Roberto [Perez] does a great job, and we were on the same page all night."
The 29-year-old righty threw eight shutout innings without walking a batter in his last start against Gwinnett on April 25, and he's now 2-1 with a 2.06 ERA to show for five International League starts. In the span of 35 innings, he's struck out 28 and walked nine.
In his Thursday start, 70 of his 89 pitches were strikes.
"I pride myself on [throwing strikes]. I try not to beat myself," Tomlin said. "I want to throw the ball over the plate and let the defense work. When the defense plays like [the Clippers have been], you want them to put balls in play."
He cruised through the first seven hitters he faced. Top Rays prospect Hak-Ju Lee reached on an infield hit with one out in the third, but by that point, Tomlin was in his groove.
"I felt pretty locked in, I did," he said. "I was able to locate for first-pitch strikes."
Tomlin induced a ground ball off the bat of the next batter, Roman Ali Solis, and the Clippers turned two to end the inning.
"I was trying to stay locked in and luckily everything panned out," he said. "When everything goes the way it was tonight, you just want to throw strikes and keep the game moving -- let your defense do its job and get them back into the dugout so everybody can go home soon."
The other two hits the Texas Tech product allowed were doubles that led off an inning -- Wilson Betemit hit one in the fifth and Lee followed suit in the next frame.
Tomlin didn't sweat the runners standing on second with nobody out.
"I just attacked the strike zone. If I gave up one run, it wasn't going to put us out of the game. It would have been a 3-1 or a 3-2 game," he said. "I didn't want to give up a big inning. We have a great bullpen, and our guys are swinging the bats, so I felt as long as I was throwing strikes, [we'd be fine]."
Tomlin retired the last 12 batters of the game in order.
If it seems like he's pitched like a man on a mission in his last couple starts, Tomlin admitted he's excited to eventually return to the Indians, for whom he made 59 appearances -- 54 starts -- between 2010-'12. He missed much of 2013 while recovering from right elbow reconstruction surgery.
"You definitely want to go out there and throw your best, in case something happens to anybody on the big league level. I think that's what everybody tries to do [in Triple-A]," he said. "But at the same time, you're concentrating on winning games here. You're down with the Columbus Clippers, and when you're with the Columbus Clippers, you want to do everything you can to help that team win."
Tenth-ranked Indians prospect Carlos Moncrief triple and scored once in the victory.
Josh Jackson is a contributor to MiLB.com. This story was not subject to the approval of the National Association of Professional Baseball Leagues or its clubs.
View More