Toolshed: Cubs' Cease just getting started
No. 97 overall prospect ready to prove himself over a full season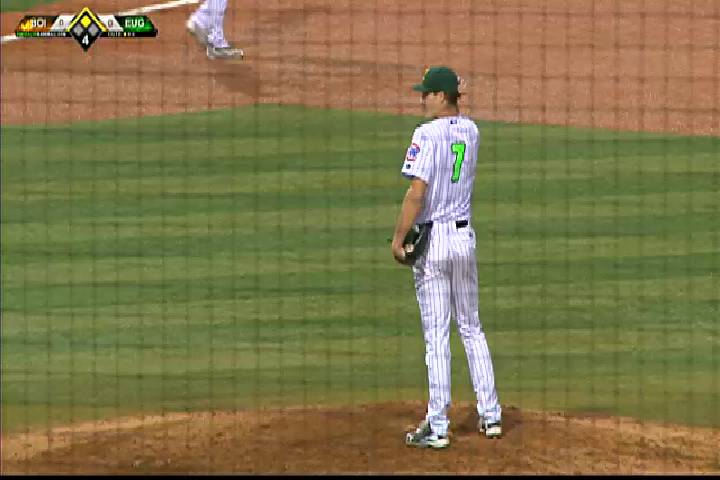 By Sam Dykstra / MiLB.com | January 13, 2017 10:00 AM ET
Dylan Cease used to call himself "a skinny righty with a torn arm." His 2016 pitching coach thinks he'd be a first-round talent in the Draft this year, had he gone to college. Prospect analysts believe he's the most exciting arm in the World Series champions' farm system, evidenced by his rank as No. 3 Cubs prospect and No. 97 overall by MLB.com.
And though he was drafted in 2014, this might be the year we finally find out exactly who Dylan Cease is.
The Georgia native's pro career didn't exactly start as planned. The 6-foot-2, 175-pound hurler entered his senior season at Milton High School as one of the country's most promising high-school pitchers, thanks to a fastball that was already hitting the upper 90's. Cease had committed to baseball power Vanderbilt and was drawing plenty of attention from pro scouts but suffered an elbow injury that March. If it wasn't bad enough that the malady kept him from helping his stock, it was now widely held that he would require Tommy John surgery -- a procedure he underwent that July. He was ranked No. 76 in MLB.com's Draft rankings that year but fell to the Cubs in the sixth round at 169th overall.
"That was a really tough time in my life," said Cease. "I just felt kinda neutral when I heard about the surgery. There's only so much worrying you can do, and I was already so worried about the Draft and how to handle that. I went in with no expectations, but even that was pretty tough. [When the Cubs took me] I was really excited and grateful. It was a big risk on their part. I wanted to make sure they were going to be happy with the gamble."
As is the case with any pitcher who undergoes Tommy John, the road back was a long one. But for Cease, he had the added anticipation of being a professional pitcher who had to wait to make his debut for another year. That day finally arrived June 22, 2015 in the Arizona League, and in that outing he shocked even himself by hitting the upper 90's once again. But as much as the reading on the radar gun was the same, it took Cease much longer to feel settled in.
"I got my velocity back at nine months, I'd say, but it took a solid 15 months or so to get back to my normal, free-flowing throwing motion," he said. "It took a long time to trust that everything was going to work right because you go from not being able to do much to throwing and hoping everything's fine. The mental part, getting over that hurdle, was the toughest spot of the whole process."
Cease only threw 24 innings that season, finishing with a 2.63 ERA, 25 strikeouts and 16 walks for the Cubs' complex-level affiliate.
Following a much more normal offseason in Cease's second go-round, the Cubs stayed conservative with their potentially prized pitching prospect in 2016, holding him back in extended spring training before moving him to Class A Short Season Eugene, just one level above the AZL. The reins remained as the Cubs instituted a hard cap of five innings for the 20-year-old -- a limit he only hit three times in his 12 starts with the Emeralds. As much as he was untouchable to the tune of a 13.3 K/9 and a .175 average-against, Cease still averaged 5.0 BB/9 and saw his pitch counts reach the 70's and 80's regularly, despite the innings limit.
"Well, it's funny, he does throw strikes," said former Eugene pitching coach Brian Lawrence, who is moving up to Class A South Bend for the upcoming season. "He didn't exactly walk the world. They're just not quality strikes yet. He was able to get the ball to both sides of the plate, but they weren't down. In [short season] ball, he's unhittable. When you're throwing 99, you should be. But the biggest things were foul balls. Guys were sitting on the fastball and fouling them off, and next thing you know, he's stringing together six, eight-pitch at-bats. It was just the amount of pitches per batter."
Part of the issue was that Cease hadn't used what has the potential to be an impressive curveball during his earlier outings. The Cubs worked with him on leaning on the pitch more to not only give Northwest League hitters something else to look at beyond his killer fastball, but also to develop the pitch into another legitimate offering.
The results came in time. The Emeralds starter posted a 0.43 ERA with 39 strikeouts, 10 walks and a .103 average-against in his final five starts (21 innings), topped off by a 10-strikeout, one-hit performance over five frames in his regular-season finale. Cease also made one postseason start for Eugene, during which he struck out six and allowed two hits and two walks over four scoreless innings in Game 1 of the Northwest League Finals. (He needed 82 pitches to get through that outing, however.)
"Learning how to go out there, no matter the situation, that was a big thing this past year," Cease said. "We've got some good mental strength coaches in this organization, and they did a lot to teach me the tools to be locked in and block out the negative feelings. There's a lot you get to when you get out of your comfort zone, especially when you're getting used to traveling all year. It's about staying in that moment."
Lawrence could see the mental issues weighing on Cease as well.
"Retaining things, that's what he was to work at," he said." Learning something and making sure two months later that it doesn't come up again. We want him to be at the point where he realizes his fastball is up, so I don't have to tell him on the mound in the middle of an inning. This isn't high school any more. These are good hitters that will figure him out, and he needs to adjust to them. That'll come with experience, and he'll pick up even more of that soon when he moves to full season."
It's that word "experience" that Lawrence kept coming back to when asked about what he believes Cease needs most. The mistakes he makes now are correctable, and they will be fixed in time, the coach insists. But if experience is the main issue, didn't Cease lose valuable time at the beginning of his career following Tommy John surgery? Could that have hurt not just his elbow but his overall development? Dwelling too much on the past would be foolish, the coach warned.
"I don't know if anyone has that answer," Lawrence said. "I look at it this way. He'd be coming out as a college [junior] this year, and that's about the same experience he's got now anyway. He just has his in the Minors, instead of college. If he was going this year, it'd be the first round. So he's still young, and we all have to realize the surgery isn't delaying him getting to the Majors right now because he wouldn't be there anyway. He's where he should be."
For now, Cease is already in Arizona as part of Cubs mini-camps, preparing for the 2017 season much in the same way he prepared for 2016. He's been throwing every day for about three weeks, focusing on distance work by maxing out at 120 feet. Mound work and the return of breaking balls will come closer to spring.
As is usually the case this early in the calendar year, the organization is leaving its options open in terms of where Cease will spend Minor League Opening Day. The hope seems to be that he'll begin his fourth year with the club at South Bend for his full-season debut. His command and off-speed pitches will need to improve, but if he can show his health and gain the experience Lawrence believes he needs so badly, Cease has the ability to skyrocket up the prospect charts in 2017.
"I guess the first thing would be to make all of my starts," he said of his goals for the coming season. "Beyond that, I want to grow in a way that I expect to and in a way I didn't expect to. It's one of those things that's hard to explain. I know some things now about what I can do to get better. What I want at the end of this season is to find out a whole new way I can grow that I don't even know yet."
Sam Dykstra is a reporter for MiLB.com. Follow and interact with him on Twitter, @SamDykstraMiLB. This story was not subject to the approval of the National Association of Professional Baseball Leagues or its clubs.
View More