Toolshed Q&A: De Leon soaking up Rays
No. 33 overall prospect reviews deal from Dodgers, big league debut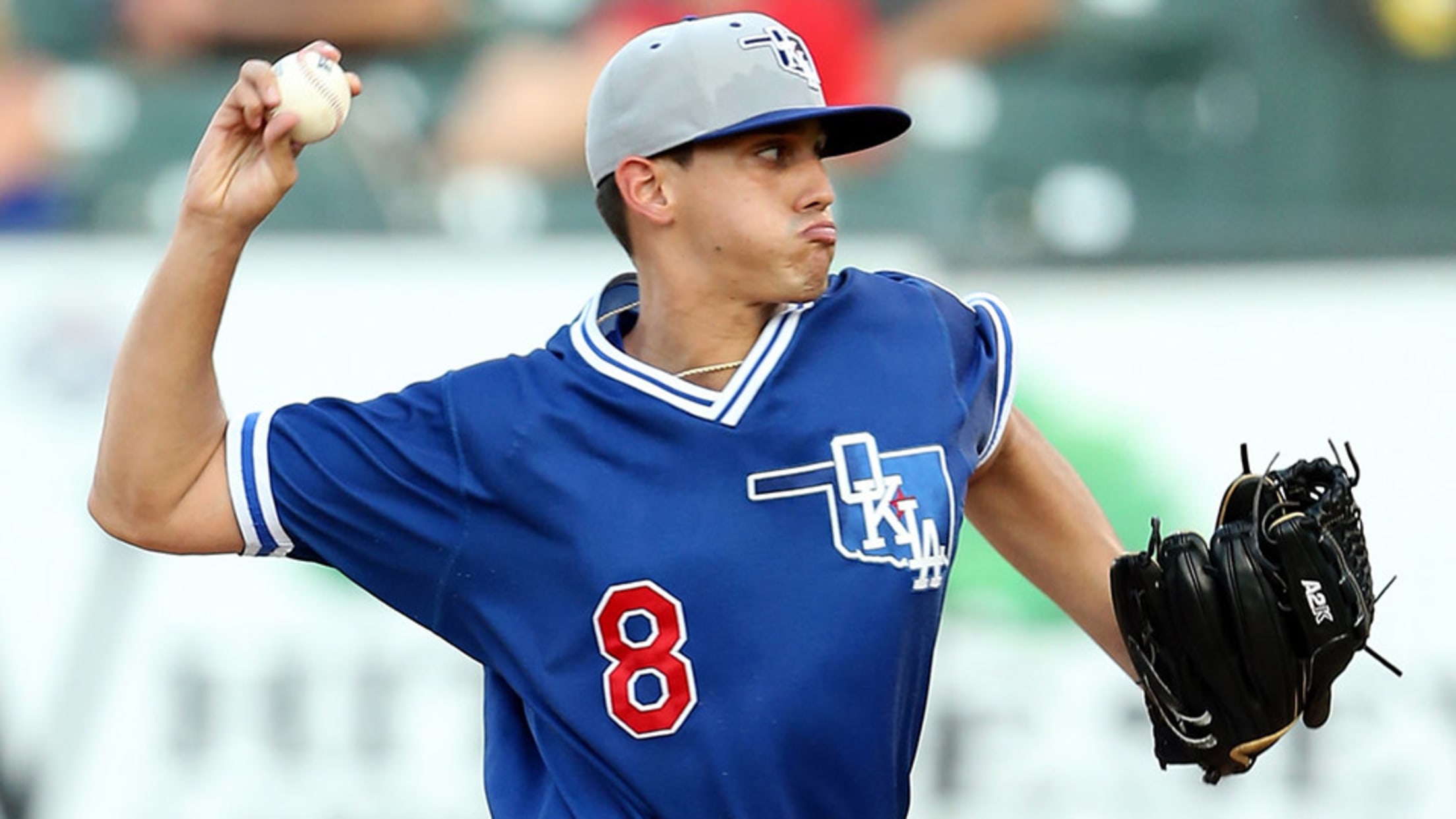 Jose De Leon struck out 111 in 86 1/3 innings for Triple-A Oklahoma City last season. (Jamie Harms/MiLB.com)
José De León's travel plans got a little shorter this week and he seems to be pleased about more than just a shorter commute. The 24-year-old right-hander was dealt from the Dodgers to the Rays on Monday in a trade that sent second baseman Logan Forsythe the other way. The move
José De León's travel plans got a little shorter this week and he seems to be pleased about more than just a shorter commute.
The 24-year-old right-hander was dealt from the Dodgers to the Rays on Monday in a trade that sent second baseman Logan Forsythe the other way. The move came on the heels of arguably De Leon's best professional season yet, one in which he posted a 7-1 record with a 2.61 ERA and a 0.94 WHIP, striking out 111 in 86 1/3 innings at Triple-A Oklahoma City before making his Major League debut with Los Angeles on Sept. 4. The Isabela, Puerto Rico native struggled over four starts with the big club, getting tagged for a 6.35 ERA over 17 innings but finished the season as MLB.com's No. 33 overall prospect thanks to his plus fastball and changeup. He joined a Tampa Bay system that already boasts Chris Archer, Blake Snell and Jake Odorizzi at the Major League level with No. 3 prospect Brent Honeywell Jr., No. 6 Jacob Faria and No. 12 Jaime Schultz, the Triple-A strikeout leader, not far behind.
MiLB.com caught up with De Leon on Thursday, not long after he arrived in Tampa for the first time as a Rays prospect, to discuss the trade, his Major League experience and how his family handled the news of him changing uniforms.
MiLB.com: We'll start with the obvious. Walk through what it was like when you heard about the trade.
De Leon: I was driving from my hometown to San Juan because I was supposed to be flying out to L.A. for the Dodgers FanFest. I got a call from Gabe Kapler, and I wasn't thinking it was going to be anything. I just thought it would be him telling me that he was excited to see me in L.A. I had nothing in mind really. Then he told me about the trade, and I was kind of shocked. But the more I thought about it, the more I thought about how good an opportunity it was. For me, I get to be close to home, which is really convenient. I understand the business of the game too, and I think it was a good thing for both sides.
MiLB.com: What did you know of the Rays organization before the trade, and what have you learned in your limited time as a Ray since the deal?
De Leon: I know they have some good pieces, particularly when it comes to young starting pitching. They develop young arms really well. And they love changeups. That's good for me.
MiLB.com: Now on the other side, how will you remember your time as a Dodgers prospect?
De Leon: I'll be forever grateful for being a part of their great organization. They gave me a chance all the way in the beginning to follow my dream to become a Major League pitcher, and then in September, I was able to fulfill every kid's dream of being in the Majors because of them. I'll always have them in my heart. They'll be in a special place. Now it's time to move on and do the same things with the Rays. I want to establish myself here and try to win as many World Series as we possibly can while I'm here.
MiLB.com: Speaking of your Major League debut, what did you take away from those four starts in September?
De Leon: I learned a lot and most of it wasn't things I learned on the field. Pitching is always the same. It's 60 feet, 6 inches everywhere. You leave balls in the middle of the plate, and the other team will hit them hard. That doesn't change. What I saw was the way everybody took the job seriously and how they'd go about their business. It's way different than in the Minor Leagues.
MiLB.com: How so?
De Leon: Work ethic is the big thing. I saw how Clayton Kershaw worked. I saw how Rich Hill worked. I saw how Kenta Maeda worked. Starting pitchers, relievers, position players -- they were all the same. They're watching video or working out, doing as much as they can to stay on top of their game. They're all so cool.

MiLB.com: You went to the Rookie Career Development Program in Washington, D.C. before the trade. That's typically for players who haven't debuted in the Majors yet. What was it like to be one of the guys there who had already been through that experience?
De Leon: It was cool. Like you said, there weren't many guys who had played Major League Baseball yet, so it was a lot of joking around, saying this guy has more time or this guy has more benefits. They were just kidding around. But it was fun to be in the same room with so many talents, so many guys who will play in the Majors, maybe even some Hall of Famers. Who knows.
MiLB.com: Did you get to meet any of the Rays there?
De Leon: I think Jacob Faria was there. Daniel Robertson too. But I had no idea at the time about a trade or anything. Everyone was sitting with their division, so they were with the AL East guys and the NL West was at the complete other side of the room.
MiLB.com: Away from the trade for a second. How are you preparing for the 2017 campaign this offseason?
De Leon: I've been trying to work on my off-speed stuff, especially my breaking ball. I know I have to improve that pitch if I'm going to do well, so I've been working on that. I also know my body a bit better this offseason. Last year, I came in weighing 190, which was about 15 pounds under normal. I thought that would be good for me to be a bit lighter, but in the beginning, I couldn't throw harder than 90. So I've changed my workouts. I'm not running as much. I'm working more in the gym and getting way stronger. I think I'll be better off for that.
MiLB.com: I'm glad you mentioned workouts because a knock against you in recent years has been your durability. Last year, it was reported that ankle and shoulder problems held you back. How have you worked to address those worries?
De Leon: Last year, the shoulder problem was the only issue that was real. To be honest, I stayed in extended spring training because they wanted me to gain weight. It wasn't my ankle. After the issue with my shoulder, I still threw 100 innings, and I was happy with that. My body feels great now. My mind feels great. I'm ready to go.
MiLB.com: Your second Major League start last year was against the Yankees in the Bronx. You'll be facing a lot more AL East competition now after the trade. What are you expecting from your new division?
De Leon: The Yankees were the only AL team I faced, and that stadium brings an energy that I didn't feel anywhere else last year. Pitching in all of those stadiums should be a lot of fun, but obviously I'm looking forward mostly to playing at Tropicana Field.
MiLB.com: You're 1-for-23 in your pro career as a hitter. I take it you're not going to miss hitting?
De Leon: [laughs] Not at all, not at all.
MiLB.com: You mentioned earlier that going to Tampa Bay is going to be a lot more convenient for you. How exactly is it going to affect your family?
De Leon: It's funny. When I called my dad to tell him about the trade, he kept telling me, 'Don't lie to me, don't lie to me.' He was joking around, but this is big for him. Rays third base coach Charlie Montoyo knows my dad pretty well. I remember telling people if there was a team I'd like to move to, it was the Rays because everything was so convenient. The trade happened and I heard it was the Rays, and after a while, I had to think, 'Is this a dream?' I flew in yesterday to Tampa, and it was like traveling from my hometown to San Juan. Going to L.A., that can take a whole day. From there to here, it took maybe three hours. That's huge for my family.
MiLB.com: Beyond personal stuff, how do you see yourself fitting into the Rays' crop of pitchers?
De Leon: It's a young group of guys, and I'm ready to contribute in any way I can. We're in a good position to improve the organization. I know it's going to be like the glory days of this team when the pitching was so good. I'm really, really, really excited.
MiLB.com: How much are you working toward being on the Rays' Major League Opening Day roster?
De Leon: It's like I've always said about that stuff. It's nothing I can control when it comes to where they put me. I can only control being healthy, and I think I'm doing well at that. If it's gonna happen, it's gonna happen. It's not my decision to make, so I won't get wrapped up into it. I'm just going to pitch this spring and see what happens, and I'm excited to get that going.
Sam Dykstra is a reporter for MiLB.com. Follow and interact with him on Twitter, @SamDykstraMiLB.