Toolshed: Sisco next in line for Orioles
No. 99 overall prospect preparing to take over after Wieters' departure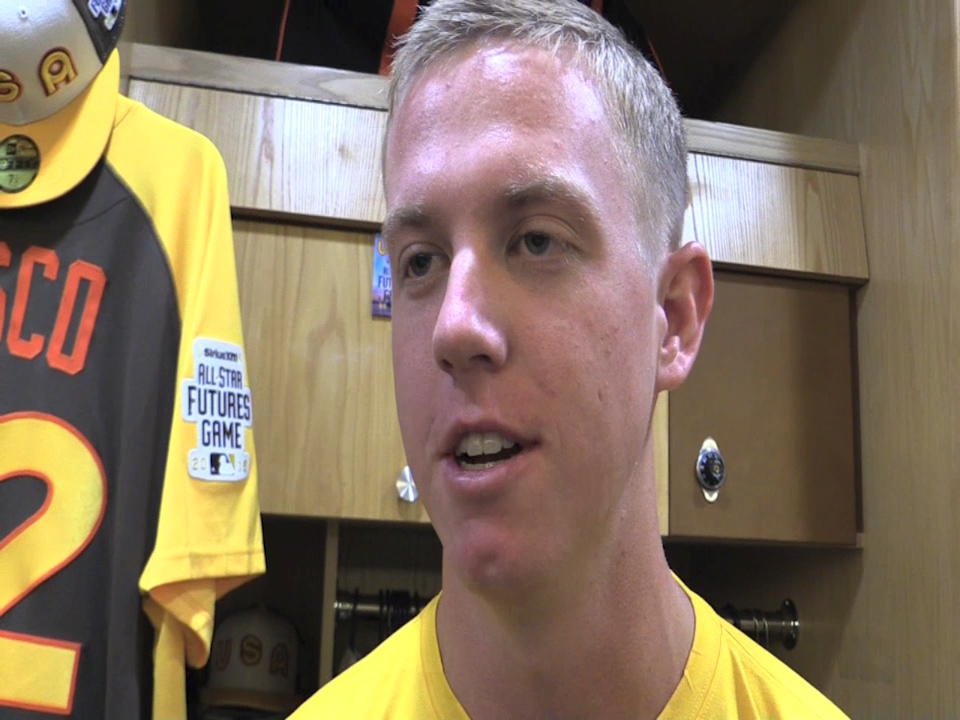 By Sam Dykstra / MiLB.com | February 24, 2017 10:00 AM ET
The end of a Charm City era came this week, though it had been long assumed to be over. Former No. 1 overall prospect Matt Wieters signed a one-year deal with a player option for 2018 with the Nationals after spending eight Major League seasons with the Orioles, a club with which he made four All-Star appearances and won two Gold Gloves.
"It's a strange feeling with Wieters not there in the locker room," Orioles Minor League catching instructor Don Werner said this week. "It doesn't seem right. Such is the case in Major League Baseball."
Of course, a lot of factors went into the Wieters decision. Although he was an American League All-Star last season, the 30-year-old catcher's .711 OPS in 124 games was his lowest since 2010, and given his age and the demands of the position, there wasn't much optimism about the future. Baltimore instead signaled they would go the stopgap route of signing Welington Castillo to a one-year, $6 million deal with a player option for a second year worth $7 million. Caleb Joseph should begin the season as a backup, despite hitting just .174 with a .413 OPS in 49 games.
The reason Wieters' departure and Castillo's arrival appears to be a stopgap is because the future of the catching position is already in the system in No. 99 overall prospect Chance Sisco, and he's close to the Majors, having ended the 2016 season with a brief cameo at Triple-A Norfolk. He just needs to complete his defensive development first.
The Orioles took Sisco in the second round with the 61st overall pick in 2013 and signed him for a below-slot $785,000 bonus. Having gone unranked in MLB.com's Top-100 Draft rankings that year, Sisco may have felt like a stretch in the second round, especially given he had just moved to catcher that year after spending most of his days at Santiago High School in Corona, California at shortstop and pitcher. So when Werner first laid eyes on him in the Gulf Coast League that summer, the Orioles instructor saw the rawness, but he could also see the building blocks for a decent backstop.
"The thing that impressed me was his feel," Werner said. "Some guys, they've got a good arm or something, but they don't know a thing about catching. The way he took to the mental side was promising. He's a quiet type of leader, not a yeller or a screamer, but he has a feel for calling pitches that got him off to a good start. I often wonder what happens when new guys get a foul tip for the first time, and you want to see how they'll take it. But he was really tough, you could see that. It was all promising."
Werner and others clued into Sisco's abilities behind the plate because he was so well-established at the plate as a batter. The left-handed hitter produced a .371 average and .938 OPS over his 31 games in the Rookie-level GCL that first summer, prompting a promotion to Class A Short Season Aberdeen that September -- a move almost unheard of for an 18-year-old. Sisco has continued to hit at every level up the Baltimore chain in the three seasons since that debut. His lowest single-season slash line came in 2015 with a .297/.376/.415 performance over 95 games at Class A Advanced Frederick and Double-A Bowie. He was a juggernaut again last season with a .320/.406/.422 line in 112 games back in the Eastern League before spending the final four contests with Norfolk.
His power, which MLB.com graded out at 45 on the 20-80 scouting scale, isn't overly impressive. But even then, he has shown that ability in flashes, such as the opposite-field homer he hit in the Futures Game in San Diego or his grand slam (another opposite-field shot) in his Triple-A debut on Sept. 1. What's more, his 35 overall extra-base hits in 2016 represented a career high.
"I've always felt like he could roll out of bed on Christmas Day and hit a line drive off someone, anyone," Werner said. "He's one of those guys."
Even if the offensive bar wasn't lowered for catchers, Sisco would be an enticing prospect. But because catcher is perhaps the most demanding defensive position, any deficiencies on that end can really drag down a prospect's potential. Such was the case with Sisco in the early days, such as 2014, when he threw out only 20 percent of attempted basestealers. That number climbed steadily to 24 percent between his two stops last season, but it's still nowhere close to the 35 percent Wieters amassed in the Majors last season.
The Orioles have taken to teaching Sisco and the rest of the Baltimore Minor League catching corps some of the tricks they learned from Wieters before his departure, including referred to as the Wieters cheat move.
"It's a move he'd make while the ball is still on its way," Werner said. "It'd be a little shift to eliminate the turn in the throw. When you're a catcher, there's the catch, the turn and then the throw. If you can eliminate the turn part, that cuts down a lot of time. I couldn't believe I didn't think of it myself first. Joseph always struggled with his throwing, but got better once he learned that [with a career 35 percent caught-stealing rate in the Majors]. If you can learn it, you don't need a stellar arm to throw guys out, and that's something we work on with all our guys now, including Chance."
Mastering that is just one piece of the defensive puzzle the Orioles hope Sisco can solve before making his ultimate ascension. Werner said he gave the club's top prospect some homework following last fall's instructional league, and that was to improve his footwork to get better in line with second base on his throws down. The organization also hopes Sisco's invitation to Spring Training and impending trip to the International League will offer him more of a chance to work with and learn from veteran pitchers and their more intricate arsenals. He may get a bit of a boost in that direction when Castillo leaves camp to play for the Dominican Republic in the World Baseball Classic. And with Castillo's defensive liabilities and Joseph's limitations at the plate, the 22-year-old has a chance to show Baltimore manager Buck Showalter he can be the promising center of the catching Venn diagram as early as this summer.
One thing's for sure: Sisco can be a Major League hitter. That's never been in doubt. But can he prove in the months to come that he can be a Major League catcher and help the fan base forget their former franchise backstop?
"I think he can," Werner said of Sisco's potential to play at the highest level in 2017. "Of course you never really know. There are people who say they know, but they don't really know. What I know is he's come so far as a catcher, and he keeps getting better. Those are great signs. He'll be back in Triple-A, getting around veteran pitchers, and that can only help him. I expect some time this year or maybe even next year, he'll be a Major Leaguer."
Sam Dykstra is a reporter for MiLB.com. Follow and interact with him on Twitter, @SamDykstraMiLB. This story was not subject to the approval of the National Association of Professional Baseball Leagues or its clubs.
View More