Travieso 'battles,' limits Rods to one hit
Reds' No. 8 prospect goes six for Midwest League-leading 11th win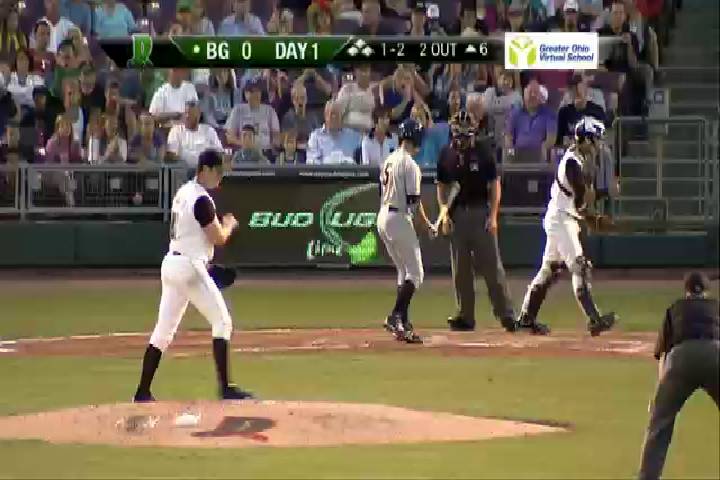 By Kelsie Heneghan / MiLB.com | August 16, 2014 12:24 AM ET
When Nick Travieso realized he didn't have all of his pitches working on Friday, he knew it was going to be a tough night. He ended up producing his best start of the season.
Ignoring any obstacles, the Reds' eighth-ranked prospect spun six one-hit innings to help Class A Dayton edge Bowling Green, 1-0, at Fifth Third Field.
"I didn't have my best stuff, so I battled," Travieso said. "I felt like I went out there and made them put the ball in play."
The 20-year-old right-hander struck out four while inducing seven ground-ball outs. While he walked five -- Rays No. 2 prospect Willy Adames drew three free passes -- he held the Hot Rods hitless through five innings. One reason was center fielder Phil Ervin, the Reds' No. 3 prospect who robbed Alexander Simon of an extra-base hit in the fourth.
"With Ervin in center, when the ball is hit to him, I don't really look," Travieso said. "Once I saw he was fully extended, I knew it was one of the best plays in the Minors this season."
In the sixth, the Florida native gave up a single to James Harris but quickly erased him with a double play. Adames and Simon worked walks around an error by second baseman Jamodrick McGruder to load the bases before Tyler Young struck out.
"When I got in that jam, I have better stuff in the stretch. I had bases loaded and I worked well with my catcher, [Jose Ortiz]," Travieso explained. "We worked quickly and were able to get the fastball for the strikeout and keep the score 1-0."
The one-run lead was all the 2012 first-round pick needed to pick up his first win in three August outings.
"The days when you don't have your stuff are the most rewarding," he said. "I felt like I went in there and let my defense work ... my defense was huge for me. [Friday] was tough and hopefully, next time will be better."
Travieso (11-5) tied Lansing's Scott Silverstein for the Midwest League lead in wins. He also equaled Rafael Gonzalez's team record with his 18th victory in a Dragons uniform.
And while a spot in the Dayton record book is one win away, Travieso said he doesn't look at personal statisticss during the second half of the season. He's more focused on the team's playoff hopes.
"I think in the first half, it's kind of more of a stats half because you have a second half to win," he said. "When I'm on the mound, I'm just worried about throwing the right pitches and getting the batter out. Not thinking about stats, just want to get quality starts and help my team win."
Ortiz staked his batterymate to an early lead with a solo homer, his second of the season, in the second inning.
Bowling Green's Jacob Faria (7-8) lost his second straight start, despite yielding a run on six hits and two walks with six strikeouts in six innings.
Kelsie Heneghan is a contributor to MiLB.com. Follow her on Twitter @Kelsie_Heneghan. This story was not subject to the approval of the National Association of Professional Baseball Leagues or its clubs.
View More