Turner finally joins Nationals organization
Six months after blockbuster trade, shortstop acquired from Padres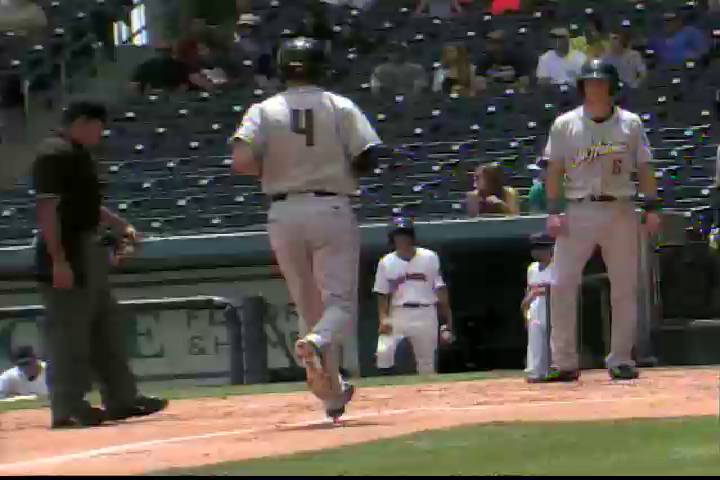 By Josh Jackson / MiLB.com | June 14, 2015 1:06 PM
It's "later" now.
Trea Turner is joining the Nationals as the player to be named, according to a tweet by Double-A San Antonio broadcaster Mike Saeger, completing the December three-team blockbuster that sent Wil Myers to the Padres. Turner is expected to join Double-A Harrisburg in the Eastern League this week. (Update: the Nationals confirmed the completion of the deal Sunday.)
The #Nats have acquired INF Trea Turner from the #Padres, completing 12/18 three-team trade: http://t.co/hI8i75B94j pic.twitter.com/EJraLuhK7v

- Washington Nationals (@Nationals) June 14, 2015
It was widely reported at the time of the deal that the 13th overall pick in the 2014 Draft would be moving from San Diego to Washington, but Major League Rule 3(b)(6) prohibits the trading of a player for a full year after signing his original contract.
A rule change agreed upon by the Commissioner's Office and the Players Association on May 1 means that future Draft picks will be able to join their new teams as soon as they are traded.
After the Padres selected him out of North Carolina State, Turner batted .323 with 23 extra-base hits in 69 games between Class A Short Season Eugene and Class A Fort Wayne. That performance in his debut campaign made him a Padres Organization All-Star.
If Turner, MLB.com's No. 54 overall prospect, was distressed to be playing in the San Diego organization knowing he was destined to join the Nationals, the 21-year-old shortstop didn't show it.
He slashed.322/.385/.471 in 58 games for San Antonio in the Texas League, where he had five homers, three triples, 13 doubles, 35 RBIs and 11 stolen bases.
"You just have to go out there and have fun and let that handle itself," the Florida native told MiLB.com earlier in the month. "Obviously, I can't control any of that. It's people above me, so I just go out and have fun."
Josh Jackson is a contributor to MiLB.com. This story was not subject to the approval of the National Association of Professional Baseball Leagues or its clubs.
View More