Urias picks up his first win for Quakes
Dodgers left-hander earns Maddux comparison from pitching coach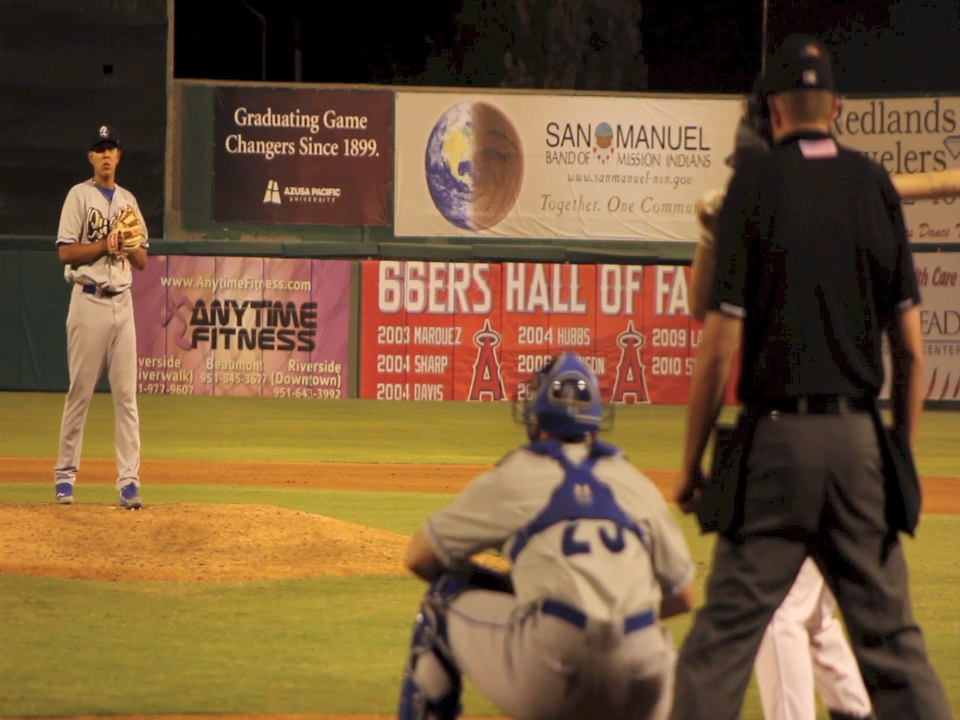 By Jake Seiner / MiLB.com | May 22, 2014 2:19 AM ET
Rancho Cucamonga pitching coach Matt Herges tries hard not to drive the hype machine on 17-year-old left-hander Julio Urias any more than necessary, but on nights like Wednesday, it's difficult for him not to praise the hurler effusively.
Facing an Inland Empire lineup featuring seven left-handed hitters, Urias used two variations of his curveball and read batters in a way that had Herges eliciting Greg Maddux's name after the Dodgers' No. 3 prospect allowed one hit over five shutout innings in a 3-1 win.
The hurler allowed just a broken-bat double by Dennis Raben in the fourth frame and struck out five en route to picking up his first Class A Advanced California League win. Urias threw 66 pitches -- 48 for strikes -- in the outing.
"If you watch the game from just a spectator's standpoint, it was impressive," Herges said. "But what I'm looking at is he had no walks. I'm looking at 12 of his 17 first pitches being strikes. I'm looking at any time he went into a 1-1 count, he went 1-2 in all six of those. It's things like that, little things, that he just keeps getting better at."
Urias retired the side in order in the first. He plunked leadoff better Dennis Raben in the second, then worked it with three straight groundouts. Inland Empire went down 1-2-3 in the third and Urias worked around Raben's double in the fourth. He added two strikeouts in the fifth, including a swinging punchout of Abel Baker for his final out.
More so than in previous starts, Urias relied on two variations of breaking balls to dispose of 66ers hitters. The first was his usual curve, which sat 78 to 81 mph and was used to steal strikes early in counts. The latter sat in the 83-85 range and featured a tighter, later break that Urias used more often with two strikes.
"It's got the same shape, but the harder one just breaks later and a little smaller," Herges said. "It's the same shape, same action, the harder one just gets to the plate longer going straight then just goes, 'boop.' Just goes down."
Herges said the breaking balls were especially effective because of how well Urias spotted his fastball. The pitch can tick into the mid-90s, and Urias has improved his ability to spot it to both sides of the plate this season.
"He established his heater," Herges said. "What's more is he established it in. When he throws the ball inside for strikes to righties and lefties, it makes his breaking ball nearly unhittable. It makes it a lot better. That's what he did."
Urias also has a preternatural feel for mixing his pitches based on in-game reads, Herges said. He's tailored his mechanics to ensure his head remains still and focused on home plate throughout and after his delivery.
"His mechanics, he finishes where he can see," Herges said. "A lot of kids … they don't see where the ball is going. Julio, he can see it, his face is on it. It's like with Greg Maddux, his face was still. Julio can do that. He sees what's happening at home plate.
"This kid reads swings. He reads who he's facing. That's one of my main deals here as an A-ball coach is, 'What do you see? Pay attention to what you see. How'd he swing? How'd he approach that pitch? Where's he standing in the box?' All these intricate things that are a given in the Major Leagues ... and that's what he does."
Top Dodgers prospect Corey Seager backed Urias by going 3-for-4 with a double and an RBI. The shortstop is hitting .354 for the season and .442 over his past 10 games.
Jake Seiner is a contributor to MiLB.com. Follow him on Twitter at @Jake_Seiner. This story was not subject to the approval of the National Association of Professional Baseball Leagues or its clubs.
View More