Wahoos' Duran, Corcino putting it together
DH goes 4-for-4 with two home runs; righty tosses six strong frames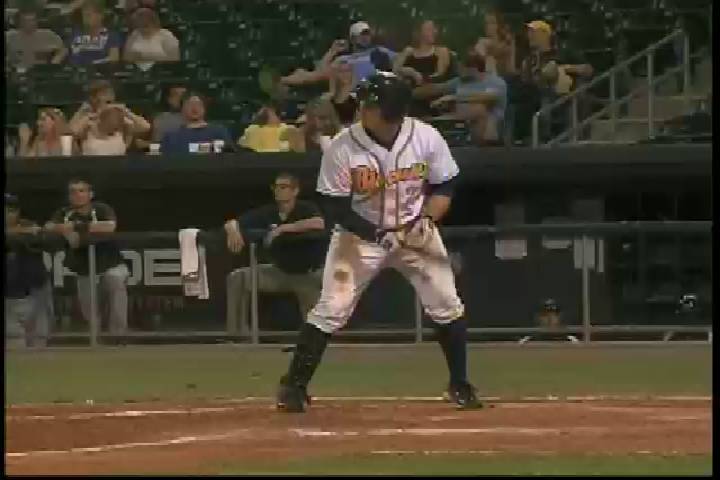 By Robert Emrich / MiLB.com | June 6, 2014 2:03 AM ET
For some players, the development process is quick, their rise to the Major Leagues meteoric. For others, the road is filled with potholes and roadblocks that slow them down. Take the cases of Juan Duran and Daniel Corcino.
The designated hitter went 4-for-4 with two homers and three RBIs while the righty starter gave up one run on five hits while fanning six over six innings as Double-A Pensacola routed Montgomery, 13-2, on Thursday.
Duran also singled twice while scoring four runs for the Blue Wahoos. The 22-year-old slugged a two-run homer in the sixth inning and a solo shot in the eighth for his first two-homer game of the 2014 campaign.
"He's starting to settle in a little bit," manager Delino DeShields said. "Juan has a chance to be a game-changer one of these days. I've seen this kid grow over the years and I think there's a chance he's going to be a really good player one of these days."
Duran has been off to a rough start, batting .234 with seven homers and 24 RBIs over 53 Southern League games. He's shown signs of turning things around in June, going 7-for-15 with four extra-base hits and four RBIs in five games. According to DeShields, the only thing you can do for a player in that situation is to continue to put them in the lineup.
"The only way to learn is to play," he said. "Juan is on the 40-man roster, so he's a priority for the Reds at the moment. He's gonna play. I just have to keep reminding him that he's going to get his opportunities. The work is starting to pay off."
Despite the struggles, the veteran manager praised Duran's talent and potential.
"I've been in the Minors, this is my sixth year, and I have yet to see a kid with that kind of raw power," DeShields said. "He has game-changing power. It's starting to translate into the games now. At one point, it would be just batting-practice power. Now he's starting to put it together in between the lines. If he can keep growing as a hitter, keep making his adjustments, he's going to be pretty special one day."
Corcino, the Reds' No. 10 prospect, earned his sixth victory of the year. Over his last four starts, the 23-year-old right-hander has allowed three runs on 22 hits over 25 innings. The results show the work Corcino has put in with pitching coach Jeff Fassero and what the hurler can do when he's pitching with confidence.
"This past month has been really good for Daniel," DeShields said. "He's really starting to find himself again. The biggest thing is that Daniel's confidence is starting to grow again. I think that was what was missing for the better part of last year and the year before that. He lost his confidence somewhere along the way, but he's really started to pitch better over the last month.
"I think that goes with being to command the baseball. For a pitcher to lose command, to not be able to do things, I think they start to lose confidence. He's a real energetic guy on the mound, he loves to play the game. Jeff Fassero has done a good job with him. Overall, this month has been good for [Daniel]."
The hardest part for two talented young players who are struggling? Understanding the development process includes struggles.
"It's the work, it's the grind," the former Major Leaguer said. "It's not about the results all the time with these young players. "It's hard for them to understand. They want to do well, they want to put up the numbers. At the end of the day, you have to respect the process."
Ray Chang was 3-for-4 with four RBIs while Travis Mattair slugged a two-run homer for the Blue Wahoos.
Jeremy Moore slugged a solo homer in the loss.
Robert Emrich is a contributor to MiLB.com. Follow him on Twitter @RobertEmrich. This story was not subject to the approval of the National Association of Professional Baseball Leagues or its clubs.
View More