Wahoos' Moscot thrives (and she said yes)
After batterymate proposes, Reds' No. 15 prospect posts seven zeros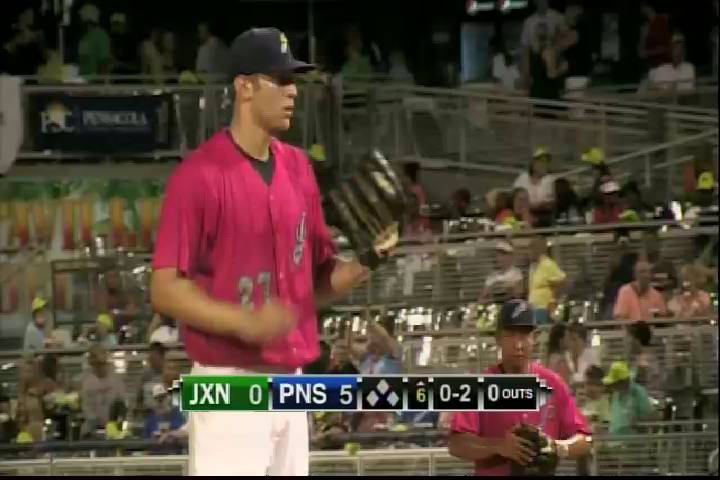 By Josh Jackson / MiLB.com | August 8, 2014 11:51 PM ET
Most starting pitchers are sticklers for a pregame routine. On Friday, though, Jon Moscot didn't mind a wardrobe switch, seeing as it was for a good cause. His batterymate, Rossmel Perez, was proposing to his girlfriend on the field before the first pitch.
"It was really cool because [Perez] asked me if I'd be OK wearing the pink jersey. Usually, we only wear the pink jerseys on Sunday, but he wanted to look good in the picture," the Reds' No. 15 prospect said.
"I was in the bullpen warming up with another catcher when he asked. And when she said yes, I was so happy, I got chills. He's a great guy and she's great, too. They're really good together."
The good mood carried into the game.
Moscot allowed three baserunners -- all on singles and never more than one in the same inning -- while striking out four over seven scoreless frames Friday night as Double-A Pensacola shut down visiting Jackson, 5-1.
The 22-year-old right-hander, who has a 3.14 ERA in 24 Southern League starts, threw 58 of 85 pitches for strikes. It was his first shutout appearance since May 12 and his second straight win. He struck out five and allowed one run over six innings on Aug. 2 at Tennessee.
"[This] was definitely my best start in a while," said Moscot, who improved to 7-10. "The last couple have been two of my better ones."
He credited a mechanical adjustment suggested by Blue Wahoos pitching coach Jeff Fassero with the improved results.
"Normally, I throw a pitch and spin off a little bit and don't end up in good fielding position," Moscot explained. "I've been working to stick the landing. That's helped me keep everything down in the strike zone, and I feel a lot better."
The Pepperdine product also saw another change. After Friday's outing, he has a 3.73 ERA over the first five innings of his starts and a 0.39 ERA after the fifth. Thanks to some help from home, he's working to change that differential. He said his father watches every start on MiLB.TV, and the two speak on the phone between outings.
"Last week before the Tennessee game, he'd been calculating my runs in first innings vs. two through the rest," Moscot said. "It was 6.00 or more in the first and 1.90 or 2.00 in the rest.
"It's really about me getting out there and getting into it mentally and not nibbling in the first inning, going right after guys. I've been doing that the last couple starts and it's been a big difference. It was real big tonight."
Indeed, Moscot was perfect his first time through the Generals lineup. Jordy Lara's fifth-inning leadoff single was the only time he allowed a baserunner with fewer than two outs. He responded by striking out Daniel Paolini and Kevin Rivers and getting Steve Baron to foul out.
"It felt great to get those two punchouts there," Moscot said. "I've kind of had a lapse in my slider, which has been my best pitch through my whole career. A good part of the second half, it's been spinning off a bit. It was great to go back and trust it and to be able to throw it in any count. It was really big, a huge boost for my confidence. Getting into that position and executing the slider in that position was big."
Moscot also helped bring an end to the longest on-base streak in the Southern League this season. Ninth-ranked Mariners prospect Patrick Kivlehan had been aboard in 32 straight, but he went 0-for-4 with a strikeout on Friday and was 0-for-3 against Moscot.
Blue Wahoos reliever Ben Klimesh took over for Carlos Gonzalez with the bases loaded in the eighth and twirled 1 1/3 perfect frames to notch his first save.
Seth Mejias-Brean was 2-for-4 with a homer and two RBIs for Pensacola.
Josh Jackson is a contributor to MiLB.com. This story was not subject to the approval of the National Association of Professional Baseball Leagues or its clubs.
View More