Wahoos' Winker walks off once again
No. 3 Reds prospect homers to deliver win for second straight game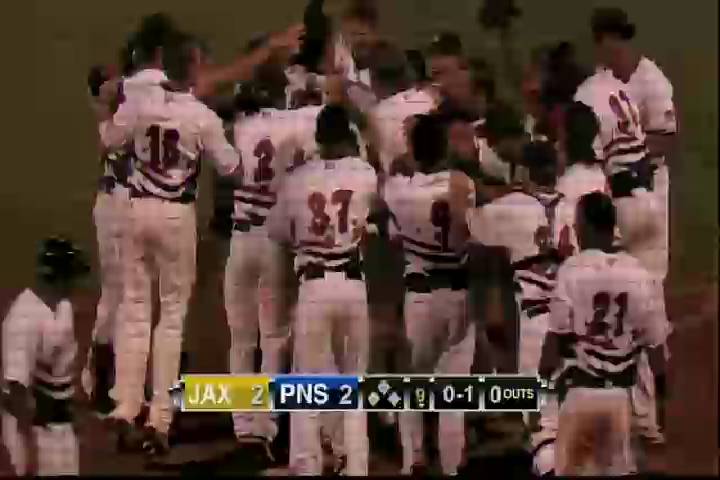 By Tyler Maun / MiLB.com | July 4, 2014 1:45 AM ET
A week from Sunday, Jesse Winker will accomplish one of the biggest goals of his baseball career. Until then, he seems to be happy to be able to deliver dramatic wins to the Blue Wahoos.
The Reds' No. 3 prospect blasted a leadoff home run in the bottom of the ninth inning -- his second walk-off hit in as many games -- as Double-A Pensacola beat Jacksonville, 3-2, on Thursday night.
Named to the United States roster for the All-Star Futures Game on July 13 in Minnesota, Winker capped the Blue Wahoos' night at the ballpark in quicker fashion than Wednesday. Facing Casey McCarthy (1-1) in the ninth, Winker connected on the Suns reliever's second pitch and deposited it over the right-field wall to send a packed house -- as well as his teammates -- into a frenzied celebration.
"Honestly, I was just trying to hit the ball hard," Winker said of his second Southern League home run. "That's what I've been doing the whole time I've been in Pensacola. I've been hitting a lot of balls hard, kind of into bad luck. I was just trying to get on base for Seth [Mejias-Brean], who's been swinging a hot bat, and then Ross Perez, who's been on fire too. I was just trying to get on base for them and have one of them drive me in. The ball just happened to get out, so I was happy that happened.
"Pensacola's known for being an absolute parachute to right field," he continued. "Nothing really [flies] to right. I hit it and I knew it had a chance. The wind luckily wasn't blowing today, so it got up and got over it."
The Suns notched the first two runs of the game courtesy of center fielder Joe Benson, who singled in a run in the first and drove home another in the third with a sacrifice fly.
In the bottom of the third, Pensacola starter and No. 12 Reds prospect Ben Lively helped his own cause with an RBI double to right. He later scored on a single by Yorman Rodriguez.
Lively struck out seven over six innings before giving way to his bullpen. Drew Hayes allowed a hit and a walk while fanning three over two frames before Scott Maine (1-0) pitched around a hit in a scoreless ninth.
Jacksonville starter Jose Urena, the No. 7 Marlins prospect, limited Pensacola to two runs on four hits while striking out seven and walking two over eight innings but didn't factor into the decision.
On Wednesday night, Winker has come through in the bottom of the 15th inning against the team, singling home Brodie Greene with the game-winning run in a 4-3 victory.
"These past two nights, it's just a big blur," Winker said of the celebration. "You're getting hit. You're getting stepped on. Everyone is real happy and real excited. Those are definitely why you play the game, just to come up in those situations and get the opportunity to help your team win."
At Target Field in just over a week, Winker will be part of a loaded United States team at the Futures Game, sharing the outfield with such top Minor Leaguers as No. 6 Pirates prospect Josh Bell and Padres' No. 5 Hunter Renfroe.
"It's always been a goal of mine to get the opportunity to play in that game," he said. "When I heard my name called, what an honor. You see all the guys who have played in those games, it's so cool. I'm happy I get the opportunity to represent the Reds and Team USA. Whenever you get to put 'USA' across your chest, it's a lot of fun. I can't wait for it."
But with another week of Double-A games ahead of him and the Independence Day atmosphere of a packed house of 5,038 on Thursday, Winker remains focused on what's ahead in the near future.
"It's like another Opening Day," he said. "It's such an exciting time. There were people packed on the hill and packed everywhere. It was a great time, and I was happy we could win. Those are two really big wins for us, especially at the back end of this series, dropping three [to start the series]. We could've folded there. We could've folded last night, but we fought hard and got two big wins."
Tyler Maun is a contributor to MiLB.com. Follow him on Twitter @TylerMaun. This story was not subject to the approval of the National Association of Professional Baseball Leagues or its clubs.
View More