White Sox Prospect Primer: Engel speeds on
Fourth-ranked Chicago prospect offers more than just a set of wheels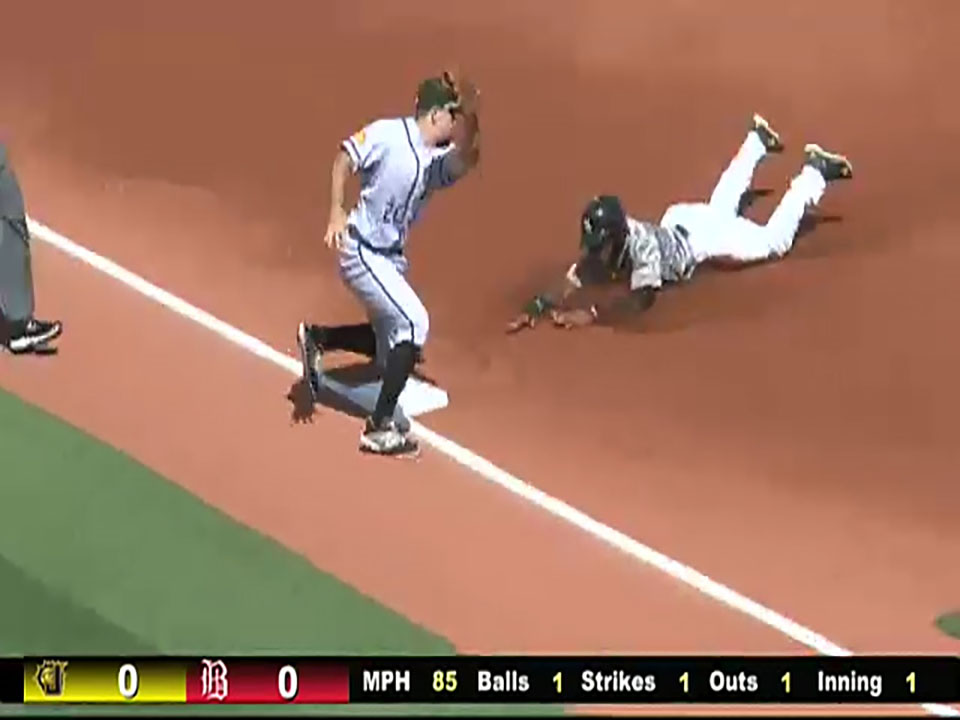 By Alex Kraft / MiLB.com | March 31, 2016 10:30 AM
Some players are on the verge of stardom, others are entering a crucial phase of their development and still others are getting their first tastes of full-season ball. With the 2016 season approaching, MiLB.com takes a look at the most intriguing prospects from each MLB organization.
Loudest tool: Adam Engel, OF
The White Sox drafted the 24-year-old Engel in the 19th round of the 2013 Draft out of Louisville University, and it wasn't hard to see why. The Cincinnati native possesses game-breaking speed, which was on display for much of 2015 with Class A Advanced Winston-Salem. In the second half alone, Engel swiped 37 bases in 40 tries, a success rate of 93 percent. He finished first in the Carolina League with 65 thefts for the year, 31 more than the next closest total.
Yet Engel's stock has never been higher thanks to the strides he has made in other parts of his game, highlighted by claiming both the batting title and MVP award of the Arizona Fall League. The White Sox are confident he can continue to build on that progress as he enters his fourth professional season.
"He's willing to get out on the field and show his skills," said White Sox director of player development Nick Capra. "He's a very talented kid defensively. Takes good routes, gets good jumps, covers a lot of ground in the outfield. He has the ability as a baserunner and basestealer, and he's starting to put his offensive game together. Once he does that, then I'd say we have something pretty special."
Major League-ready: Carson Fulmer, RHP
Anyone who's followed the White Sox the last few years knows that they're not shy about bringing college pitchers along quickly. It happened with Chris Sale in 2010 and Carlos Rodon in 2014, as both players were in the Majors after 12 and 11 Minor League appearances, respectively. Fulmer, the eighth overall pick in the 2015 Draft, won't be on that fast of a track -- but he is well on his way.
The Vanderbilt University product has shrugged off concerns about his size and quick-twitch delivery to become MLB.com's No. 38 overall prospect, while giving the White Sox plenty to be happy about through his first nine pro starts.
"We like his makeup, his mentality, the way he competes when he's out on the mound," said Capra. "He gets the ball and goes right at hitters. He pounds the strike zone. Obviously [his] command can be better and will get better as time goes on. There's some mechanical issues that they're working on to get him to be able to command a little bit better, but we like what we see and we understand after seeing him why we took him number one."
Fulmer's season will begin at Double-A Birmingham, but it's possible that it will end in Chicago.
"I wouldn't count it out, knowing the kid and knowing how he goes about his business," Capra said. "There's a chance, if something crazy happened, that he could put himself in position that they wouldn't hesitate to call his name."
Shining star: Tim Anderson, SS
Anderson did a little bit of everything for Birmingham last year. He hit .312 in 125 games for the Barons, led the Southern League with 49 steals and 79 runs scored and smacked 38 extra-base hits, including 12 triples. He was named a midseason and Postseason All-Star, an Organization All-Star and even the Southern League's "Best Hustler".
All that said, the 2013 first-round pick still has one more hurdle to clear on his way to the big leagues -- the International League. To start the year, the 22-year-old will take his impressive athleticism to Triple-A Charlotte, where he'll work to improve the finer points of his game.
"He's still young, he's still learning the game of baseball because he was a basketball player coming out of high school," said Capra. "We just have to get him more baseball experience. ... Obviously defense, learning how to position himself, learning hitters, learning to stand and face where he's throwing the ball in the infield.
"Offensively, consolidating his strike zone a little bit more. He hits the fastball. He'll hit some breaking balls, but I think we all would like to see him just a little more patient and head for his strengths in the strike zone. The more experience he gets, the better he's going to be."
Chicago currently lists 37-year-old Jimmy Rollins and second-year man Tyler Saladino as one and two on its shortstop depth chart. It might not take long for Anderson to push ahead of them.
Back and healthy: Micker Adolfo, OF
The White Sox signed Adolfo for $1.6 million out of the Dominican Republic in July 2013. Unfortunately, the organization hasn't had much of a chance to see a return on its investment yet.
Adolfo struggled in his first season stateside in 2014, batting .218 and fanning 85 times in 46 games for the White Sox Rookie-level Arizona League squad. The 19-year-old was then limited to only 22 games last season after having ankle surgery that ended his campaign.
When healthy, Adolfo possesses tantalizing athleticism and power. A full season would go a long way toward helping him begin to refine those skills.
"Everybody knows about his tools," Capra said. "He's a five-tool player. He can hit, he runs, he throws, he can hit with power. He's got the tools -- we just need to get him on the field and let him play and get that experience so we can see what we have."
Breakout prospect: Jhoandro Alfaro, C
Those who follow the Minor Leagues will likely be more familiar with Alfaro's older brother Jorge, the Phillies' top catching prospect. However, the younger Alfaro has a chance to make a name for himself going into his second season in the White Sox organization.
Alfaro didn't put up eye-popping numbers in his first pro season as a 17-year-old in the Arizona League, but that doesn't tell the whole story. The 6-foot-1, 180-pound backstop consistently showed discipline and contact skills (a mere 15 strikeouts in 88 at-bats) but managed only a .216 average on balls in play. Defensively, he showed off his impressive arm to nab 23 percent of would-be basestealers.
Despite playing only 25 Minor League games, the White Sox top catching prospect should be a player worth keeping an eye on as he develops.
"[Jhoandro] is another young player who's very talented that we need to get the best out of every day that he plays on the field," said Capra. "The more he plays hopefully the better he gets and the quicker he advances."
More to keep an eye on
Matt Davidson is once again looking to rebound after posting the International League's lowest batting average (.203) for the second consecutive year. So far so good for the 2009 first-round pick, who slashed .413/.438/.783 in 22 games this spring. ... Jacob May was having a fine season at Double-A when he collided with Anderson on a popup in early June and had to miss six weeks. The White Sox No. 7 prospect wasn't quite as consistent upon returning, but a strong showing in Major League training camp bodes well for the start of the year. ... Blake Hickman, Chicago's seventh-round pick in the 2015 Draft, had to undergo Tommy John surgery shortly after signing and never got to suit up. The 6-foot-5, 225 pound right-hander showed up to Spring Training in good shape, and is looking to make his Minor League debut in June.
Alex Kraft is a contributor to MiLB.com. Follow and chat with him on Twitter @Alex_Kraft21. This story was not subject to the approval of the National Association of Professional Baseball Leagues or its clubs.
View More