Whitten thriving after nearly walking away
Slugger puts post-graduate plans on hold for shot in Angels system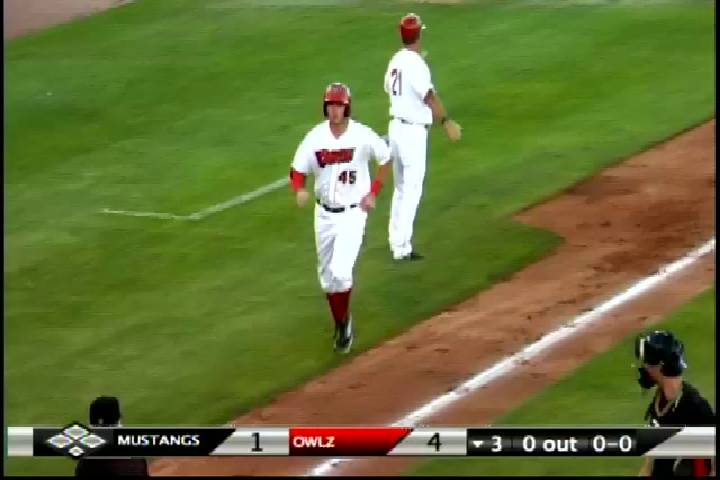 By Sam Dykstra / MiLB.com | August 29, 2014 12:02 PM ET
The relationship between baseball and those who play the game can seem incredibly one-sided. Players have to learn that at a certain point in their careers, the time has come to hang up the spikes and let the game go. Baseball will be just fine without Derek Jeter. The sport will go on.
But there are times when the game reaches out and pulls a player back in. Don't believe it? Consider the case of Fran Whitten.
Whitten enjoyed a dream career at Westborough High School, where he was two-time team MVP, two-time Mid-Wach B league champion and the central Massachusetts circuit's MVP in 2009. That earned him a chance to play at a higher level than most of the rest of us can ever hope to -- at Division I University of Maine.
He redshirted as a freshman with the Black Bears before developing a reputation as a bat-first catcher over the next three seasons. His senior year in 2013, the left-handed slugger put up a .297/.363/.446 line with three homers and 20 RBIs while splitting time at catcher, designated hitter and pitcher.
Those are certainly respectable numbers, but given the fact that they came mostly against opponents in the America East (no one's definition of a baseball power conference), he didn't get, nor did he expect to get, any sniffs from pro teams ahead of the 2013 Draft.
It was time for a different career. At least, that was Whitten's thinking.
Although he was a junior by NCAA standards because of the redshirt season, he was a senior by everyone else's definition, and having completed a mechanical engineering degree, he decided to look at grad schools.
"I thought I was done with baseball," he said. "I was looking to get into a good criminal justice program somewhere. I want to be a game warden -- something in fish and wildlife and outdoors."
So Whitten kept an eye out for schools with good criminal justice programs, which ruled out Maine, and if they allowed him to play out his final year of baseball eligibility, even better.
---
• Brewers' Huizinga back in affiliated baseball after 11 years away »
---
Then the puzzle pieces started coming together. Saint Leo University, a small suburban school north of Tampa, had what he was looking for educationally and, as a Division II school, would gladly welcome a former D-I player on its baseball roster. What's more, the Lions count six former Major Leaguers among their alumni, including right-handed pitchers Bob Tewksbury and Jim Corsi, and head coach Sean O'Connor was a native of Framingham, Massachusetts, which sits half an hour east of Whitten's home in Westborough.
So Saint Leo it was.
The Lions moved Whitten to first base and DH so he could keep his focus on hitting. The move paid off immediately as he homered in his first game at North Georgia on Feb. 3. Before long, he had become one of the best hitters in the Sunshine State Conference, finishing the season first in the conference with 11 home runs, equal to his total from three seasons in Maine, and collecting 44 RBIs. His .368/.467/.675 line was far better than anything he had put up since his high school days.
Florida being the baseball hot bed it is, scouts were more plentiful than they were in the colder climes of Maine, and Whitten started to garner interest from those who thought his production down south was just too good to ignore, even if it wasn't at a big schools like UF or FSU or Miami.
Still, the slugger had trepidations about his future.
"Baseball was pretty much past me," he said. "I knew if I wasn't going to be drafted, I could be a free agent and maybe get picked up that way. But I probably would've pursued fish and wildlife at that point. It would have been time for that."
Whitten prepared appropriately. He sent an application to the Florida Fish and Wildlife Conservation Commission Academy and was set to go through interviews on his road to becoming a game warden.
"I was happy with my results and everything," he said. "I just wanted to have a job lined up that I knew I'd enjoy."
Instead, he got a call from scout Brandon McArthur representing the Angels, who had talked to Whitten only twice before the Draft, fewer than some other clubs. McArthur asked the slugger whether he had any interest in playing more baseball. Given the opportunity afforded him, Whitten had only one quick response.
"Yeah, of course," he said.
The Halos took Whitten in the 37th round -- three rounds before the Draft comes to a close -- making him the first Saint Leo non-battery player to be drafted since 2007. Whitten and McArthur arranged to discuss his future over lunch, and on June 20, 13 days after being Drafted, the slugger was starting his career -- his baseball career -- with the Angels' Arizona League affiliate.
"I just wanted to prove it to myself that I could try it," Whitten said. "This was a decision I was making on my own behalf, so I had to go all in or just say it's not for me."
He chose the former, but he was in for a hard awakening, at least in terms of environment.
For the uninitiated, the primary purposes of the Arizona League, and its Gulf Coast counterpart, are to get youngsters and recent draftees some playing time. For young promising picks or budding international stars, it's a chance to get acclimated to facing fellow professionals. For others like Whitten, it's basically an extended tryout. Few show up to watch, outside of family and scouts doing their due diligence. Though it's definitively professional baseball, players toiling away at Cactus League facilities don't expect to see their best plays come up on SportsCenter.
"It was pretty tough to get used to, especially with the heat and stuff," Whitten said. "It's not exactly what you think pro ball would be like. It was quite the experience going from getting drafted and everything that comes with that to going to Arizona.
"I just kept focusing on doing what I had done that year -- stay as relaxed as possible. You have to view it as an opportunity and make the best of it. If it didn't work out, at least I had something to fall back on."
It didn't take long for Whitten to carry his momentum from Saint Leo to Arizona. He collected hits in his first eight games with the Angels, and by July 20 -- one month after his debut -- he owned a .345/.427/.517 slash line, while his .944 OPS ranked second in the AZL. Five days later, the Angels finished the season's first half atop the East Division thanks to Whitten's production.
The parent club decided they had weighed and measured the slugger enough in the AZL, and on July 29, he was put on a plane after a promotion to Rookie-level Orem. Like he did at Saint Leo, Whitten homered in his first game with the Owlz. From Aug. 11 to 17, he went 11-for-26 with two homers, a triple, two doubles and 12 RBIs over a six-game stretch to earn his first Player of the Week honors.
As of Thursday, he was batting .278/.316/.574 with eight homers and 29 RBIs in 26 games since joining Orem. Though he left the playoff-bound AZL Angels behind, Whitten is still looking at a shot to shine in the post-season as the Owlz, too, clinched a berth in the Pioneer League playoffs with a first-half division title.
With a .310/.373/.546 line, 10 homers and 48 RBIs in 54 games this season, Whitten's 2014 production has likely bought him a longer look in the Angels system. Still, the former future game warden knows 37th-round picks don't typically last long in the Minors and that another career change might be forced upon him.
"That's all down the road," he said. "Right now, I'm still focusing on this season, trying to do the best I can, get a ring for these guys here. I'm sure there will be a decision that'll be made down the road, whether it's this offseason or five offseasons from now. Whenever it comes, it comes. Right now, I'm happy."
Sam Dykstra is a contributor to MiLB.com. This story was not subject to the approval of the National Association of Professional Baseball Leagues or its clubs.
View More