Williams helps 'Riders draw first blood
Rangers' No. 4 prospect collects two hits, scores twice in Game 1 win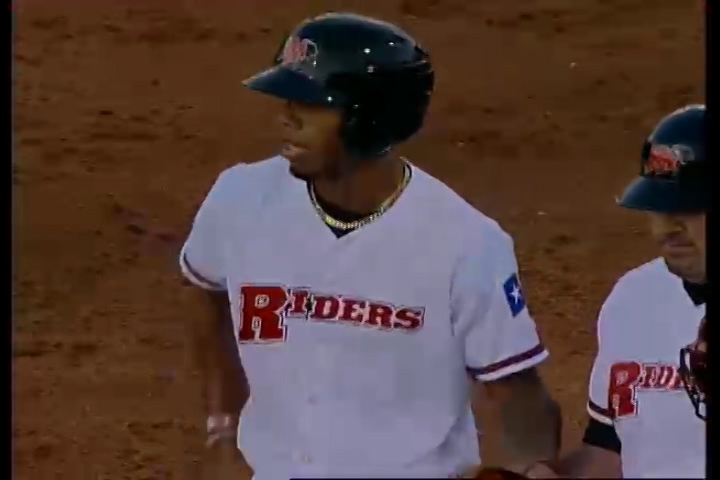 By Ashley Marshall / MiLB.com | September 3, 2014 11:35 PM ET
Nick Williams started the season in Myrtle Beach with just one year of full-season ball under his belt. Now he's leading Double-A Frisco on a push for the Texas League championship.
The Rangers' No. 4 prospect went 2-for-3 with a double, an RBI, a walk and two runs scored Wednesday night in the RoughRiders' 7-3 win over visiting Midland.
The victory gives the Rangers' Double-A affiliate a 1-0 lead in the best-of-5 semifinal series. And Williams likes his team's chances to win it all.
"Easily. I've not played on a team with this much talent," he said. "I know talent and I know teams, and this team can win. It was huge for us to get this home win and hopefully, we can do the same tomorrow and get those home wins out of the way."
Williams, MLB.com's No. 87 overall prospect, plated a run with a bloop single as Frisco batted around and scored six times in the opening inning. The 20-year-old left fielder doubled in the third and walked in the sixth before striking out in his final at-bat in the seventh.
"It was their Game 1 pitcher, but in the last three or four games, we've absolutely shelled their starter and it felt great to keep our bats alive," Williams said. "When I'm zoned in, I just stare at the pitcher's face and I feel like anything he throws me, I can hit it."
The 2012 second-round pick hit .283 with 13 homers and 74 RBIs in 112 games across three levels this year. He batted .226 in 15 Texas League games after shining in his first Carolina League experience.
Williams' relative struggles with Frisco down the stretch marked the first time in his young career that he had to deal with adversity, having never hit below .292 in any of the other leagues in which he played. He drew two walks in 15 games but struck out 21 times in 62 at-bats as he adapted to Double-A ball.
Odubel Herrera homered and plated two runs out of the leadoff spot for the RoughRiders, while Trever Adams had two hits and scored a run.
Frisco hosts Game 2 on Thursday.
In other Texas League action
Arkansas 4, Tulsa 1
Drew Rucinski allowed an unearned run on five hits and a walk while striking out six over seven innings to help the Travelers take a 1-0 lead in the North Division finals. Eric Stamets reached base three times and plated a run, while Matt Long was 2-for-4 with a triple and a pair of runs scored in the triumph. Taylor Featherston and Brian Humphries had two hits apiece for the Drillers. Gameday box score
Ashley Marshall is a contributor to MiLB.com. Follow him on Twitter @AshMarshallMLB. This story was not subject to the approval of the National Association of Professional Baseball Leagues or its clubs.
View More