Williams in total control for Timber Rattlers
Brewers prospect fans career-high 11, pitches seven one-hit innings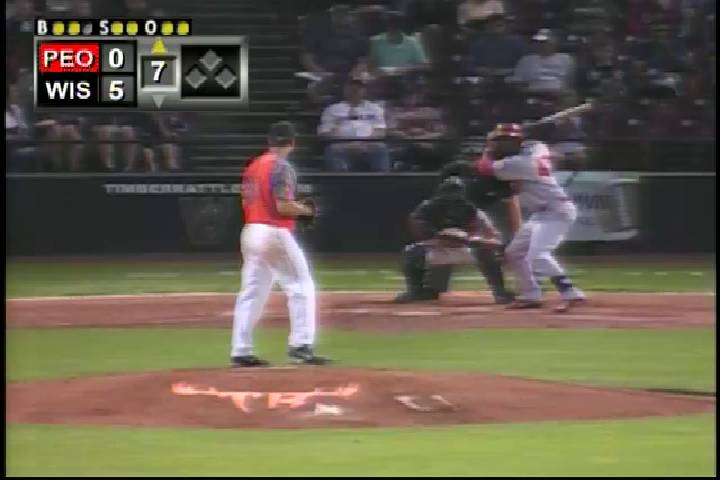 By Robert Emrich / MiLB.com | August 2, 2014 12:15 AM
Taylor Williams thought he wasn't in command. The box score tells a different story.
The Brewers' No. 14 prospect fanned a career-high 11 batters and pitched seven one-hit innings Friday night as Class A Wisconsin shut down visiting Peoria, 5-1.
Williams (8-1) allowed only a leadoff double to Ronald Castillo in the top of the second, then set down the final 18 batters he faced, fanning five of the last six. He threw 70 of 96 pitches for strikes.
"Early on, I felt like my command wasn't very good," he 23-year-old right-hander said. "I just felt like I stuck with it and competed well and was able to get my off-speed pitches across for strikes. Later on, I was able to establish the fastball pretty well. Really, I just had all my pitches going and I was able to keep them off-balance with the curveball and changeup.
"I just felt confident out there and confident in my defense out there and I was able to fill up the zone and not walk anybody, which was huge. I think that goes for any game when you're feeling good, your defense is playing well and you're filling up the strike zone."
Williams' previous high was nine strikeouts over 6 2/3 innings on July 21 against Dayton. He credited Friday's total to being able to use all of his pitches.
"I had pretty much all four pitches going and I was able to throw them at any point in any count," the Kent State product said. "I don't think there was any one pitch that I was able to strike more guys out on. Really, I just mixed all my pitches well. I think mostly fastball and slider were the pitches that I struck some guys out on."
Despite his near-perfect effort, Williams wouldn't classify Friday as his best start as a pro.
"That's a tough question," he said. "Definitely up there in the the top three or four. I wasn't really satisfied with my command in my fastball. I tried to grind it out and compete. I think there are some other ones that I've been better in.
"I think I wasn't staying on my fastball very well. You like to throw your fastball early in the count and get ahead, and I wasn't doing that early on. [Catcher] Rafael Neda was able to work with me with that and we were able to flip a few off-speed pitches across. I think that helped me stay through some pitches, and then I was able work the fastball earlier in counts for strikes better."
Williams ranks third in the Midwest League with a 2.36 ERA and is tied for fourth with 112 punchouts. A year after being drafted in the fourth round by the Brewers, he was named a midseason All-Star.
"I'm pretty happy with the year," Williams said. "I'm just trying to get better as the year goes on. That's been the biggest thing -- preparation, trying to prepare week in and week out. That way, I can throw better when I get into the game. Just trying not to be satisfied with any one outing and try to get better."
Taylor Brennan slugged a grand slam and Steven Halcomb drew a bases-loaded walk in the second to stake Williams to an early lead.
Justin Ringo singled in a run in the ninth to break up the shutout for the Chiefs.
Robert Emrich is a contributor to MiLB.com. Follow him on Twitter @RobertEmrich. This story was not subject to the approval of the National Association of Professional Baseball Leagues or its clubs.
View More