Wilson, RockHounds turn triple play
A's Double-A affiliate pulls off 8-2-5 rally-killer in seventh inning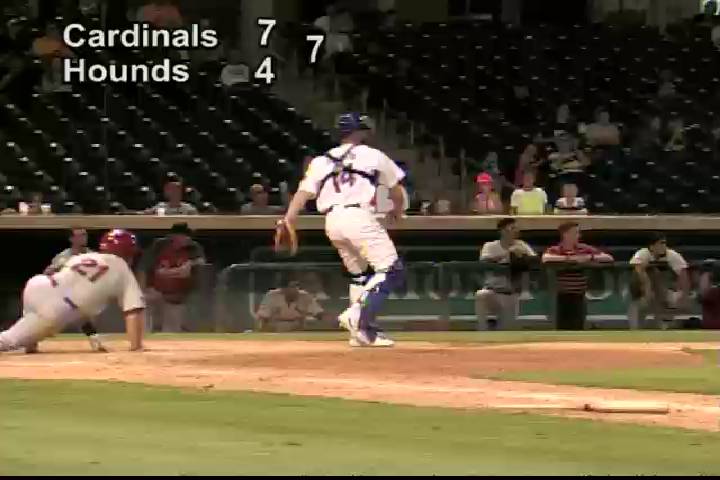 By Josh Jackson / MiLB.com | August 9, 2014 3:01 AM ET
It may have been a loss, but Kenny Wilson and his Double-A Midland teammates have three good reasons to remember Friday night's game.
"I can't recall ever being part of anything like that," Wilson said. "I don't think I've ever been on the field when a triple play happened, so it was pretty cool. It was definitely one of the more memorable plays I've been a part of."
The 24-year-old center fielder started the rally-killing triple play -- the first in the Texas League this season -- in the seventh inning of the RockHounds' 10-6 loss to Springfield.
With the bases loaded and no outs, Wilson camped in shallow center under a fly ball off the bat of Rafael Ortega and unleashed a strong throw to the plate to cut down the Cardinals' Cody Stanley. RockHounds catcher Blake Forsythe then threw to third baseman Jefry Marte, who tagged out Jonathan Rodriguez.
"It's funny because I knew there was nobody out and the bases were loaded," Wilson said. "It was in the air long enough to have it run through my head: 'OK, there's a play at home, the bases are loaded,' and I just wanted to give [Forsythe] a good clean throw, something he could handle.
"When it came out of my hand, I knew it had good backspin and I had a feeling it was going to get there. Then I saw it on the way home and I was hoping it wasn't going to short-hop the catcher. I was hoping I gave him a throw to catch in the air or on the long hop and put the tag down."
The throw landed perfectly in Forsythe's mitt to earn Wilson an outfield assist. It was his 10th of the season and first since the A's claimed him off waivers from the Blue Jays on July 7.
"It's one of the tools I try to display whenever I have the chance to," he said. "When you talk about pride, I do take a lot of pride in my arm. It's something that I think gets overlooked -- I'm not saying my arm, but arms in the game in general. But when somebody makes a good throw, that does make people take notice, so I'm glad it got him."
Wilson was thrilled to see the play didn't end there.
"When [Forsythe] made the tag and had the sense to snap it over to third and catch the other runner, I was like, 'Wow!'" the Florida native said. "It was cool be able to be a part and also to then be able to sit and watch it happen."
Wilson also contributed two hits and a run scored, while Hiroyuki Nakajima was 3-for-5 with a double and two runs scored.
Seventh-ranked Cardinals prospect Charlie Tilson homered and Stanley was 4-for-5 with a double, three RBIs and two runs scored for Springfield.
Josh Jackson is a contributor to MiLB.com. This story was not subject to the approval of the National Association of Professional Baseball Leagues or its clubs.
View More