Giolito, Kopech arm White Sox for future
Hard-throwing duo brings rare power to South Side rotation prospects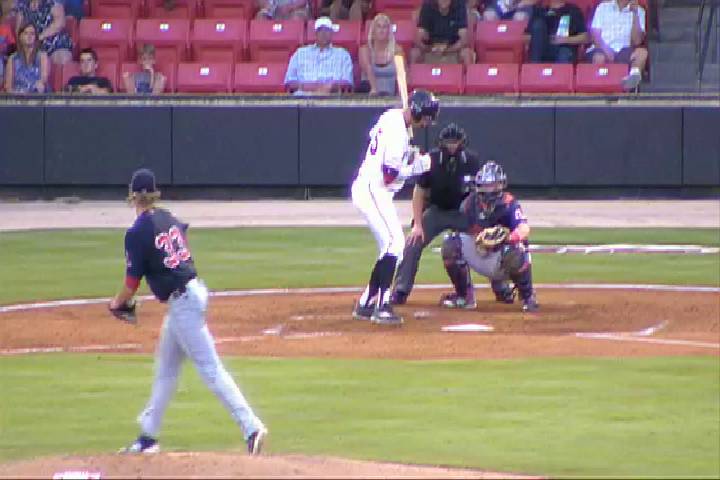 By Alex Kraft / MiLB.com | February 8, 2017 10:00 AM ET
Chris Getz spent seven seasons in the Major Leagues with the White Sox, Royals and Blue Jays. And while he played his final game in 2014, the former infielder remembers well what a power pitcher can do to a hitter's psyche.
"You start going to the 94s, 95s, then you see some 96s when you're looking at [velocity] scouting reports and all of a sudden you become a little more conscious of the fastball," he said. "Whenever you start focusing on someone's velocity, it opens up the floodgates for being susceptible to everything else."
Getz became the White Sox director of player development last October. Less than two months after he took over, the club made headlines at the Winter Meetings by swinging a pair of deals -- one with the Red Sox involving lefty ace Chris Sale, another with the Nationals involving center fielder Adam Eaton -- that brought a massive share of Minor League talent to Chicago.
Included among the return of seven prospects were two of the Minors' most electrifying pitchers, potentially pivotal parts of the team's future.
***
When Michael Kopech was growing up, he always wanted to be like Nolan Ryan.
As soon as the now-20-year-old right-hander was old enough to step on a mound, he took his father outside and spent hours firing pitches as hard as he could. Later, the two would pore over footage of Ryan's starts, including all seven of the Hall of Famer's no-hitters. Kopech dreamed that one day he would be able to throw just as hard.
Eventually, his fastball began to outpace his hero's.
Kopech learned of the trade that sent him, infielder Yoan Moncada, outfielder Luis Alexander Basabe and right-hander Victor Diaz from Boston to the White Sox during a group workout. He had just finished when several friends mentioned that they saw his name mentioned on Twitter. At first, the revelation came as something of a shock.
"It was kind of overwhelming because it's hard to not envision your whole career with the team you currently play with, and that's what I had done with Boston," said Kopech, a 2014 first-round pick. "Once it sank in and everything, I realized that this was a good opportunity for me."
---
"That's the kind of pitcher I want to be -- dominating."
-- Michael Kopech
---
The Texan could have been overshadowed in a deal that also involved Moncada, baseball's top-ranked prospect at the time. But Kopech has become a star in his own right, thanks to a fastball clocked as high as 105 mph. He's the only pitcher among MLB.com's Top 100 Prospects to receive an 80 grade for the pitch on the 20-80 scouting scale, and recently went viral with a throw that hit 110 mph.
"A lot of people have the natural comparison to look at [Mets starter] Noah Syndergaard, and a lot of it has to do with his actual appearance -- the hair, facial features, things like that," Getz said with a laugh. "But the stuff, too. He's a strong kid -- physically imposing."
"I think that's an extremely generous comparison," Kopech said after pointing out he may have hurt the correlation with a recent haircut. "I've had a chance to talk with Noah a little bit, and he's a great guy with a great work ethic and he's a dominating presence. That's the kind of pitcher I want to be -- dominating."
***
Lucas Giolito suspected he might be traded in December when he saw a text from a friend urging him to check Twitter. Later, Nationals general manager Mike Rizzo called to inform him he was indeed heading to Chicago, along with fellow righties Reynaldo Lopez and Dane Dunning, for Eaton.
"It's amazing to be coming over to the White Sox with a bunch of young talent," he told MLB.com at the time.
Giolito broke out in 2013 -- his second Minor League season -- and has dominated the Minors in the years since with a 25-15 record, 2.73 ERA and 397 strikeouts over 369 innings. Until recently, the 16th overall pick in the 2012 Draft owned the distinction as baseball's No. 1 pitching prospect.
"He's got an ability to throw an 80 fastball, a 70 curveball and a changeup," Getz said. "You put all those pieces together, it's just tough to find pitchers like that."
Giolito's first shot at the Majors with the Nationals last season did not yield the desired results. While he posted four scoreless frames in his debut on June 28, he finished 0-1 with a 6.75 ERA over 21 1/3 innings. Strikingly, the 6-foot-6 righty fanned only 11 batters.
On top of that, Giolito -- who typically throws his fastball in the upper 90s, sometimes into triple digits -- averaged just under 94 mph with Washington. The California native attributed his difficulty to faulty mechanics that he's worked hard to fix.
"This year, it's kind of like a clean slate," Giolito told MLB.com at SoxFest in late January. "It's even a new team. I'm able to ... kind of get back to basics in my mechanics.
"The ball is going to be coming out of my hand different this year than it was in the big leagues last year. I saw I was throwing 90, 91, 92, and that's not going to be happening. I'm not interested in being that type of pitcher."
---
• On the blog: More from Kopech, Getz »
---
It is no secret that high-velocity pitchers are becoming more prevalent across baseball. In 2010, the average fastball velocity in the Majors was 91.2 mph, according to FanGraphs. Last season, it rose to an all-time high of 92.3 mph. Among pitchers who threw at least 50 innings, 42 averaged 95 mph or more.
Getz acknowledged pitchers like Kopech and Giolito become important pieces in such an arms race, especially for a rotation in which only Sale and Carlos Rodon reached 93 mph in average velocity in 2016.
"The power arms seem to be certainly a trend," Getz said. "You look at some of the teams that have had a lot of success, the guys at the front of the rotation are coming with a lot of heat. These guys [Kopech and Giolito] have those tools.
"You rarely find guys who have the power that these two players have."
Kopech believes he and Giolito are capable of providing that edge.
"I do think if everything falls into place and it goes the way the White Sox and the players are hoping, we can have that overpowering rotation," Kopech said. "I think we could be those guys. By no means are we trying to go in and take anyone's spot, but at the same time, we want our opportunity. We want to help the team win just as much as anyone else."
Alex Kraft is a contributor to MiLB.com. Follow and chat with him on Twitter @Alex_Kraft21. This story was not subject to the approval of the National Association of Professional Baseball Leagues or its clubs.
View More