With velocity, less is more for Travieso
No. 7 Reds prospect scatters three hits over six frames for Dragons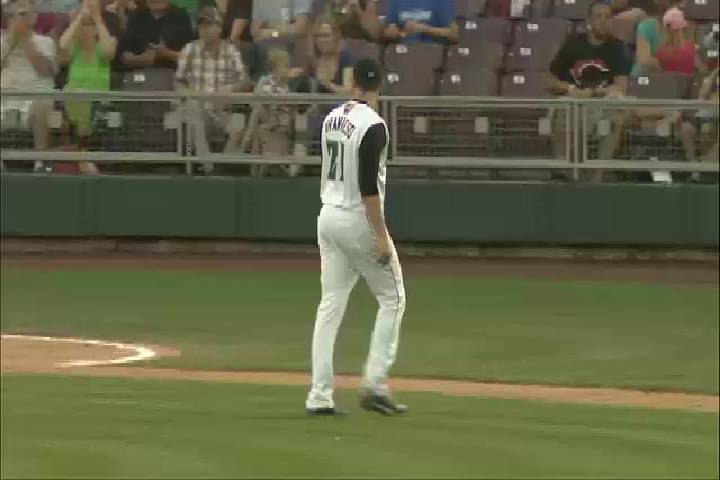 By Mark Emery / MiLB.com | July 3, 2014 1:21 AM ET
After years of benefiting from throwing the ball hard, Nick Travieso reaped the rewards that can occur when a pitcher takes something off of it Wednesday.
Incorporating more changeups than ever before, the Reds' No. 7 prospect hurled six scoreless innings Wednesday in Class A Dayton's 7-2 win over visiting Fort Wayne. He did not allow a hit until the fifth, ultimately scattering just three while fanning five and walking two.
"I think I made a big stride today, just with that changeup and having a feel for it," Travieso said. "That's one big pitch I've been working on all year, but I've only thrown one or two per game. I felt like I threw 10 today. That was a huge step for me."
The 14th pick of the 2012 Draft made the changeup a priority entering this season. After his 15th start of the year, he sports a 7-4 record and a 3.46 ERA with 67 strikeouts and 16 walks across 80 2/3 innings.
In his previous outing June 27, Travieso surrendered 10 runs -- five earned -- over four innings against the Lake County Captains. When he last faced the first-place TinCaps on May 26, they roughed him up for nine runs -- eight earned in 2 2/3 innings in his shortest start of the season.
"Last time, they got to my fastball pretty early," Travieso said, "so I figured if I mix in that changeup, it'll be good for me, to keep in my back pocket."
The right-hander induced seven groundouts and four flyouts. He allowed back-to-back singles by Reynaldo Bruguera and Edwin Moreno in the fifth inning and a triple off the bat of Franmil Reyes in the sixth.
The 20-year-old hadn't turned in a scoreless outing since May 5. He has four such starts this year.
"It feels good just coming after ... not a great outing," Travieso said. "I feel like, last game, my stuff was there, but I just couldn't make that big pitch. Today, I feel like I got into a couple jams late in the game. I was able to get out of it with my second and third pitches, which was huge for me, instead of just relying on my fastball to get out of it."
The Florida native was grateful to Dayton pitching coach Tony Fossas for keeping his spirits high when his confidence was bruised.
"That changeup is something I really never had to throw in high school," Travieso said. "It was just fastball-slider. It was just a show-me pitch back in the day. I'm still in low-A, but I feel like when you can throw that pitch for strikes, it's just a huge advantage.
"A lot of guys can hit a hard fastball. Talking to hitters, and I've seen, the hardest pitch to hit is a well-placed changeup. So that's one thing I'm really happy I threw well."
TinCaps starter Ronald Herrera fell to 5-5 after yielding two runs -- one earned -- across five innings.
Mark Emery is a contributor to MiLB.com. Follow him on Twitter @Mark_Emery. This story was not subject to the approval of the National Association of Professional Baseball Leagues or its clubs.
View More