Yankees' Judge placed on disabled list
No. 27 overall prospect has mild ligament sprain, bruised knee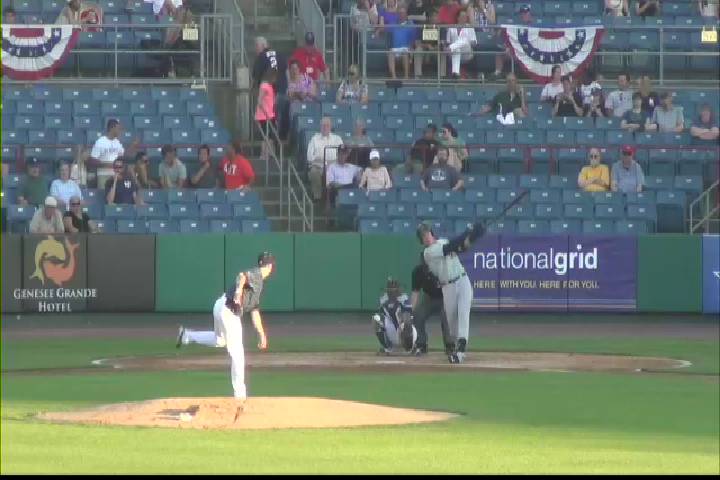 By Daren Smith / MiLB.com | July 10, 2016 1:35 AM ET
Aaron Judge, the Yankees' second-ranked prospect, will miss Tuesday's Triple-A All-Star Game with a knee injury that landed him on the seven-day disabled list.
The 6-foot-7, 275-pound slugger was diagnosed with a mildly sprained knee ligament and a bruised left knee, the Yankees announced Saturday. He pulled up running out a ground ball in Friday's game for Triple-A Scranton/Wilkes-Barre but suffered the injury diving for a fly ball earlier in the contest.
Judge had been named to the International League squad and was scheduled to participate in the Triple-A All-Star Home Run Derby in Charlotte. He will "not participate in baseball activities for an undetermined amount of time," the team said.
"We feel bad for him because he's been working so hard to feel good about himself and his game," RailRiders manager Al Pedrique told the Scranton Times-Tribune. "Offensively, he showed signs that he's making some adjustments [and] he started seeing some good results. Now he's going to have to be patient going to the DL. Nobody wants to see anybody getting hurt but it's part of the game.
"Injuries, when you play the game the right way, that's what's going to happen. And he got hurt playing the game hard."
Judge was coming off a month in which he slashed .343/.477/1.163 with nine homers and 25 RBIs in 28 games. For the season, MLB.com's No. 27 overall prospect is hitting .261 with an IL-leading 54 RBIs in 83 games. He's tied for second in the league with 16 homers, ranks second with 52 runs scored and fifth with 149 total bases and 42 walks.
Daren Smith is an editor for MiLB.com. This story was not subject to the approval of the National Association of Professional Baseball Leagues or its clubs.
View More